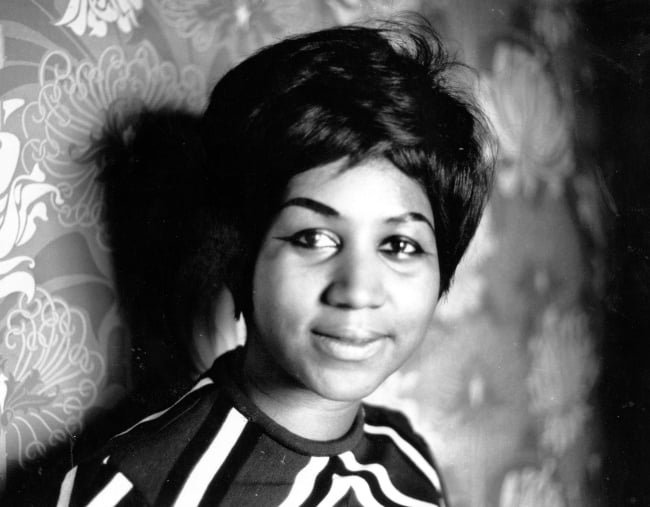 'Queen of Soul' Aretha Franklin has died aged 76.
The legendary singer died at her home in Detroit from pancreatic cancer after a long struggle with health problems. In the preceding days, family and famous friends – including musician Stevie Wonder and civil rights activist Jesse Jackson – had been flocking to her home amid reports she was gravely ill and receiving hospice care.
Franklin, who was widely known as just Aretha, will be remembered as the first woman inducted into the Rock and Roll Hall of Fame. She had 20 number one singles, the most by any woman, and earned 18 Grammy awards, including one for lifetime achievement, over the span of her career.
She performed at the inaugurations of two presidents - Bill Clinton and Barack Obama - and was the first African American woman to appear on the cover of Time Magazine.
Known for her powerful voice that stretched over four octaves, Franklin released hits such as Respect, (You Make Me Feel Like) A Natural Woman and I Say a Little Prayer.
Franklin's family said the singer's death was "one of the darkest moments in our lives".
"We have lost the matriarch and rock of our family. The love she had for her children, grandchildren, nieces, nephews and cousins knew no bounds," their statement read.
Tributes have been pouring on social media ever since news of her death broke, around midnight AEST.
Watching Aretha Franklin perform at the White House, and on so many other occasions, made time stand still. @BarackObama and I are holding Aretha's family in our hearts right now. She will forever be our Queen of Soul. pic.twitter.com/NhHsbKijpl

— Michelle Obama (@MichelleObama) August 16, 2018
Let's all take a moment to give thanks for the beautiful life of Aretha Franklin, the Queen of our souls, who inspired us all for many many years. She will be missed but the memory of her greatness as a musician and a fine human being will live with us forever. Love Paul pic.twitter.com/jW4Gpwfdts

— Paul McCartney (@PaulMcCartney) August 16, 2018
Mourning the loss today of @ArethaFranklin who shared her spirit and talent with the world. She deserves not only our RESPECT but also our lasting gratitude for opening our eyes, ears and hearts. Rest in eternal peace, my friend.

— Hillary Clinton (@HillaryClinton) August 16, 2018
One of the highlights of my career was singing with #ArethaFranklin at The Tony Awards. It was an out of body experience for me. One of greatest singers of all time. You will be missed by all. https://t.co/L8dIIhyR9Y

— Hugh Jackman (@RealHughJackman) August 16, 2018
The loss of @ArethaFranklin is a blow for everybody who loves real music: Music from the heart, the soul and the Church. Her voice was unique, her piano playing underrated – she was one of my favourite pianists. pic.twitter.com/ug5oZYywAz

— Elton John (@eltonofficial) August 16, 2018
forever ♡ pic.twitter.com/E4JopV0ffT

— Ariana Grande (@ArianaGrande) August 16, 2018
The choir of angels now have the greatest voice of all time to lead, praise and join in to sing before Jesus. I wanted to share this photo because it shows just how soulful Aretha was without uttering a word. To say I was humbled to be in her presence would be an understatement. pic.twitter.com/R2lxjXwDO8

— Faith Hill (@FaithHill) August 16, 2018
Forever and ever you'll stay in my heart. The queen of soul. Your legacy and music will live on for many lifetimes. Rest In Peace Aretha Franklin :heart: pic.twitter.com/OPvZWf7zfD

— DUA LIPA (@DUALIPA) August 16, 2018
I'm sitting in prayer for the wonderful golden spirit Aretha Franklin.

— Ms. Ross (@DianaRoss) August 16, 2018
Salute to the Queen. The greatest vocalist I've ever known. :pray::skin-tone-4::pray::skin-tone-4::pray::skin-tone-4::pray::skin-tone-4::pray::skin-tone-4: #Aretha

— John Legend (@johnlegend) August 16, 2018
Aretha was such a timeless inspiration to me and so many others, the ultimate queen, thank you for the gift of your voice, music and unshakeable soul :pray::skin-tone-3: pic.twitter.com/me3FXBY4WZ

— Christina Aguilera (@xtina) August 16, 2018
Franklin was born in 1942 in Memphis, Tennessee. Her career began at an early age in gospel, a tradition she never completely abandoned, even as she moved into jazz and secular music.
She recorded her first gospel album at age 14 and was soon signed by the Motown label when it was still a small start up.
Her real breakthrough came in 1967 when her version of Otis Redding's Respect surged to the top of the R&B charts and stayed there for eight weeks.
Franklin announced her retirement in February 2017 and last performed at Elton John's AIDS Foundation Gala in November.
The soul legend's music quickly climbed the iTunes' charts following her death. Her 30 Greatest Hits album hit the No. 1 spot, replacing Nicki Minaj's new album, while Respect reached No. 2 on the songs' charts.
Funeral arrangements are expected to be announced in coming days.
-With AAP