Yeah, yeah… We've loved the drama, but at the end of the day, all anyone really wants to know is which of the Married At First Sight couples made a go of it and which ones walked away for good.
We did some snooping around, starting with our husband and wife swapping faves, Tracey and Sean.
Tracey and Sean.
Tracey and Sean are still together, but with the big shadow that is Dean looming in the background, it's anyone's guess as to how much longer they'll last.
They did recently holiday in Bali together though, so that's a good sign.
In their final conversation with the love experts, Tracey, 34, described Sean as being "very emotionally available" and said they're "in sync".
"It's been so easy to get along with Trace," added Sean, 34.
But Tracey also mentioned there'd been some "inappropriate" texting going on with Dean. Yeah, that.
On Instagram though, Tracey was all about Sean, so as of today they're still together.
She wrote: "My new partner @seanythomsen – in the most unexpected of ways a MAFS catch up after filming the show turned into a love that has seen me through the unfolding of this show and beyond – your kindness, warmth and support has been unwavering I love you so much babe and I'm so excited to see what the future holds for us."
Us too Trace, us toooo.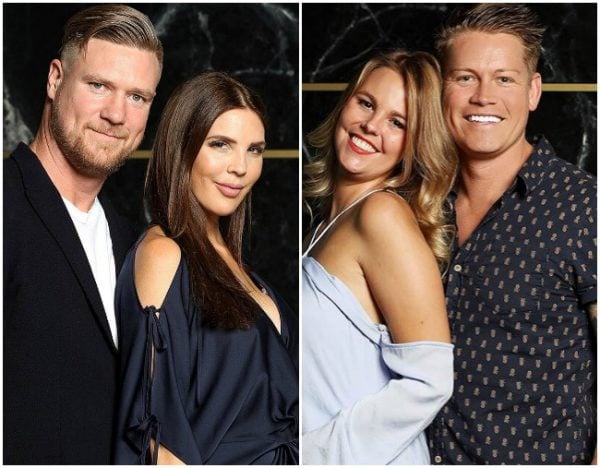 Carly and Justin.
Carly and Justin called it quits during the experiment, and now that she's off wrestling tongues with Troy, don't expect a reunion anytime soon.
Justin, 41, didn't even care a little bit when he found out Carly had moved on with Troy, so that shows you where he sits with everything.
He also spent most of the experiment complaining about how he didn't find Carly, 32, attractive. Nice. 
Nasser and Gabby.
These two started out strong, but called it quits shortly after Nasser, 50, went completely, eh, nuts.
Nasser said their break up was caused by him being too independent. Or, you know, demons.
"I've always gotten up and done my thing, and I've never had to consult anyone," Nasser said in their final discussion with the love experts.
For the most part, Gabby, 44, had no words, which kind of said it all.
We assume Nasser is dating the apartment ghost now.
Ashley and Troy.
Not only are these two definitely over, Ashley, 28, is still pretty mad at Troy, 34, after he told her he loved her and then made out with her friend, Carly, literally right in front of her face.
"I was just blindsided. It was like a slap in the face. I found out with everyone else. I honestly didn't think they'd walk in hand-in-hand together, and in a serious relationship," Ashley told the love experts.
"He obviously wasn't in love with me. You don't say, 'I love you,' and then break up."
She has a point, but then, we've seen the way Troy kisses, so frankly, no loss there.
Ryan and Davina.
In the words of Taylor Swift, these two are "never ever getting back together". Like, ever.
Ryan dumped Davina, 26, shortly after he found out she was doing the dirty on him with Dean, and he's been salty about it ever since.
"You have this thing about you, you can do things and people will call you names, and you can just walk off and never think about it ever again," Ryan, 29, told Davina during their final discussion with the love experts.
Those were the last words Ryan ever spoke before he truly died inside.
Troy and Carly.
These two appear to still be going strong. Thank God too, because we'd hate to think we were subjected to that nauseating video montage of their Melbourne love fest and grass-rolling make-out sesh for nothing.
In their final discussion with the love experts, both Troy and Carly admitted they love each other. We all know how much Troy loves to throw around the 'L' word though, so take it as you will.
"I think we were lucky to find each other," Carly told The Fix. Good luck, you crazy kids.
Sean and Blair.
Obviously these two are over, because Sean is now living out his happily ever after with Tracey.
Even though Sean and Blair called time on their relationship early on, we still feel sorry for Blair, 31, who found out about Sean's relationship with Tracey at the exact same time as everyone else at the dinner party.
John and Melissa.
In their final sit-down interview with the love experts, John, 54, and Melissa were still happily in love.
"It's been amazing," said Melissa, 53.
But we have some sad news, with a source telling New Idea the distance got to be too much for them.
"They both want to remain where they live - close to their families - and just didn't really see a future together," revealed the source.
Sean and Jo.
We're just going to say it - Sean was a bit of a d*ck towards Jo during the experiment, so we're happy she decided to walk away from this toxic relationship.
"I didn't have an initial spark there and I probably wasn't the most joyous person to be around," Sean, 39, said during their final sit-down interview with the love experts.
Meanwhile, Jo, 39, sat there with a "no sh*t" look on her face. So done.
Dean and Tracey.
Tracey caused the shock of the season when she split with Dean during the final commitment ceremony, but Dean, 39, continues to be madly in love with Tracey? We think? And we're pretty sure Tracey is still harbouring some secret feelings for Dean, too.
After showing Tracey footage of Dean with Davina at the final sit-down with the love experts, Tracey let her ex have it. Seriously, this Dean and Davina thing is haunting us in our sleep... It. Never. Ends.
"You're a liar, because I asked you to tell me everything, and if I saw that for the truth, I would've walked away," she told him.
We also found out that Tracey was sending Dean some sexy text messages, so honestly, we would not be shocked if they reunited one day.
Patrick and Charlene.
With all of the break up rumours swirling around Telv and Sarah, we'd hung all of our hopes and dreams on Patrick and Charlene, but in their final discussion with the love experts, Charlene, 33, admitted she and Patrick hadn't actually seen each other after the experiment ended.
"For two weeks, it was just complete radio silence... The disappointing bit was we didn't even speak," she said.
Charlene said Patrick, 34, didn't seem that into the relationship once the show ended, and didn't make much of an effort. But they're still open to giving it a go if it's meant to be. So probably not?
Mat and Alycia.
Who?
Mat, 32, and Alycia, 28, split at the very beginning of the series, and we haven't given them much thought since, to be honest.
Is Married At First Sight problematic? Post continues below.
Telv and Sarah.
In their final discussion with the love experts, Sarah, 38, admitted her relationship with Telv, 33, had been "a rollercoaster".
And things don't appear to have gotten any better outside of the experiment either... Although neither party has officially addressed whether or not they're still together, rumours have been circulating for weeks that they're done and dusted.
Not to mention all of the leaked emails and messages recently, which all point towards these two having split and also kinda hating each other.