Yeah, yeah… We've loved the drama, but at the end of the day, all anyone really wants to know is which of the Married At First Sight couples made a go of it and which ones walked away for good.
We did some snooping around, starting with our husband and wife swapping faves, Tracey and Sean.
Tracey and Sean.
Tracey and Sean are still together, but with the big shadow that is Dean looming in the background, it's anyone's guess as to how much longer they'll last.
They did recently holiday in Bali together though, so that's a good sign.
In their final conversation with the love experts, Tracey, 34, described Sean as being "very emotionally available" and said they're "in sync".
"It's been so easy to get along with Trace," added Sean, 34.
But Tracey also mentioned there'd been some "inappropriate" texting going on with Dean. Yeah, that.
On Instagram though, Tracey was all about Sean, so as of today they're still together.
She wrote: "My new partner @seanythomsen – in the most unexpected of ways a MAFS catch up after filming the show turned into a love that has seen me through the unfolding of this show and beyond – your kindness, warmth and support has been unwavering I love you so much babe and I'm so excited to see what the future holds for us."
Us too Trace, us toooo.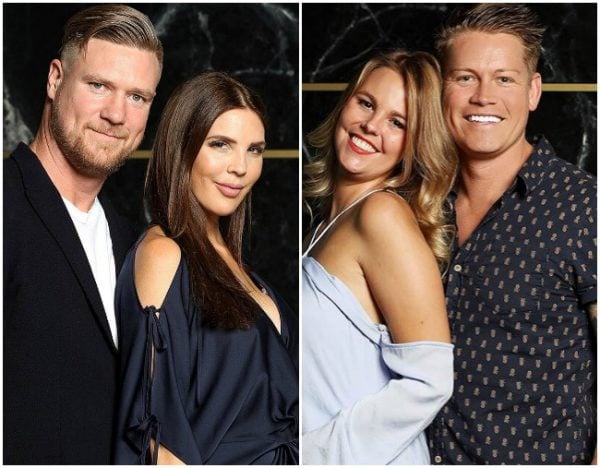 Carly and Justin.
Carly and Justin called it quits during the experiment, and now that she's off wrestling tongues with Troy, don't expect a reunion anytime soon.
Justin, 41, didn't even care a little bit when he found out Carly had moved on with Troy, so that shows you where he sits with everything.
He also spent most of the experiment complaining about how he didn't find Carly, 32, attractive. Nice. 
Nasser and Gabby.
These two started out strong, but called it quits shortly after Nasser, 50, went completely, eh, nuts.