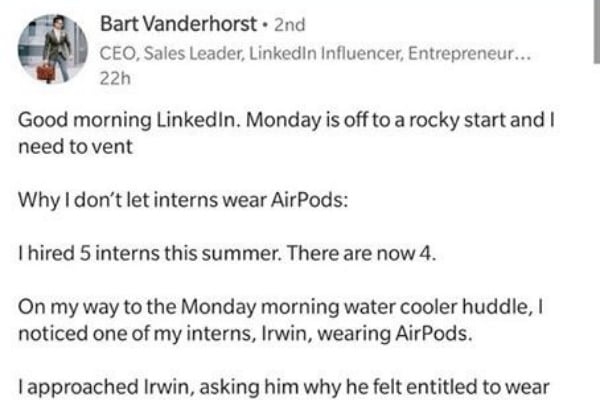 Turning up to a new job is always nerve-wracking.
But turning up to new job when you're the intern? Terrifying.
So imagine you're there at the water cooler (because apparently, that is not just a thing that exists in American TV shows), minding your own business, probably hoping your boss doesn't come over because, honestly, you are sh*t scared of them.
You have your headphones in.
Wait, no. Despite your intern status and serious lack of $$$, you have your Apple AirPods in. It's 2019, man, and wires are surplus to requirements.
So far… no problem. Right?
But what if your boss is self-described LinkedIn influencer and AirPod hater Bart Vanderhorst?
Then you're in real trouble.
Mr Bart, CEO of Vanderhorst Holdings, shared a post on LinkedIn this week berating one intern's decision to wear AirPods in his office and explaining his decision to fire him.