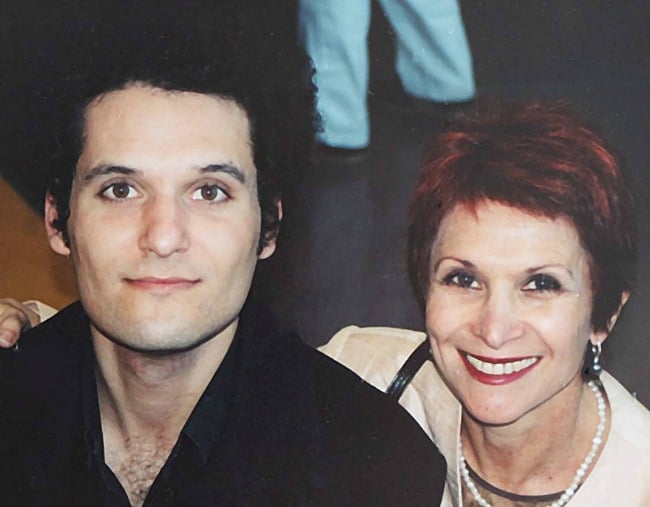 When Anthony was 17, something changed.
What were once words, turned into groans. He became increasingly withdrawn. A studious high achiever, who had been announced a Prefect at his highly respected Christian school, Anthony even began addressing his teachers differently.
"We got a call from the Headmaster to say that he wanted to see myself and my husband," Anthony's mother, Marija Radojevic, told Mamamia.
"His tone of voice was quite terse over the phone," she remembered. The conversation struck her as unusual, given that Anthony was exceptionally well behaved, and was fond of his Headmaster.
Anthony had been walking along the cloisters, Mr and Mrs Radojevic soon learned, and when the Headmaster reminded him there was a Prefect's meeting that afternoon, Anthony defiantly said he couldn't go because he had something else on.
"The headmaster was totally shocked," Marija said. "He had never expected to be spoken to like that… he was angry and disappointed…"
The Headmaster explained that if Anthony had been anyone else, he would have stripped him of his badge.
"We let him [Anthony] have it," Marija told Mamamia. 
But no matter how many times they asked him what was wrong, and why he had behaved so inappropriately, they could not get an answer.
Anthony had been, in Marija's words, "a delightful little boy."
The younger of her two children, when Marija would lean into Anthony's cot and pick him up, he would just stare at her and smile.
He was profoundly loved, "cherished" is the word Marija used, and most of all, he was happy.
Marija worked, and continues to work, as a child psychologist, and her husband as a child and adolescent psychiatrist. If anyone knew what they were doing, surely it was the Radojevic's.
Mr and Mrs Radojevic made the decision to send him to one of the state's best Christian school, as faith was a fundamental part of their family life.
From the moment Anthony started there, he flourished.
He was an exceptional student, particularly in high school, receiving multiple special prizes at the school and excelling in extracurricular activities.
Anthony loved the creative arts, especially drama and music. He was also strikingly handsome, with beautiful brown eyes, long lashes, and a big, welcoming smile.
That's why, when his behaviour suddenly changed, his parents were at a loss.
"We started to have a sense that he was not quite… himself. Let's put it that way. In years 11 and 12… But then of course you're dealing with children who are adolescent. It's very difficult to make a call about what's going on…" Marija said.
In Year 11, Anthony also developed epilepsy. His parents were worried about him.
As he became increasingly withdrawn, they wondered if he was over-committed at school. His sister and cousin had achieved outstanding results in the HSC; was Anthony putting pressure on himself? Or, at this age, was Anthony perhaps struggling to come to terms with his sexuality?
They would have to wait for an answer.
After Anthony received his HSC results, undoubtedly impressive but below what he had thought himself capable of, Marija asked him; "Anthony, do you think you might be gay?"
Anthony replied: "I don't think I am. I know I am."
Marija wasn't altogether surprised. She was, however, curious as to how he 'knew'.
That's when 18-year-old Anthony disclosed for the first time he had slept with two men. And one of them was his teacher.
Marija screamed. She insisted they go to the police. To the headmaster. What had happened was against the law – he can't have consented.
"Go ahead," Anthony dared her. "I'll say I seduced them."
That's when Marija realised there was nothing she could do.
"From that moment," Marija writes in her book, Anthony's Story, "our lives descended into a perpetual crisis-ridden fog."
Things only became worse. On one Sunday evening in winter, Marija was making dinner while Anthony said he was just going up to his room for a rest.
When dinner was ready, she called out, and there was no answer. She reasoned he was probably still asleep, and walked upstairs to get him.
But then she was struck by a terrible gut feeling.
When she opened his bedroom door, Anthony was lying there unconscious, slumped off his bed.
Anthony was dead – he had taken his own life. Marija was sure of it.
"Alex! Alex! He's dead!! Get here!" she called out to her husband.
Anthony was rushed to hospital and revived that night. It was a miracle. But to say Anthony had been 'saved' would be far too simplistic.
"Our lives descended into a private hell," Marija writes. What they would experience Marija terms an "endless death", with almost 20 years punctuated by alcoholism, self-mutilation, lying, theft and prostitution.
A decade later, when Anthony was in his early 30s, he travelled to Germany and exchanged letters with his mother. In one letter, she wrote his behaviour could only be explained by abuse – a switch had been flicked, and Anthony had irreparably changed.
He replied, "I don't know how I'm supposed to behave after I've been sexually abused," words which would later be passed onto the Federal Police, and reviewed by the Royal Commission.
In March 2014, when Anthony was just 38 years old, he died due to a severe epileptic fit.
His mother, father and sister, buried Anthony, who had spent the last two decades of his life horrifically tormented.
Marija believes that up until the day he died, Anthony understood that what happened to him as an adolescent was his fault.
"Paedophiles are exceptionally good at making victims feel like they are the perpetrators," she told Mamamia. 
"But one evil man ruined the life of one young boy."
Since Anthony's death, Marija has worked closely with the Royal Commission into Institutional Responses to Child Sexual Abuse. She believes, and with good reason, that teachers at Anthony's school knew what was happening and failed to protect him.
At the book launch of Anthony's Story Marija spoke about a life they desperately tried to save, and the downwards trajectory they could not prevent no matter how hard they tried.
"I'm sure if economists could calculate the loss of productivity from our young people [who have endured sexual abuse], it would be in the billions," she said, reflecting on their loss as a family, but also the loss felt by society more broadly.
Anthony had the world at his feet; he was good, he was funny, he was smart, he was kind, and they watched on as that potential evaporated.
How can you possibly ever calculate that loss?
When asked what message she'd give to parents given their experience, Marija said, "Be particularly vigilant…"
After a pause she added, "But we were vigilant too.
"So you can be vigilant but at the end of the day, your children have got to get out there. And we can't wrap them in cotton wool.
"We need to continue to trust these institutions."
Marija's book, Anthony's Story, paints a portrait of a life affected by child sexual abuse.
We see the torment and the innocence lost. We see the plethora of ways trauma manifests itself, and how one act of evil, can undo not only an individual, but their family.
We see statistics, and we've followed the Royal Commission. But it is only when we examine a single life, that we are able to see the personal cost of child sexual abuse.
Marija Radojevic speaks the unspeakable, and provides us with an enormous gift of insight.
Anthony's Story does not end on the final page of her book.
It lives on in the reader who is struck by an overwhelming realisation that must be put into action: Something has to change.
Because one story like Anthony's is one too many. 
If you think you may be experiencing depression or another mental health problem, please contact your general practitioner or in Australia, contact Lifeline 13 11 14 for support or beyondblue 1300 22 4636.