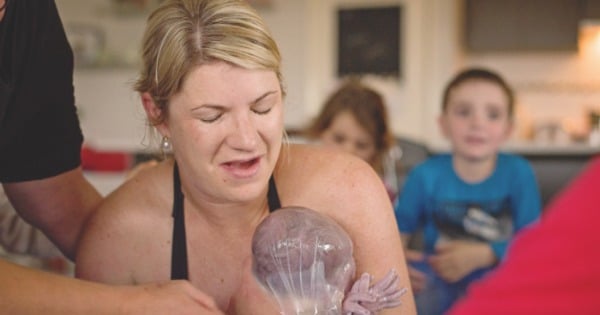 By Larissa Romensky
Australian hospitals each deliver different antenatal education programs and now one birthing expert is calling for a more standardised approach.
Hypnobirthing Australia director Melissa Spilsted would like to see a standardised, evidence-based antenatal education program introduced across all Australian public hospitals.
"Every state is doing their own thing, every hospital is doing their own thing," she said.
"They're all running their own individual antenatal program so we don't have consistency across the board.
"They're not standardised and they're not evidence-based."
National guidelines in place.
Ms Spilsted's particular concern is the lack of publicly-funded alternative options for birthing, including complementary therapies.
But La Trobe University director of teaching and learning Michelle Newton said while there was not a standardised antenatal program across the country, there were national antenatal clinical practice guidelines as part of a Federal Government initiative.
"There's no actual clear, dictated approach to antenatal care that you would find in every public hospital," Dr Newton said.
"Most hospitals would offer a very traditional model of birth preparation, which would be a lot of information-sharing about the process of birth and what happens, and what women can do and what techniques they can apply.
"But [they] wouldn't be specifically on one technique, such as hypnobirthing or calm birthing."
Women looking for alternatives.
Hypnobirthing is the practice of relaxation and self-hypnosis while going through childbirth.
Ms Spilsted said her antenatal education program incorporated a range of different complementary therapies such as relaxation, self-hypnosis and breathing techniques.
There are 130 practitioners in Australia as part of her organisation, with several private hospitals and health services in the country offering the course as part of their antenatal program.
One of those hospitals is St John of God in Bendigo, which started offering hypnobirthing classes late last year, with 15 women so far taking up the opportunity.
"We just thought hypnobirthing has shown positive experiences in more natural birthing approaches, and the women seem to be more satisfied with this," maternity unit manager Shirley Lechmere said.
Having spent 40 years as a midwife, she said women were more informed and were looking for alternatives more so than when she started in the field.
"They don't just come along and book in for a baby and allow us to take charge," Ms Lechmere said.
"We encourage them to take charge, and they are given that opportunity to seek out what they like."
The new $630 million Bendigo Hospital nearby is one of the few public hospitals in Australia to offer a well-established continuity of care model in midwifery, but it does not offer hypnobirthing classes.
Many midwives who work in the public hospital system teach the course privately.
Britain more progressive in maternity care.
While in Australia hypnobirthing is not available under Medicare, it is a different story in the United Kingdom.