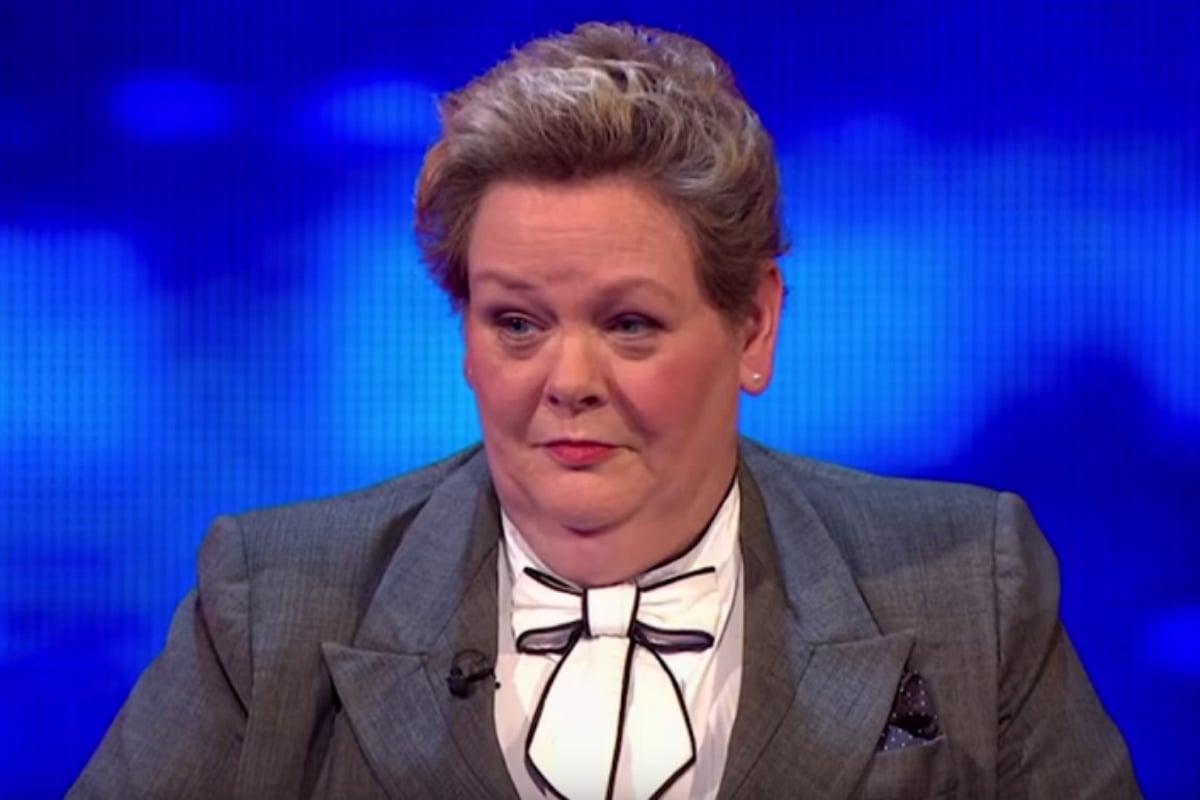 The website of the UK's National Autistic Society broke this week, after being inundated with visitors seeking information. All it took, was a single, vulnerable exchange on national television, a moment in which a famous woman opened up about the challenges of living with Asperger's Syndrome.
That woman was Anne Hegerty, known to most as The Governess, a formidably intelligent star of quiz show The Chase.
Currently appearing on I'm A Celebrity Get Me Out of Here (UK), the 60-year-old Brit told her fellow contestant about why she's struggling on the series.
"It's an autistic thing, when you're trying to work out what to do… What neurotypicals have is a thing called mirror neurons, so they can see a thing done and know how to do it. And I have to kind of line the mirror neurons up in my head… I have to actually work it out beforehand," she said.
When actor Rita Simons noted that Anne doesn't "seem to have trouble picking up on social cues" – a common characteristic of the Asperger's – she replied: "Thank you. That's something that I've sort of worked on. As a teenager I was absolutely useless at it."
Later speaking to the camera, Anne, who also appears on the Australian version of The Chase, said she welcomed the conversation. "I didn't raise the autism issue – 'By the way, I have this interesting disability which you have to accommodate!' I try not to do that. But if someone else raises it, I make it quite clear that I'm happy to talk about it," she said.
Asperger's Syndrome is a type of Autism Spectrum Disorder that affects how people perceive the world and interact with others. Though often of above average intelligence, people living with Asperger's can have difficulty expressing themselves and working out what others may be thinking.
Autism Spectrum Disorders are diagnosed four times as often in boys than they are in girls.
As noted by Autism Spectrum Australia, this is believed to be partly due to the fact that girls with ASD are often better at 'masking' their limitations in social understanding, communication and social imagination. They are also more likely to be misdiagnosed with conditions such as language delay, anxiety and avoidant personality disorder.
In fact, it's common for women to reach adulthood before they receive their diagnosis.
That was precisely the case for Anne. Speaking to British chat program Loose Women in 2017, she revealed she was 45 when she learned she was living with Asperger's.
"Around 2003 I happened to see a TV program about little autistic boys, and something about it just kind of clicked. I thought, 'There is something about the way those boys are behaving that reminds me of me… and of me as a child,'" she said.