Anne Hathaway may be currently starring in a glamorous tale of cons, heists and theft, thanks to her role in Ocean's 8, but in truth her personal history is just as intriguing.
The Anne Hathaway we know today is an Oscar winning Hollywood force, married to Adam Shulman and mum to Jonathan.
But if you cast your mind back to 2008, her romantic life looked a whole lot different.
That was the year when the the former Disney star turned serious actress and blockbuster staple found herself tangled up in a scam that wound itself up and around New York' most prominent and wealthy families.
Everyone from the Clintons to the Trumps to John McCain's family were caught out by it, led by her then long-term partner Raffaello Follieri.
Italian entrepreneur Follieri was 29 years old when he was charged with conspiracy, wire fraud and money laundering and at the time of his arrest, he and Anne had been together for four years. Before news of the scandal broke and the couple had parted ways, she had always spoken lovingly of him in interviews and they had walked numerous red carpets hand-in-hand, including the Academy Awards.
"It was totally love at first sight," said Anne in an interview, according to Vanity Fair. "He is sooo good-looking … He looks like a God."
According to reports by the FBI, Follieri had misused funds received from investors, using the money to fund a luxurious lifestyle, one that included international travel and an extensive property portfolio.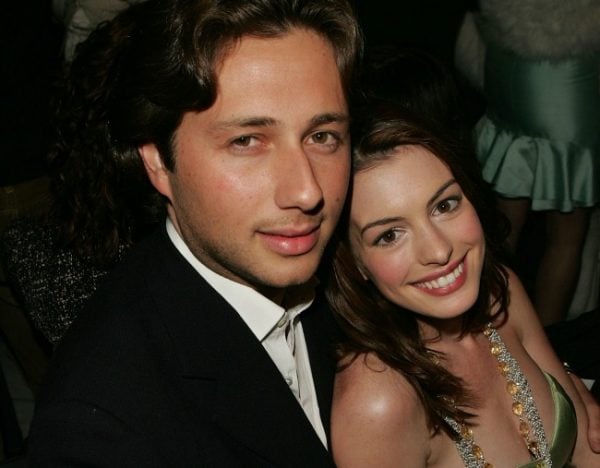 The luxury lifestyle claim made by prosecutors extended to holidays and privately chartered flights for himself, his relatives and his "then girlfriend", who was not identified in court documents but was believed to be Anne.
It was found that Follieri had duped investors into contributing millions of dollars into a scheme he was running, one that involved buying up properties owned by the Catholic Church and then redeveloping them to sell at a profit.
In order to pull off the scam, it was found that Follieri had in fact posed as a representative of the Vatican, claiming that he had been formally appointed by them to manage investments. He even went so far as to claim to have met the Pope in person in Rome, telling investors that their relationship was allowing him to acquire their properties at very cheap prices.
In 2008, Hathaway dumped Follieri and then his situation went from bad to worse.
Just 10 days after their break-up he was dragged out of Trump Tower, from the penthouse that he owned and was living in with his parents, by the FBI.  He was sentenced to four years in federal prison and was was released in 2012. Instead of being able to return to his former New York stomping ground, the disgraced former businessman was handed over to U.S. Immigration and Customs Enforcement, who oversaw his deportation to Italy.
During their four-year courtship, Anne also served as a financial donor and a member of the board of directors for Follieri's foundation, although she was cleared of taking any part in or having knowledge of what her boyfriend was up to.
Anne distanced herself form the foundation before the IRS began investigating the organization for failing to file tax papers required for non-profits. Although she did not walk away from the situation without having to work to clear her name.
After Follieri was indicted, authorities seized Anne's private journals as part of their investigation into his business dealings.  Anne was also forced to hand over thousands of dollars worth of jewelry that Follieri had gifted to her during their relationship.
"I felt so foolish initially, and I expected everyone to judge me, but all I got from family members, friends and strangers – from every corner – was compassion. I found it so humbling, and it really got me through everything," she told The Telegraph in an interview detailing the aftermath of her break-up. "Goodness, it was a bad relationship. It was an embarrassing break-up."
But while Follieri has been banished to Italy, Anne's career in Hollywood has been going from strength to strength and her latest role in the box office topping Ocean's 8 is just the icing on the cake.
Lets just hope that starring in the con-themed flick didn't bring up too many bad memories for her.
Ocean's 8 is now playing in cinemas Australia-wide.