Hollywood is delighted that it doesn't have to be nice to Angelina Jolie any more.
'That crazy bitch. That homewrecker. That smug do-gooder. That intercontinental adopter. Thank God that nice Brad Pitt has finally divorced her', they're saying, 'and now we can go back to treating her like the wild weirdo she is.'
It's the narrative that's accompanying Angelina Jolie's "return to the spotlight" this week. Since announcing her split from Pitt last September sightings of Jolie have been rare, but on Saturday, she was back, in typical Angelina style.
She didn't offer up a photo opportunity at some A-listy It Restaurant. She wasn't launching a perfume at Barney's. Nope, Jolie and all of her six children were front and centre at a movie premiere in Cambodia. It was for the new Netflix film that she has directed and produced. About genocide. It's in Khmer, not English. It's called First They Killed My Father, and is based on the memoir of a former Cambodia refugee, Loung Ung.
That sound you can hear is Hollywood eye-rolling.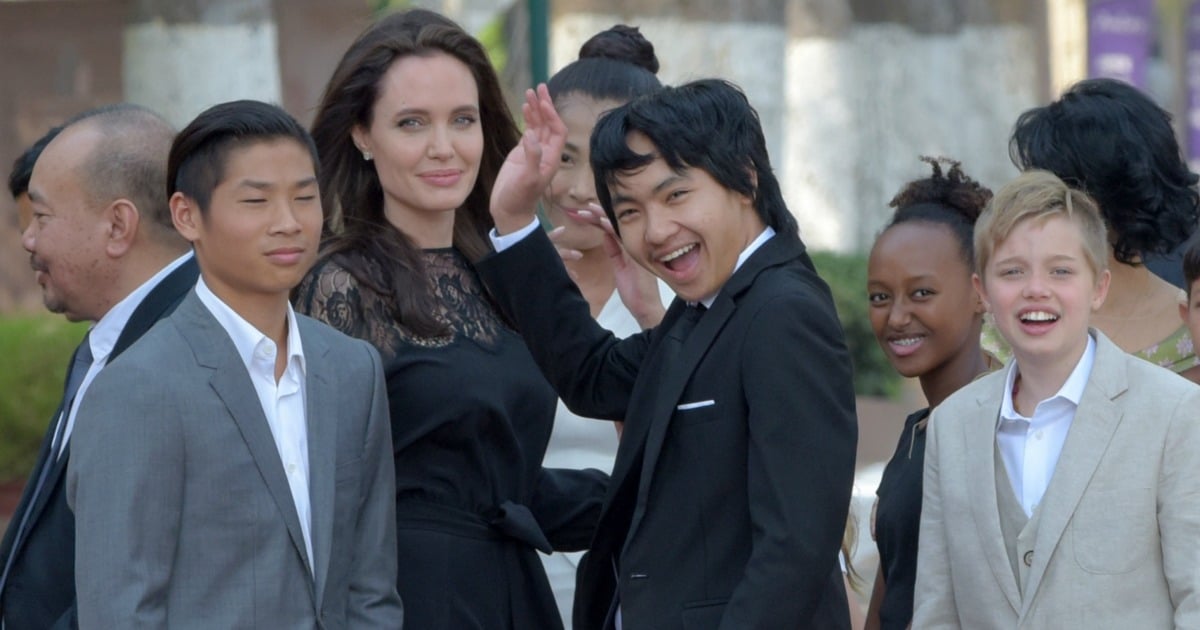 A scathing piece in the New York Post (and on News.com.au here in Australia) summed it up: "They tolerated her only because of him."
The article backs the theory that Hollywood is firmly Team Brad.
In Tinsel Town, as in life, when your friends break up, you have to take sides. Which side has been picked was on clear display when Pitt popped up at the end of the Golden Globes, looked suspiciously gloriously ageless and received a standing ovation for standing still for a few minutes. "Oh," the crowd seemed to be saying. "He's been through such a hard time with that woman. Bless his heart. We're with you, Brad!"
After all, that bitch of a wife was trying to get a child-abuse charge to stick (they settled, Pitt is reportedly now allowed to see their six children on supervised visits with a therapist present). She was trying to demonise him. She blindsided him with lawyer games. She was wielding the power of bad publicity over his golden head.
Not a chance, Angie. Hollywood memories are long and everyone's just been waiting for an opportunity to dust off their Team Jen shirts, circa 2005.
After all, we know what you're like.
What exactly has Angelina Jolie done to end up on such the shitty end of the divorce stick?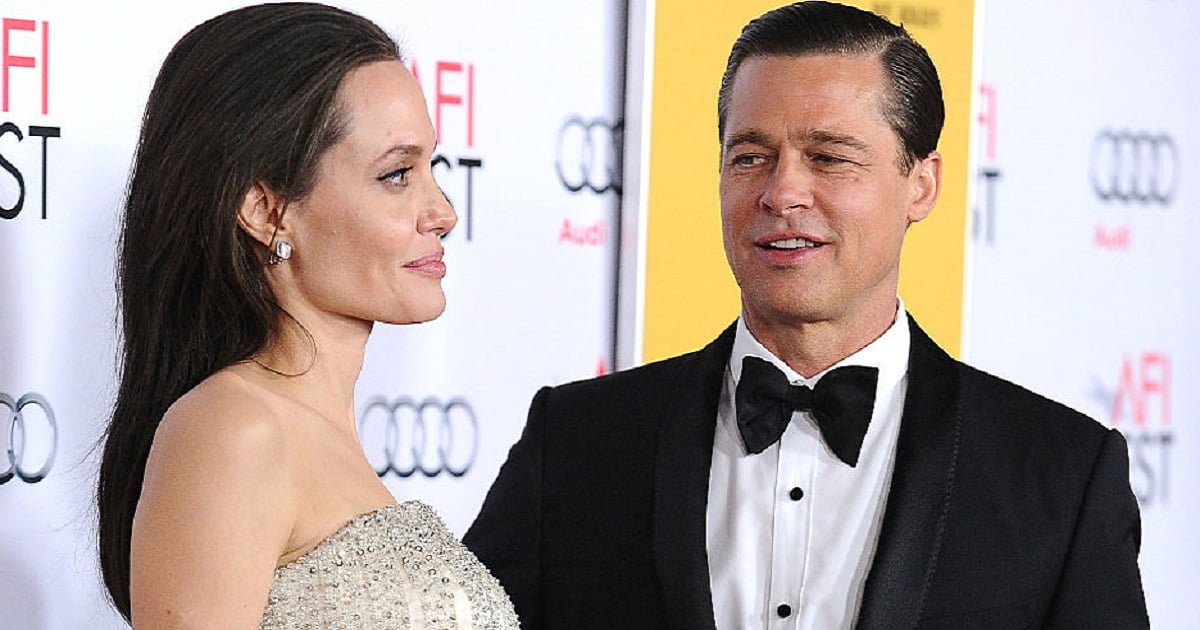 Well, let's see:
She fell in love with a married man.
Twelve years ago.
Um, that's it.
Turn to the woman next to you and ask her what she thinks of Angelina Jolie. Ten dollars says they pull a face.
Because it doesn't matter who else you are, if you are a woman who has an affair with a "taken" man, the sisterhood will cast you out, and the establishment will go with them.
It's interesting to observe, because it doesn't work like this for guys. There's a very long list of famous men who have behaved despicably in their private lives - hello, Mel Gibson - but who Hollywood is happy to draw back to their bosom, urging forgiveness and preaching 'second chances'.
Let's examine the ledger.
Yes, Jolie began a relationship with a famous movie star while he was still married to another famous movie star (presumably, he had something to do with it). But also:
Angelina Jolie is an honorary Dame of the British Empire for her work as a special envoy to the UN. A special envoy is not a celebrity spokesperson, or a profile-lifter, but actually a fully-fledged diplomat. She's become of those.
To earn that position, she has spent a decade campaigning for the rights of refugees. In the last few years alone she has been on awareness-raising trips to in some of the world's most complex and dangerous regions: Syria, Jordan, Kenya, Iraq, Myanmar and Lebanon.
Between them, she and Pitt have donated an estimated $30 million to development, education and health projects around the world through their Jolie-Pitt foundation.
She regularly addresses the UN on the rights and safety of women in war zones, specifically the use of sexual violence as a weapon.
Recently she wrote in furious opposition to Trump's travel ban (and hey, Hollywood loves a Trump critic).
Before the Khmer Rouge movie, she directed the epic Unbroken, a decidedly un-chick-flicky take on the heroic story of an American POW, Louis Zamperini, and his brutal  fight for survival. Before that, she directed 2011's In The Land Of Blood and Honey about the Bosnian war, with no stars, with local actors, in local language. Stop eye-rolling.
And of course, in 2013, Jolie wrote an op-ed for the New York Times saying she had a preventative double mastectomy after testing positive for the BRCA1 gene, which vastly increases a woman's chance of contracting breast or ovarian cancer. A report two years later found that Jolie's decision to go public vastly increased awareness, both of the gene, and of a woman's options should she test positive for it.
On the other hand, a guy who made a promise not to cheat on his wife cheated on his wife 12 years ago.
How do these things compare?
Maybe Jolie has, as Chelsea Handler famously said, no female friends. Maybe she's a difficult, prickly person to work with. Maybe she and her six children have enough nannies and tutors and bodyguards to staff a small school.
Listen: The Mamamia Out Loud team debriefs on the shock of Brangelina's demise. (Post continues after audio.)
But what really makes us uncomfortable about her is that she doesn't follow the script.
Jolie has always been a rebel. Once, she was a 'wild-child' in the acceptable sense - she was all about the sex and drugs and rock n roll (and, you know, blood viles and knife-play and pashing her brother).
Then, we cast her as the husband-stealing femme fatale. Every nice girl's worst nightmare.
But the truly rebellious, subversive thing Jolie did was to rip that playbook up and become a person who gave a shit about the world, and demonstrated this by not just talking about it in an interview or appearing on a Telethon.
She makes unsellable movies, she speaks up for people who have no voice and she shines light on dark and difficult issues.
Angelina Jolie walks her talk and it makes us all uncomfortable.
Now, where's my Team Jolie T-shirt?