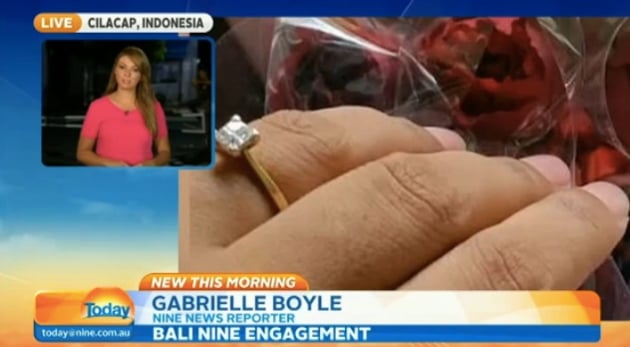 And there in the darkness came a small, oh so small, glint of light. All hope and happiness is not lost until the very end.
Channel 9 journalist Jayne Azzopardi has just broken the news on Twitter than Bali 9 inmate Andrew Chan, 31, has married his fiance, Febyanti, in what could be his final hours of life.
31-year old Chan proposed to Feby, as she is known, in February this year just after his plea for clemency was rejected by Indonesian President Joko Widodo.
Related: This is how the Bali Nine duo will spend their final hours.
During an interview, Feby told News Limited earlier this year that: "Andrew is one of the strongest, kindest people I have ever met… I have never seen him as just a prisoner or someone who is on death row."
The couple met two years ago through mutual friends – Feby, like Chan, is an Indonesian Pastor. She had been visiting the jail to help the prisoners.
Chan's religious studies supervisor told the Fairfax press that Feby had done a lot for the condemned inmate.
"She's been helping with different programs [in the prison] for a number of years," Reverend Buckingham said. "Feby has been a very good influence on him. They work very well together when they are providing services and ministering in the prison."
Read more: Who is Bali Nine inmate Andrew Chan's girlfriend?
"All I can say is that she has been a huge part or Andrew's transformation and without her, [it] would have been really tough for him," Chan's brother Michael told Fairfax Media. "He thinks the world of her."