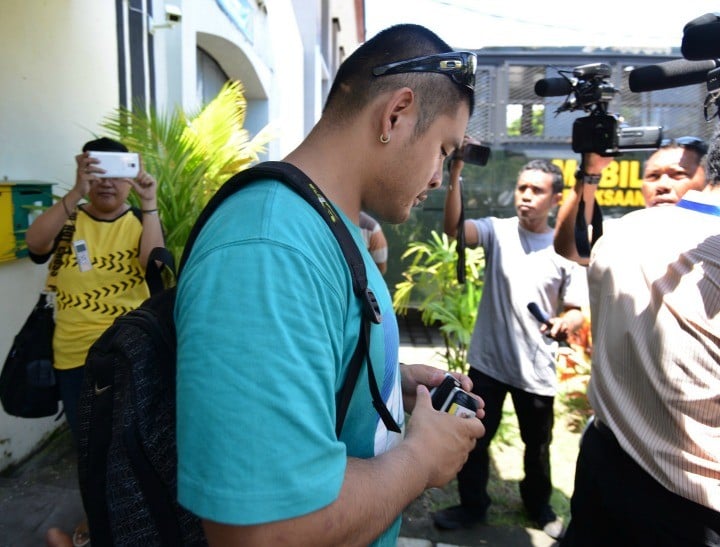 What two Australian men's last moments on earth will look like.
Warning: This post contains graphic details and may be distressing for some readers.
Nine years after being convicted of drug trafficking, Australian drug smugglers Andrew Chan and Myuran Sukumaran will likely be put to death before the end of this week.
Fear, empathy and yes, an element of morbid curiosity, are prompting the Australian public to ask more questions about the pair, what their last moments on earth will be like and the horrible fate that awaits them.
Here is how these two men, who admittedly committed truly horrific crimes when they were young and stupid and for which they have spent a decade in a foreign jail – will spend their last 72 hours:
A boat ride to a remote island in the middle of the night:
Up 72 hours before facing the firing squad, Chan and Sukumaran  will be transferred to the island on which they are to be shot; Nusa Kambangan.
Nine News reporter Jayne Azzopardi visited the island, and told Mamamia the large island is "quite a journey" from Kerobokan prison (where the men are currently being held) on the mainland, involving a flight, a five-hour road trip and a ferry ride.
"The island is a bit like two worlds, because there's one part of it that's a bit like a tourist island (with) really makeshift looking shops and locals sipping coconuts. We were quite a novelty, being Western faces," Azzopardi added. "But the other side of the island, where the prisoners stay, is a different story."
Azzopardi said she couldn't step foot on that part of the island; it's a restricted area, so her boat took us only to the border of that area. But she did see "a ferry when we got there that had some of the prison staff on it; it was also where they bring prisoners themselves."
"Usually when the men arrive on the island, it will be at night time so there's as little disruption as possible," she said.
She also saw "a big sign out the front that has three big men with their fists in the air including the narcotics boss, and the Justice Minister".
While seven prisons are housed on the island currently, they're not visible from the shore.
"You can see where the road drives off into the rainforests… but you cant see anything else from there," Azzopardi said.
"Someone described (the prison complex) to me as Indonesia's Guantanamo Bay."
A last meal and some supervised time with their families:
In their last 72 hours, prisoners are granted final requests and allowed to spend time with family and friends, the Daily Mail reports. Their last hours, before leaving for the firing squad, are spent in isolation cells.
Related content: "My life is an absolute waste": A letter from Andrew Chan.