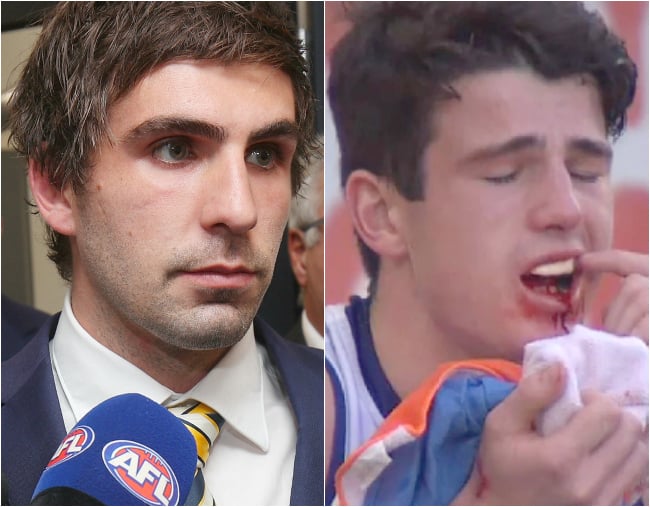 Last weekend, a teenager went to work and got punched in the head.
One fist. A shattered jawbone. Five teeth knocked loose.
Days in hospital. Surgery. Four weeks on no solid food. Months of rehabilitation ahead.
The other guy? The one who threw the punch? He's been told to go home and sit out the next eight weeks. Reflect on what he's done. And then? He'll be back at his well-paid job.
Who, in this scenario, is worthy of empathy? Of sympathy and support? Of well-wishes and worry?
It's harder to decipher that than you think.
You see, this didn't happen in an office. It didn't happen on a building site, or in a pub, or in a restaurant. It happened on a football oval. And it's the story of the week.
Last Sunday Andrew Gaff, 26, made a "mistake" in the West Coast AFL derby between the Eagles and the Fremantle Dockers.
He flew at a young player, 18-year-old Andrew Brayshaw, with a raised fist.
If you have not watched the video that's been circulating for days, you won't know that at the time, neither of the men were anywhere near the ball. That was being chased by their teammates, at least 100 metres away.
This was not a clash that happened in an attempt to win a mark. Their tussle had no bearing on the outcome of the game. It was just a man, running up to another man, and punching him in the jaw.
And here we are. A blood-splattered guernsey. A teenager in hospital. Facial reconstruction surgery. A public apology. And a huge amount of sympathy… for the man who threw the punch.
Last night Andrew Brayshaw, a young man who grew up soaked in sport – his dad, Mark, is the CEO of the AFL Coaches Association – said that he forgave Gaff.
He described him as "a good bloke [who] has made a bad mistake".
"The action itself is horrific," Brayshaw said, on his way home to Melbourne where his mum will feed him his blended meals through a straw. "But the person that Andrew Gaff is, I forgive him and I'm not going to hold a grudge."