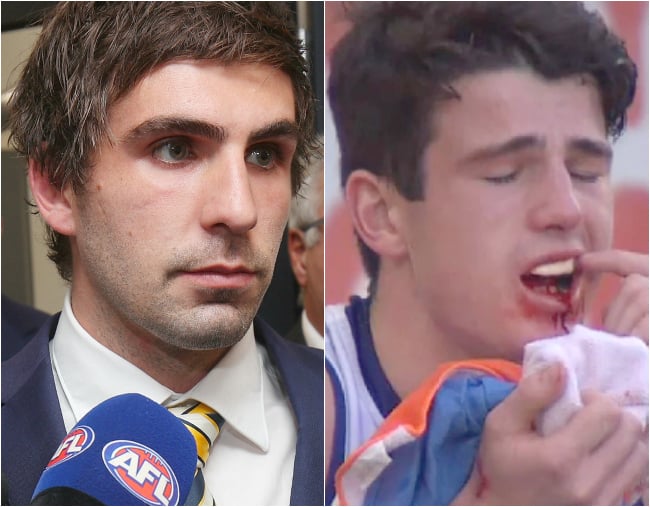 Last weekend, a teenager went to work and got punched in the head.
One fist. A shattered jawbone. Five teeth knocked loose.
Days in hospital. Surgery. Four weeks on no solid food. Months of rehabilitation ahead.
The other guy? The one who threw the punch? He's been told to go home and sit out the next eight weeks. Reflect on what he's done. And then? He'll be back at his well-paid job.
Who, in this scenario, is worthy of empathy? Of sympathy and support? Of well-wishes and worry?
It's harder to decipher that than you think.
You see, this didn't happen in an office. It didn't happen on a building site, or in a pub, or in a restaurant. It happened on a football oval. And it's the story of the week.
Last Sunday Andrew Gaff, 26, made a "mistake" in the West Coast AFL derby between the Eagles and the Fremantle Dockers.
He flew at a young player, 18-year-old Andrew Brayshaw, with a raised fist.
If you have not watched the video that's been circulating for days, you won't know that at the time, neither of the men were anywhere near the ball. That was being chased by their teammates, at least 100 metres away.
This was not a clash that happened in an attempt to win a mark. Their tussle had no bearing on the outcome of the game. It was just a man, running up to another man, and punching him in the jaw.
And here we are. A blood-splattered guernsey. A teenager in hospital. Facial reconstruction surgery. A public apology. And a huge amount of sympathy… for the man who threw the punch.
Last night Andrew Brayshaw, a young man who grew up soaked in sport – his dad, Mark, is the CEO of the AFL Coaches Association – said that he forgave Gaff.
He described him as "a good bloke [who] has made a bad mistake".
"The action itself is horrific," Brayshaw said, on his way home to Melbourne where his mum will feed him his blended meals through a straw. "But the person that Andrew Gaff is, I forgive him and I'm not going to hold a grudge."
Brayshaw's absolution of Gaff came after the good men of football made it clear who the victim was here.
"We hope [Gaff] can get through it, there has been nowhere to hide," said Andrew's dad, Mark. "I hope he can move forward quickly… We hope and he hopes he has a long career and this is a speed hump."
"We just want to get him back and help him get through this over the next few weeks," West Coast coach Adam Simpson told Fox Footy.
"It's obviously devastating for him and for the club and the family," said the man likely to replace Gaff on the West Coast team, Dom Sheed.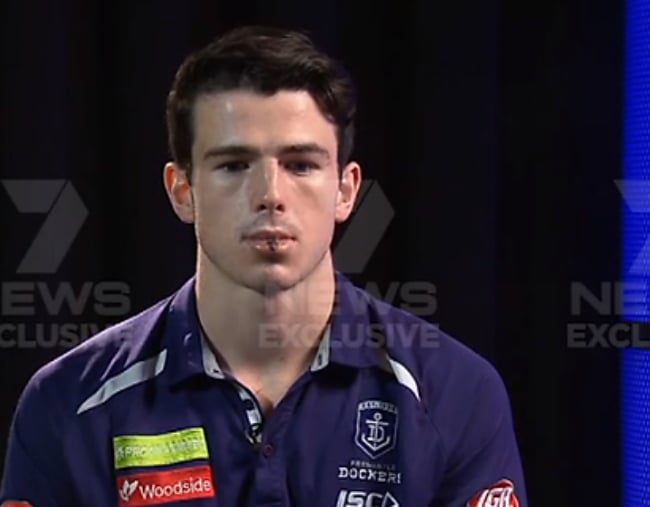 Remember, this is 'devastating' for the man who threw the punch, not the victim.
Andrew Gaff has been suspended for eight games. That means he will miss whatever is left of West Coast's 2018 season. A shot at the finals. Glory. That's got to hurt when your job is to win and win for your team and win for your mates and win at all costs.
Forgiveness is admirable. And a victim - as Andrew Brayshaw undoubtedly is in this scenario - is entitled to their perspective, of course. It's his story, not ours.
But why, in the wash-up of this incident that's dominated the headlines all week, are the questions not about a sporting culture that continually excuses violence, as long as it's happening on a green oval, in front of a crowd?
Or, you know, to a woman?
Let's be clear. If Gaff had punched - "coward-punched" - an 18-year-old fellow footballer in any other setting, he would be facing criminal charges right now. Serious charges.
"It shocked me," Ralph Kelly, whose son Thomas died on the streets of Sydney's Kings Cross in 2012 after a "one-punch" attack told ABC News. "An act like that, it was an assault.
"Young impressionable children are watching these videos, and what it does is normalises violence... I think the AFL needs to look past this one incident and think about violence per se — they need to make change."
Yes. Because we all usher our children towards football of various stripes, telling them and ourselves that we are building discipline, teamwork, and resilience. But what else is football teaching them?
Last October, on the dance floor of a Toowoomba pub at 1am, a man called Michael Richard O'Keeffe walked up to another man and punched him in the head, instantly flooring him. His jaw, like Brayshaw's, was broken. O'Keeffe was immediately taken into custody and charged with grievous bodily harm. He was in prison for eight months, seven of them before sentencing.
A 34-year-old man was charged with grievous bodily harm in Cairns, also last October, after breaking a man's jaw in a one-punch attack as the victim tried to get into a taxi.
And another footballer - Collingwood's Marley Williams - was charged with grievous bodily harm back in 2014 when he broke a man's jaw in a one-punch attack outside a nightclub.
But in footy? Well, listen-up kids, boys will be boys.
Bring back the biff.
What's a bit of argy-bargy between blokes?
You wouldn't want to be soft, would you?
Andrew Brayshaw doesn't want to be soft. The photo of him in his hospital bed shows him smiling through a busted face, thumbs-up and holding no grudges, like the good bloke he is.
And the other 'good bloke', Andrew Gaff, says he has no idea why he swung a punch with so much power that it embedded Brayshaw's teeth into his mouth guard. But he gets to walk away with only the tail-end of a football season taken from him.
So what else is footy teaching our children? That if you're big and strong, if you're aggressive and confrontational, if you're prepared to do whatever it takes, if you're not afraid to go hard, to f*ck up, to damage someone, to lose your head...
Well. You're a bloody legend, mate.
Just make sure you say sorry.