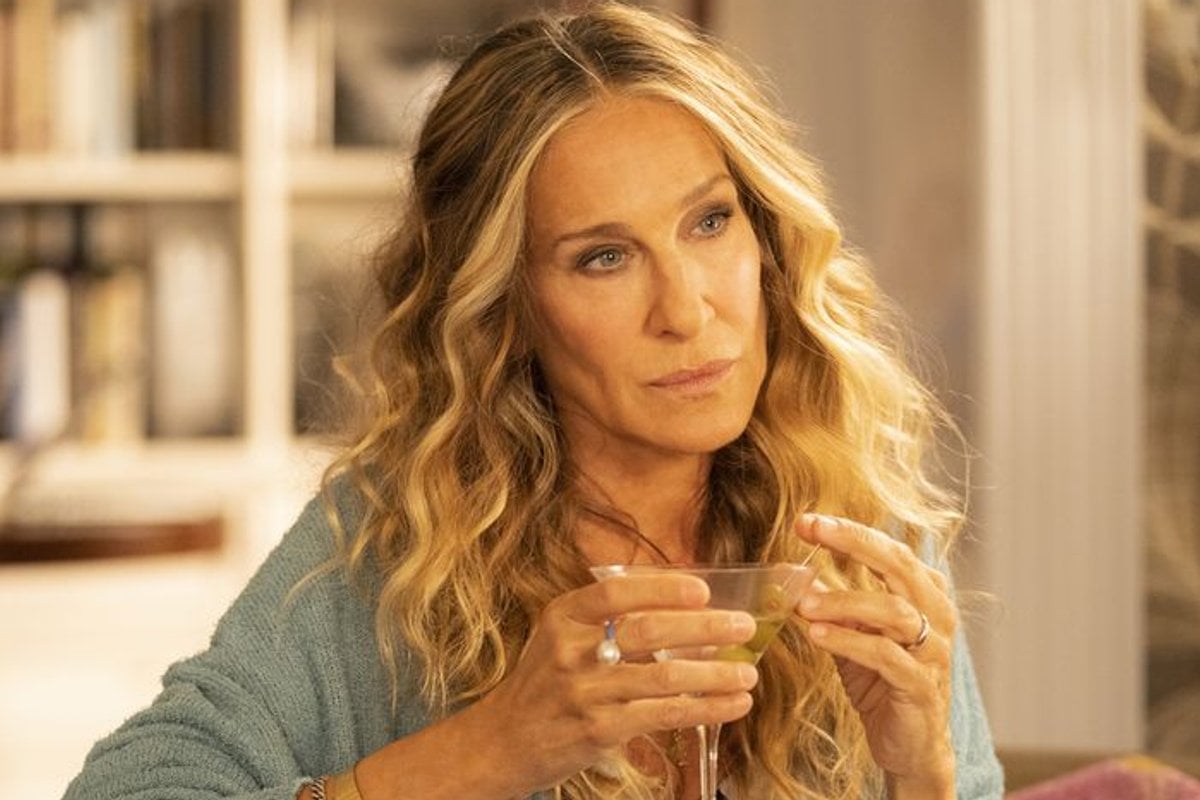 Warning this post contains some BIG SPOILERS for the first two episodes of And Just Like That. Go watch them on Binge and meet us back here. 
This post discusses alcoholism and may be triggering for some readers.
Sex And The City has had its ultimate reboot with And Just Like That - and in just six episodes, ours and Carrie's worlds have been turned upside down. 
In what was the most unexpected plot twist ever, Mr. Big died in episode one and viewers were left to watch Miranda and Charlotte rally around Carrie to offer round-the-clock support for their mourning friend. 
It's a glaring portrayal of loss, grief and an odd reminder of old Sex And The City days, where our main protagonist is left alone and without her Mr. Big, yet again.
Watch And Just Like That... A New Chapter Of Sex And The City. Post continues after video.
However, with just one of the biggest plot twists slapping us in the face within the first episode, there are a lot of questions about what could possibly come next. 
Turns out, a lot. 
Here are all the fan theories surrounding And Just Like That that are circling the internet.
All Chris Noth scenes from this point forward will be deleted. 
Reports are claiming that all the Noth scenes from episodes yet to air have scrubbed him from them, following the multiple allegations of sexual assault against him. 
TVLine reported that Noth was set to return to an episode for one final time, in a fantasy sequence where Carrie reunites with Big while visiting Paris' Pont des Arts bridge to scatter his ashes.
Following the multiple allegations that have been thrown at him, editors of the show have allegedly removed any future scenes of him. 
Discussion for Season 2 have reportedly ... stopped. 
While reports claim the entire cast and production were excited for season two, the Noth allegations have allegedly halted all conversations for another season.
"There was talk about doing another season, but after the past few days, all those conversations have stopped," a production source told Us Weekly. "Everyone is raw."
Four women have accused Noth of sexual assault since And Just Like That begun airing.
Nixon, Parker and Davis released a joint statement after the allegations broke. 
"We are deeply saddened to hear the allegations against Chris Noth. We support the women who have come forward and shared their painful experiences. We know it must be a very difficult thing to do and we commend them for it," it read.