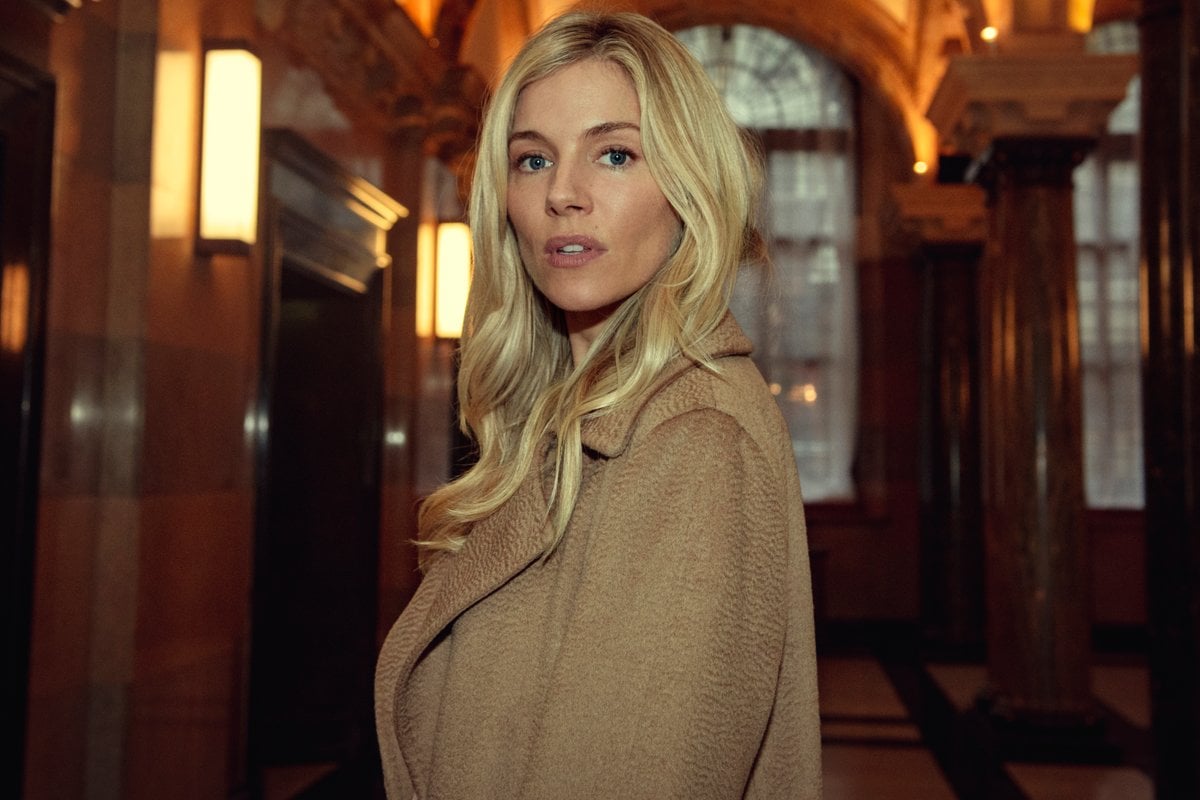 This post deals with sexual assault and could be triggering for some readers. 
Netflix's Anatomy of a Scandal hits all the right notes when it comes to being a TV series that's easily consumed faster than a glass of red wine on a stormy night.
There's a gaggle of aesthetically pleasing actors all garbed in muted yet expensive looks (let's just say that if the Golden Globes were still a thing, Sienna Miller's coat collection would definitely be in with a chance) all weaving in and out of lavish homes as they grapple with a web of secrets.
Which all makes sense seeing as the series was developed and executive produced by David E. Kelley, the creative powerhouse behind shows such as Big Little Lies and The Undoing, which also happen to feature famous actresses in good coats devouring glasses of wine the size of well-fed kittens.
Anatomy of a Scandal, which was one of Netflix's top trending shows during its release week, begins when Sophie Whitehouse (Sienna Miller) is summoned home by her MP husband James Whitehouse (Rupert Friend) to be told he has been having an affair with his parliamentary researcher Olivia Lytton (Naomi Scott) and the story is about to be splashed across every news site.
The story quickly becomes more than a headline, however, when Olivia accuses James of rape and Kate Woodcroft (Michelle Dockery) steps in as the prosecution counsel tasked with James' case, all the while hiding her own secret history with the Whitehouse family.
Listen to this episode of The Watch, which discusses every plot twist in Anatomy of a Scandal. Post continues below.
On one hand, Anatomy of a Scandal is an easily digestible drama that hooks viewers in with the promise of the one thing we all like to see on TV - rich people's anguish. It's a series only interested in holding your attention for the six episodes allotted to easily fit into a weekend binge-watch, designed to be watched in an all-consuming clump so you don't look too closely at some of the loose story threads. 
Yet, because of the show's use rape as the catalyst for the drama that unfolds on screen, the series, which is based on the novel of the same name by Sarah Vaughan, has no choice but to somehow add a voice to the ongoing discussion aerating the use of rape and sexual assault plotlines on TV.
In its early episodes, Anatomy of a Scandal manages to hit some right notes when it comes to the handling of rape and sexual assault storylines. Particularly in the trial scenes where we see Olivia take to the stand and recount her rape at the hands of James, all the while mindful that she must remain the 'perfect victim' at all times. 
From an audience perspective, we are aware that Olivia must not appear vindictive or stray from her story in any way. Always walking a tenuous line between being truthful about her relationship with James while also having to prove beyond a shadow of a doubt that what took place in that elevator was not consensual, even if the relationship leading into it was.