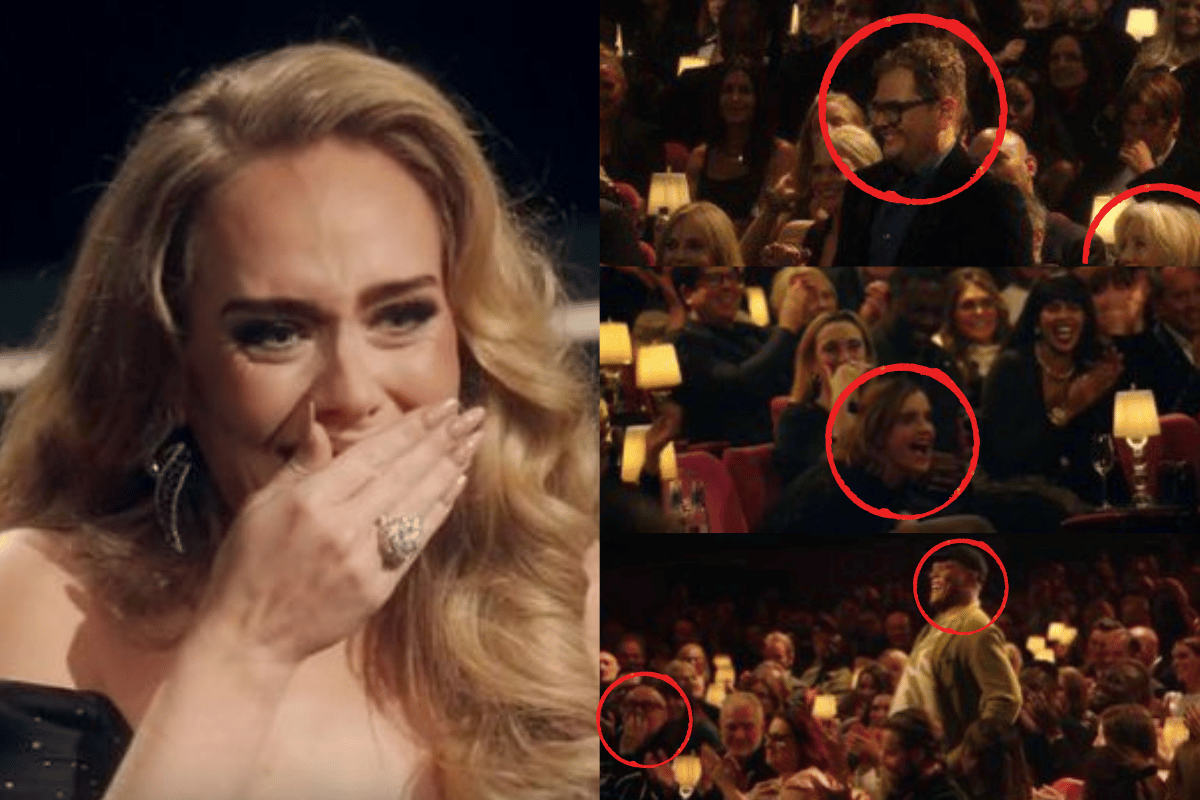 In case you're out of the loop and have somehow missed the hundreds of thousands of tweets and posts about Adele within the last few days (no judgement, I promise) - let me spell it out for you:
Adele is BACK, baby.
The 'Someone Like You' singer celebrated her return to the spotlight after a six-year hiatus - and she has done it with a bang. 
Performing a star-studded show at the London Palladium on Sunday evening, she was surrounded by A-list celebrities, victims of the Grenfell massacre, those who worked tirelessly on the COVID frontline, as well as "friends, family, fans, her own personal heroes and heroines, fellow musicians, artists, actors, sportsmen and sportswomen..."
And it was just as chaotic as you could possibly imagine.
Watch a snippet of An Audience With Adele, where the singer reveals a few of her idols. Post continues after video.
Here are the best moments from An Audience With Adele. 
1. Adele had a special visit from an old friend. 
There was a particularly surprising reunion for Adele during the show that left everyone feeling emotional. 
During the ITV special, Adele was asked by British actress Emma Thompson who the one person was that had supported and protected her as a child. 
The singer in response, named her high school English teacher Ms McDonald.
Sadly, they hadn't kept in touch but Adele shared that she had "really" gotten into literature because of the former teacher.
"She was so bloody cool, so engaging and she really made us care and we knew that she cared about us and stuff like that. She used to have all these gold bracelets on and gold sequins and I don't know, she was just bloody cool and so relatable and likable that I really looked forward to my English lessons."
The moment turned from nostalgic to emotional when Emma Thompson informed her that Ms McDonald was in the audience, with her two children.
We all have that one teacher who changed our life… such a beautiful reunion! ❤️

*PS, would totally buy Alan Carr's version of 'Make You Feel My Love* 🤣@Adele #AnAudienceWithAdele https://t.co/2ZZI2RS0mI pic.twitter.com/hlTOOZKt5j

— ITV (@ITV) November 21, 2021