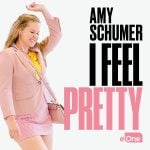 UPDATE: Laura Brodnik's Amy Schumer I Feel Pretty review is so bloody good, Amy Schumer shared it on Instagram. Read on for the Amy Schumer certified I Feel Pretty review.
Public nudity is very much illegal in our fair country, but Amy Schumer's glorious new movie I Feel Pretty will make you want to test that law, just a little bit.
It will also leave you so full of emotion that you might want to sneak a discreet pack of tissues into the cinema with you and spring for that extra-large box of popcorn. All because it can be a bit of an emotional roller-coaster when you sit through a movie that has you snort laughing one moment, and then tearing up the next.
In I Feel Pretty, Amy Schumer stars as Renee, an "average" (by society's standards at least), woman who feels trapped and saddened by her appearance. In fact, her insecurities seep so deeply into every aspect of her life that they keep her from pursuing relationships and enjoying spending time with her two close-knit friends.
But perhaps most devastatingly of all, her disdain for her appearance prevents her from chasing her dream job. So instead of working within the palatial, Instagram-worthy offices of beauty brand LeClaire, she is stuck in a dingy basement workspace on the outskirts of New York, tinkering away on a forgotten section of the company's website.
In an attempt to fix her life by changing her appearance, Renee optimistically heads into a spin class, but after taking a catastrophic fall off her bike, she awakens from a blackout to find out that she is now drop dead, stunningly gorgeous. Or at least, she thinks she is.
To the audience (and everybody in her life) Renee looks exactly the same as she always did – and unlike other make-over movies from years gone by, we are never actually treated to a glimpse of the person Renee thinks she has transformed into.
It is treading this perfect line between humour, physical comedy and body positivity that the brilliance behind I Feel Pretty really shines.
Some of Schumer's best moments come from the scenes where she is paired with model/actress Emily Ratajkowski, a successful entertainer who is also traditionally "beautiful".
Now, when the trailer for I Feel Pretty first dropped, some people expressed concerns that the storyline and character of Renee were in fact more harmful than helpful to the body positivity movement. All due to the fact that Amy Schumer is a blonde, white, able-bodied woman of average weight and build.
If her body is comedic, people asked each other, then what hope is there for the rest of us?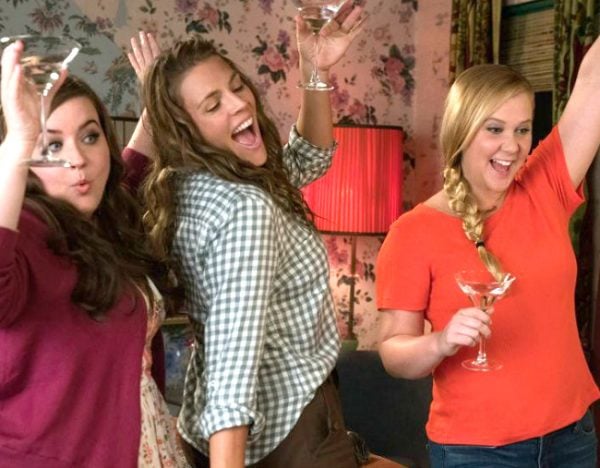 But the crux of this movie is that Renee's body and appearance are never the butt of the final joke. In her scenes with Ratajkowski's character, a model she meets at the gym, the joke is always on society itself and the way in which women with different bodies are so differently treated.
There's no denying that two these actors have very different body shapes - one which is universally celebrated as perfection and one which is not. All these scenes do is hold a magnifying glass up to how they are both treated - and the jokes pretty much write themselves. In this case, all you can do is laugh.
Speaking of laughs: Schumer is her usual hilarious self, but four-time Oscar nominee Michelle Williams is a freaking comedy revelation. She doesn't just play, she fully becomes the character of Avery LeClaire, the head of Renee's cosmetics company who is pretty much best described as a limited edition Barbie come to life. Or at least, that's how she appears on the surface.
In any other film she would have been the beautiful adversary Renee has to triumphant over to succeed. However, I Feel Pretty cares not for the tired female stereotypes that used to dominate cinema, and so this movie goes in a very different direction.
In fact, it's refreshingly exciting to sit down and watch a movie packed with interesting female characters and you can't spy an evil, cartoonish villain among them.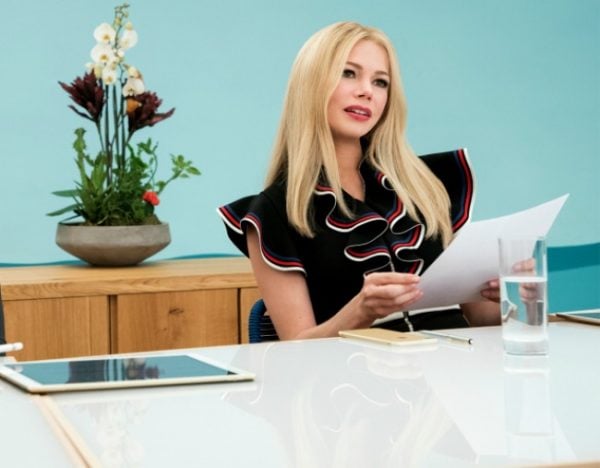 Along with being just a top-shelf, laugh-out-loud film, I Feel Pretty also has another emotive and completely unexpected trick up its sleeve.
It's a movie that stops you in your tracks, mid-popcorn crunch, and prompts you to compare your life to Renee's onscreen journey. To really confront your own insecurities about your body and then just ask yourself "What if "?
What if you never again worried that your stomach hangs slight over your shorts and you followed your desire to wear a crop-top and dance like no-one is watching on a bar?
What if you believed that your mind, experience and personality trumped your body insecurities and so you applied for your dream job right now instead of putting it off for a day that might never come?
What if you wore your brightest, loudest and most beautiful dress out on the town without feeling like you had to wear basic black and save your good clothes for a day your body deserved them?
What if you always kept the lights on during sex, because you wanted your partner to see your body instead of always feeling like you have to hide it?
What if you just did whatever the hell you wanted (including dancing in front of windows naked, which will actually seem like a very plausible and brilliant idea to you after you've seen this movie) when you wanted, in the body you're in, instead of wishing it away?
And then, during the beautifully crafted final scenes of I Feel Pretty, you'll find yourself asking one last, probing question: "Why the hell am I crying in this hilarious Amy Schumer movie?"
It's all because women's bodies and the myriad thoughts, actions and insecurities that go with them can be humorous as well as heartbreaking. It's glorious to see these feelings so many women have each day amplified on the big screen.
Actress and comedian Aidy Bryant, who co-stars as Renee's friend Vivian, put it best when she wrote on her Instagram account. "I'm very proud to be in a movie tells the story of someone who believes confidence is directly tied to looks but learns that confidence comes from within. It's a movie I wish I could have seen when I was 14."
Watching I Feel Pretty might compel you to contemplate acts of public nudity, but most of all it's just a raucous good time. And a good story well told is something we can all enjoy, no matter what your body shape may be.
I Feel Pretty is in cinemas April 19.
Got a recommendation for us? Have you left a cinema (or Netflix?) lately feeling empowered by women you're seeing on screen? Tell us below.