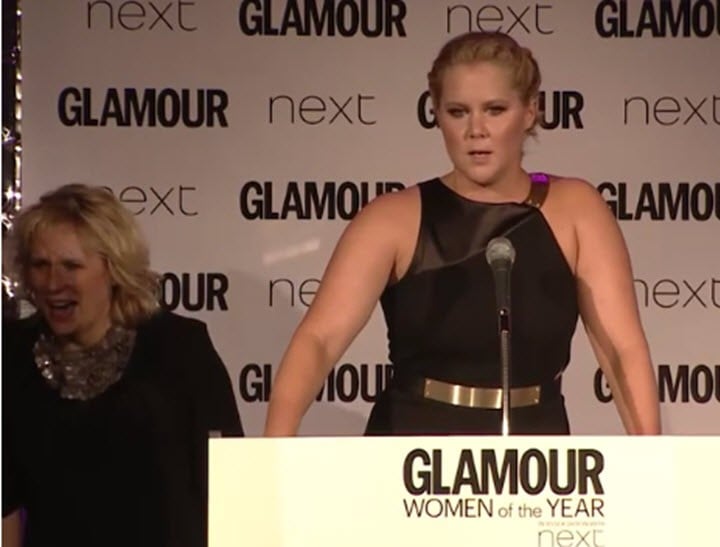 Oh God, we love her.
Her highness Amy Schumer has described how, despite not having super-skinny proportions, she's perfectly capable of picking up a guy any ol' time she pleases.
Actually, I really prefer how she said it.
"I'm probably, like, 160lb (72kg) and I can catch a dick whenever I want," she said, on-stage at the Glamour Woman of the Year Awards in London.
"Like, that's the truth. It's not a problem."
Schumer was presented a Trailblazer award at the ceremony by the legendary Jennifer Saunders, who stood behind Schumer chuckling merrily as she gave her acceptance speech.
Schumer's known for her strong feminist stance, poking holes in the sexism and ageism in Hollywood and society in general on her show Inside Amy Schumer. 
Her comments came after popstar Ellie Goulding said she was "punching above her weight" with her boyfriend Dougie Poynter and thanked Glamour for "loving real people" as she accepted her award for Solo Artist.
"I love the way Ellie was like, thank you for loving real people and she's like a fucking supermodel," Schumer said.
And, well, I know I already included this quote, but let's just read it again, shall we?
"I'm probably, like, 160 pounds right now and I can catch a dick whenever I want…"
That was pretty on point, but the most inspiring thing she said was this:
"I'm not going to apologise for who I am, and I'm going to actually love the skin that I'm in. And I'm not going to be striving for some other version of myself."