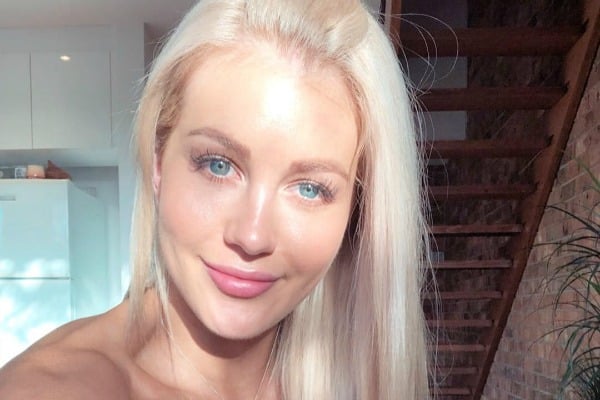 Hi. Hello. Have you been watching The Bachelorette?
Maybe you're doing so in between scrolling through your Insta feed, watching just enough so you can keep up with the water cooler talk at work. Or perhaps you're only really watching to understand the finer nuances of the recaps, videos, memes and hilarious group discussions.
One thing is sure – everyone seems to agree that this season's The Bachelorette is the Most. Boring. Ever.
I was like you, too – once.
When Channel Ten first announced Ali Oetjen as the new Bachelorette the second Bachelor in Paradise wrapped up – after we literally saw her and Grant Kemp declare their undying love for each other – I immediately declared to my empty living room, "Well, that's never going to work!"
I'm sure, I know, I wasn't the only one. Despite appearing on two iterations of the franchise, I knew nothing about this new Bachelorette – and to be honest, I didn't really want to find out more either.
All I remembered about her first appearance on Tim Robard's season of The Bachelor was that awkward kiss lean in... and despite being the cause for a flurry of excitement among the men when she first entered Bachelor in Paradise, as soon as she coupled up with Grant we never saw much of her again.
And, like many people, I scoffed at the fact that she was appearing for the third bloody time on this franchise. She's already had two chances.
She didn't seem relatable in the way of Australia's first Bachelorette Sam Frost – where the whole of Australia was cheering her on to find love after the brutal Blake Garvey fiasco.
She wasn't Georgia Love, the intelligent, determined, everyday woman who knew exactly what she did and did not want out of a man.
And she was no Sophie Monk – the funny, self-deprecating, self-confessed 'bogan' who we wanted to see find love after her past high-profile break ups.
It was always going to be a hard act to follow. And it certainly hasn't helped that her ex Grant won't stop talking about… the stairs. 
But when the time came for Ali to meet her suitors, I settled in for the ride. Mainly 'cos I had nothing better to do on the Wednesday night… and for the water cooler talk.
Listen to the latest episode of Bach Chat… 
We're now six weeks into it and Ali's season has delivered The Bachelorette's lowest ratings.
She's been labelled the worst Bachelorette ever. Her personality has been called boring, among other unnecessary personal attacks. She's also been strongly criticised for kissing all the guys.
But here's the thing I'm only starting to realise as we enter into the final couple of weeks of The Bachelorette.
It's not Ali's fault.
It's not her fault there's a lack of meaningful connection with any of the contestants.
She's trying her darn hardest to get to know these guys – which includes yes, kissing them – but um, if you haven't noticed, pretty much all the contestants are duds.
Not all, but in every other season of The Bachelor and The Bachelorette, by the time we get to this point, there are a few frontrunners. A few relationships that have blossomed where you've seen the connection grow and can definitely feel the chemistry. You believe either of the frontrunners would be perfect for the Bachelor/Bachelorette, but, of course, you have your favourite. And all that tension and drama is predicated on who will be the winner.