Three years ago, Alex McKinnon suffered fractures to his C4 and C5 vertebrae during a tackle while playing for NRL team the Newcastle Knights.
The injury left him a quadriplegic, and his promising sporting career was cut short.
But there was one thing he didn't lose – the love of his childhood sweetheart, Teigan Power, who just six months after his surgery became his full-time carer. She was just 20 years old at the time.
Three and a half years later, on October 8, the couple wed in the NSW Hunter Valley, and Alex was able to fulfil a promise he made to Teigan while he was still recovering in hospital: that he would stand by her side throughout the ceremony.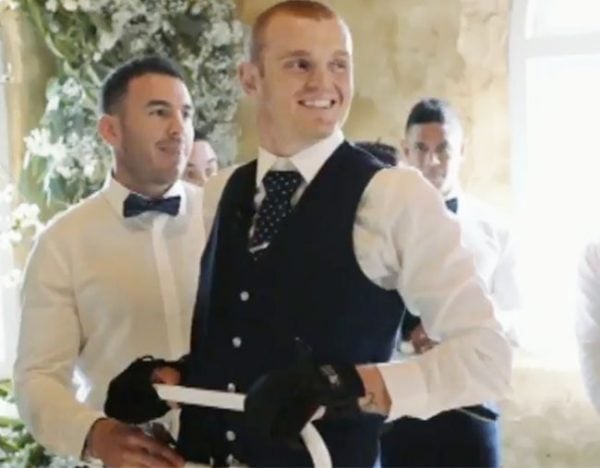 Before the big day, 25-year-old Alex's 'standing record' was 15 minutes. But somehow, he managed to stay standing for 45 minutes while he and Teigan read each other their vows and exchanged rings.
"The whole time I'm thinking, 'I'm going to have to sit down, I have to sit down, how am I going to do this?'" Alex told The Project's Gorgi Coghlan last night.
"And at the end of the ceremony it was 45 minutes. I was like, 'How did I just do that?'"
Teigan - now 23 - described the incredible feat as "really special".