When Alex Nation met Richie Strahan's mother on The Bachelor finale, things didn't appear to go smoothly.
While Mrs Strahan gushed over Nikki Gogan (Richie's other girlfriend at the time), she was shown to be apprehensive about Alex's status as a single mum.
"It's just a shock, Richard," are words that will live on in Australian TV infamy for years to come.
But now, two weeks on from the announcement, Alex and Richie have spoken to PopSugar about life as one of Australia's most public couples, the backlash they've received, and whether what we saw on the show was as it seemed.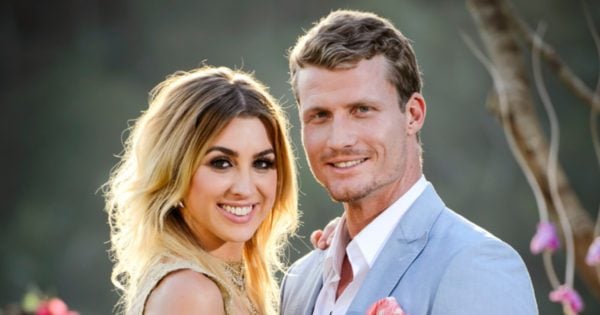 And one of the first questions the couple were asked was about how Alex has gotten along with Richie's family since filming ended. Spoiler alert: very well.
"I've absolutely loved ... seeing Kate again," said Alex. "It's been amazing. It's all the stuff you look forward to in a new relationship."
Richie agrees, explaining that the tension we saw in the finale was "a bit of TV 'reality'."
"My mum and my sister just absolutely love Alex and say such wonderful things about her. My sister is so happy — she's found another fashionista girlfriend," he added.
Listen: Our Bach Chat podcast reflects on The Bachelor finale. (Post continues after audio.)