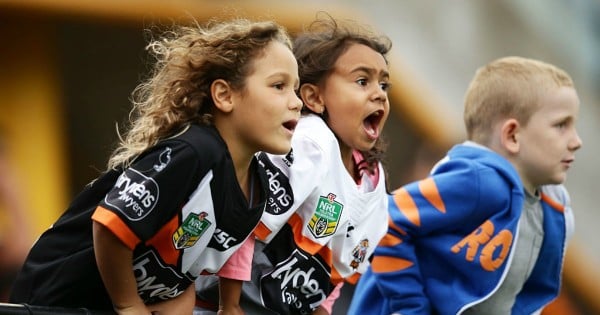 There is no question: Alcohol is causing great harm to the families, children, and communities, that the National Rugby League (NRL) would have you believe it cares for.
Now I'm trying to do something about it.
I find it impossible to applaud the NRL for its investment and support of community programs – no matter how worthy – in the face of its alcohol sponsorship ties and aggressive promotion of alcohol.
Last month my dad, former Rugby League player, Steve Ella, wrote to NRL CEO Todd Greenberg.
He was motivated to do so by a recent NRL giveaway for The Daily Telegraph readers of a free NSW Blues branded can of VB.
He told Todd Greenberg that he was dismayed with the ever-increasing saturation of alcohol advertising and sponsorship of the NRL.
Not when alcohol causes so much harm in our communities, and not in a game that appeals to our nation's kids.
Dad's right.
Our children deserve more than to have their sporting heroes reduced to walking, talking alcohol advertisements.
Since playing for the NRL, dad has worked in the drug and alcohol sector for 19 years. He sees first hand the devastating impact of alcohol.
The NRL's partnership with the alcohol industry is ill-conceived and inappropriate. It is out of step with community standards and expectations and completely undermines the NRL's existing community programs.
One of their partners, White Ribbon, for example, is an organisation that works to prevent male violence against women. Yet, alcohol is a key factor behind domestic violence, which doesn't just affect the women but also children and other family members.
The NRL also partner with the Blackdog Institute, which is a world leader in the diagnosis, treatment and prevention of mood disorders such as depression and bipolar disorder. Another is Headspace, the National Youth Mental Health Foundation which provides early intervention mental health services to 12-25 year-olds, along with assistance in promoting young people's wellbeing. This covers four core areas: mental health, physical health, work and study support and alcohol and other drug services.
How can the NRL support these organisations, while simultaneously advertising one of the major contributors to domestic violence and mental illness?
We encourage kids to get into sport for many reasons. Being active can reduce the risk of diabetes, help with healthy growing of bones and muscles, improve coordination and balance, provide mental health benefits, improve social skills and so on.