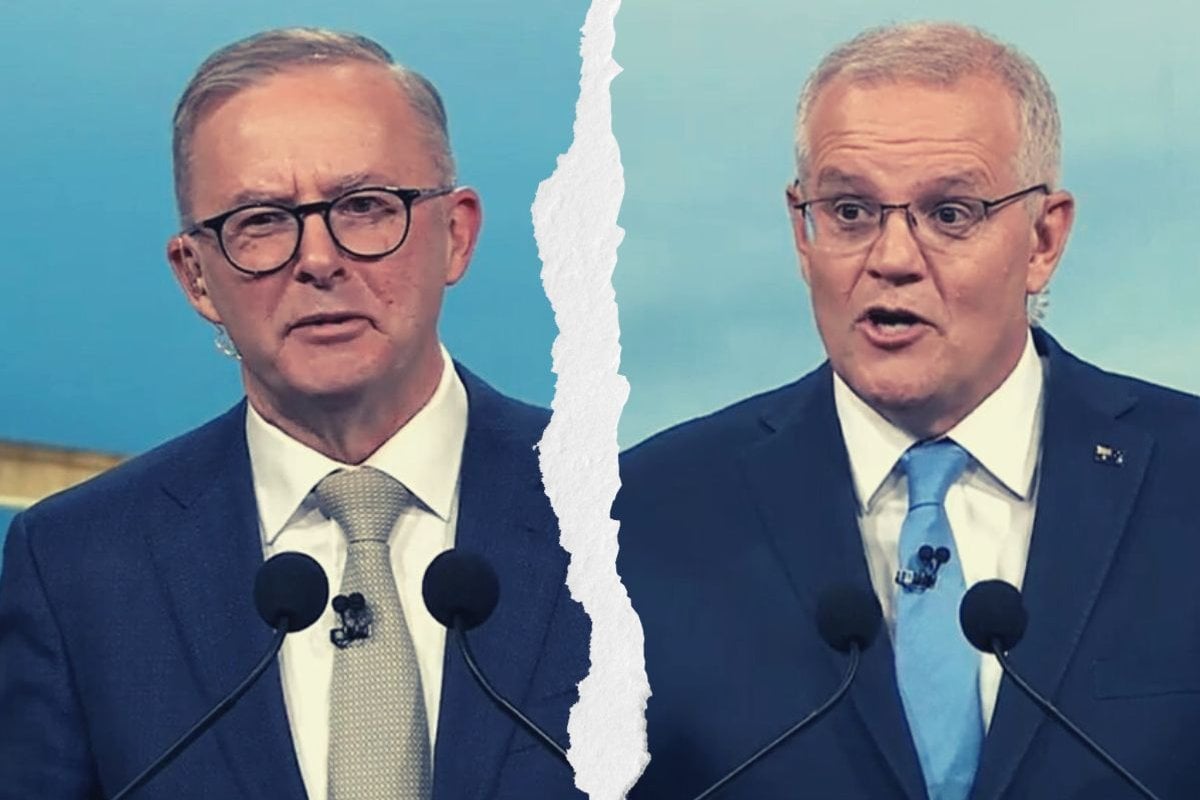 To keep up to date with the federal election campaign as we head to the polls to vote on May 21, visit our election hub page. There you'll find analysis, explainers and all the results of our Mamamia Votes survey.
I tuned in late, when our two potential leaders were already well and truly warmed up. 
And by warmed up I mean yelling, brashly, over-the-top of each other all while ignoring their moderator, journalist Sarah Abo, as she tried to reign them in. 
Prime Minister Scott Morrison and Opposition Leader Anthony Albanese were being quizzed about how the Australian public view their personal character, when I flicked over to the second leaders' debate on Channel 9 on Sunday night.
"Prime Minister, the hard truth of it is, a lot of people don't like you... shouldn't a leader unite, not divide?" one of the panellists, Deborah Knight, asked Scott Morrison as he listened in with his trademark smirk.
A few seconds into the answer, Albanese interrupted him. Then he did it again. 
The two men started talking over each other, each of their points lost in the mish-mash of voices.
WATCH: I tuned into the leaders' descending into this chaos. 
I was so focused on the awkward exchange, I missed the fact they'd been arguing about net-zero, and who was doing more for the planet in regards to driving down emissions. Morrison had been trying to make the point that he'd united his party on that issue - encouraging them and leading them towards committing to net-zero by 2050. 
It was an interesting route the PM chose, answering a question about his personal character with a climate change anecdote. But it was the perfect question to tune in on because for me, it summed up why this election campaign feels so... disappointing. 
Climate change has been nominated in our recent Mamamia Votes survey as one of the top five most important election issues for 68.7 per cent of respondents.