Working behind the scenes on the musical adaptation of Aladdin sounds like many a girl's dream come true. And for Kellie Richie, who currently holds the coveted title of the Deputy Head of Hair and Makeup and brings the characters of this much-loved Disney film to life onstage every day, it is.
"I love putting theatrical character makeup on people," 41-year-old Kellie tells Mamamia, explaining, "it's just been something I've always been drawn towards, even from when I was a really young age."
Every day, she brings two of the story's greatest characters – the Genie and Jafar – to life.
But how do you get to the theatre for matinees and evening performances seven days a week when you have a preschooler at home? How do you manage wigs and eyeliner with daycare drop off and bath time?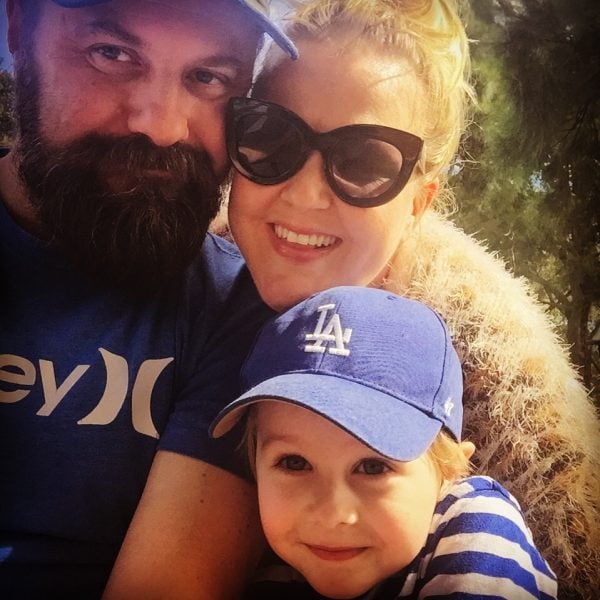 In Kellie's instance, the transition to managing both her career and the needs of her four-year-old son Jackson has been a slow one, with the artist crediting her partner, who also works in the industry, for being the stay-at-home partner and holding down the domestic fort - something she says up until recently wasn't actually required.
"We were on tour together with him [Jackson] on tour from seven months old," Kellie says.
"We went to Manila and New Zealand with him and we would do a parenting handover backstage between our hours. If we were both working the wardrobe guys and the crew would often have a cuddle or play with him; it was great. He got to meet some really cool, interesting people," Kellie says.
Now that Jackson needs more structure and will be starting school soon, Kellie says the family had to reassess their nomadic lifestyle and settle for something a little more solid.
So, after travelling the world and working on musicals like Priscilla: Queen of the Desert, Les Miserables, Ghost, Wicked and The Lion King, Kellie landed the role with Aladdin and works flexibly to spend as much time as she can at home with Jackson, but also doing what she loves in the theatre.
On an average day, Kellie says she rises at around 8am before getting Jackson to preschool and heading into Her Majesty's Theatre for the matinee performance of the show. Hours later, she'll return from work to spend time with her son and partner and sit down to an early dinner all before going back to the theatre once more for an evening of stage creations.
Listen: Wicked's Lucy Durack talks all things musicals and motherhood. Post continues.... 
By 11.30pm, the makeup of her characters have been wiped off and their wigs combed out, at which point she can finally start her journey home.
"The days are long," Kellie concedes, adding, "I was really worried about trying to get back into it [after having Jackson] because of the nature of what we do and the hours, but I was very lucky that my boss has been so accommodating and understanding."
When I ask Kelly about the biggest daily struggle she has as the mum of a four-year-old and working in a senior role, it's clear she knows the answer immediately.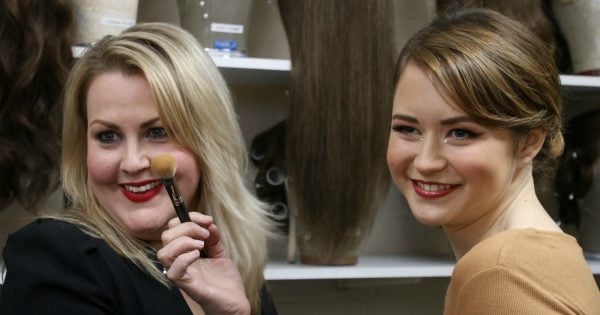 "Getting the eyebrows of the Genie symmetrical," she says laughing. "It's always the hardest part."
So sure, it's not your average 9 to 5 young family arrangement, but growing up on the side of stage while mum and dad bring your favourite movie characters to life sounds like a pretty good upbringing to us!
Disney's Aladdin - The Musical is currently performed at Her Majesty's Theatre in Melbourne. Tickets and further information are available at here.
Have you seen Aladdin - The Musical? Or worked in musical theatre? Share your stories with us below.