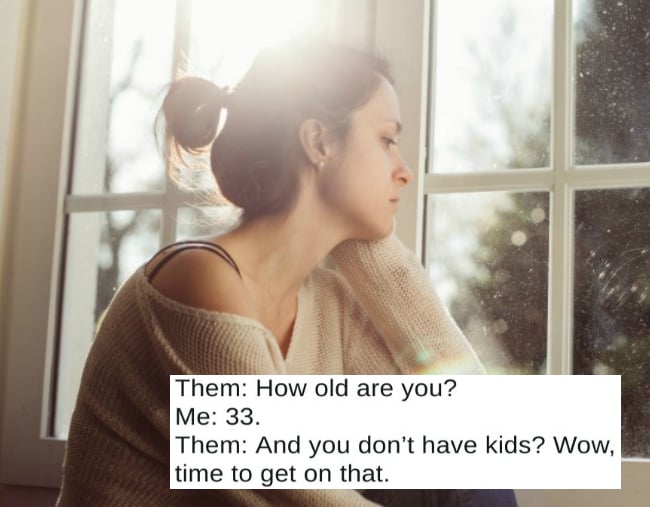 This article deals with an account of miscarriage that could be triggering for some readers.
"Why don't you have kids?"
"When are you having another child?"
Nooooo. No. No. No.
These may seem like harmless questions, but they're not. They can be incredibly uncomfortable for many people to answer.
Canadian woman Lisa Marie has posted about why questions like this are hurtful, and her tweets have since gone viral.
Them: How old are you?
Me: 33.
Them: And you don't have kids? Wow, time to get on that.
Me: I've had 7 miscarriages.
Them: *Looking incredibly uncomfortable*
Me: Annnnnnnnnd I hope we've learned a lesson in asking inappropriate personal questions.

— Lisa Marie ????️‍???? (@xLiserx) August 12, 2018
The point of her tweet is that questions about having children are never appropriate. She expanded on her point in two further tweets.
Seriously, though: Don't ask people why they don't have kids or stopped at one. There can be so many painful, personal reasons why that's the case. Regardless of your reasons, it's nobody's business.

— Lisa Marie ????️‍???? (@xLiserx) August 12, 2018
This is my real life and something I get asked constantly. And it's never a comfortable conversation the times I have to tackle it.

— Lisa Marie ????️‍???? (@xLiserx) August 12, 2018