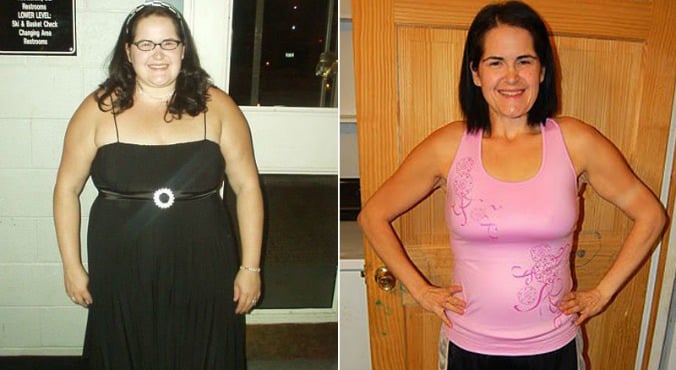 Image: Huffington Post
Typically, weight loss transformation stories focus solely on the 'before' and the 'immediately after'. There's the back story, the process, and the resulting jubilation when all that hard work and commitment pays off.
Yet we don't often witness the impact of such a dramatic transformation on the body after the fact. Now, a US mum has candidly spoken about the uncomfortable reality of life post-weight loss, and the resulting loose skin that left her looking "like a melted candle".
RELATED: So… when you lose weight, where does it go?
You might have read about Jen Moore's weight loss success story in the past. Having been seriously overweight for most of her life, then morbidly obese after marrying her husband, Moore decided it was time to embark on a healthier lifestyle.
Through eating better and getting involved in a hula-hoop fitness program — for which she's now an instructor — the now 34-year-old managed to shed half of her body weight, from roughly 130kg to 65kg. Inspired by her incredible progress, Jen's husband Keith also lost more than 40kg.
However, there was one big difference: unlike her husband, Jen was left with loose skin as the kilos dropped off.
"My skin was pushed down so low my bellybutton was basically on top of my vagina. I could pick it up with both hands like I was cradling a baby," she recalls in an interview with News Corp.
At the same time, Moore was making frequent media appearances to share her story and spread the hula-hooping gospel. While she was proud of her journey and of maintaining her weight loss, Moore says her loose skin was "shameful" — although she went to great lengths to conceal it. For TV appearances, she would have the skin "stuffed" into compression underwear first.
RELATED: Yes, you can lose weight without dieting. This is how.
Off-screen, it wasn't quite so easy. Along with her self confidence, the skin impacted on her ability to exercise - "If I was doing jumping jacks you could hear it flapping on my thighs" - and her sex life.
"Keith never made me feel less than absolutely sexy but I felt, 'I can't do this. My skin is bouncing'."
What Moore didn't realise at the time was that her hanging skin had a medical name, and that there was something she could do about it. Loose skin resulting from extreme weight loss, obesity or pregnancy is referred to in medical terms as a pannus or panniculus.