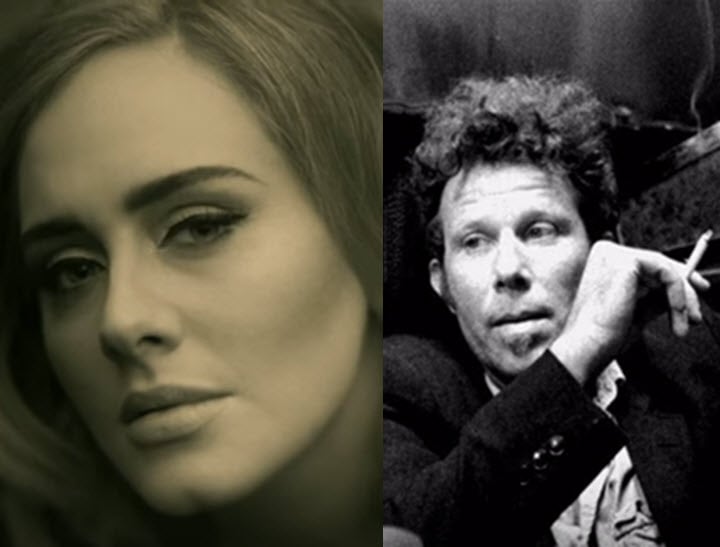 'Hello, hello there, is Adele's song a rip-off?'
There's no denying that Adele's new song Hello is a hit with most.
It's been played on YouTube over 215 million times since being released 13 days ago and is being highly praised by celebrities and regular people alike.
But amongst this praise, criticism has slowly crept in, with many taking to social media to compare the hit single with Tom Waits' 1973 classic Martha.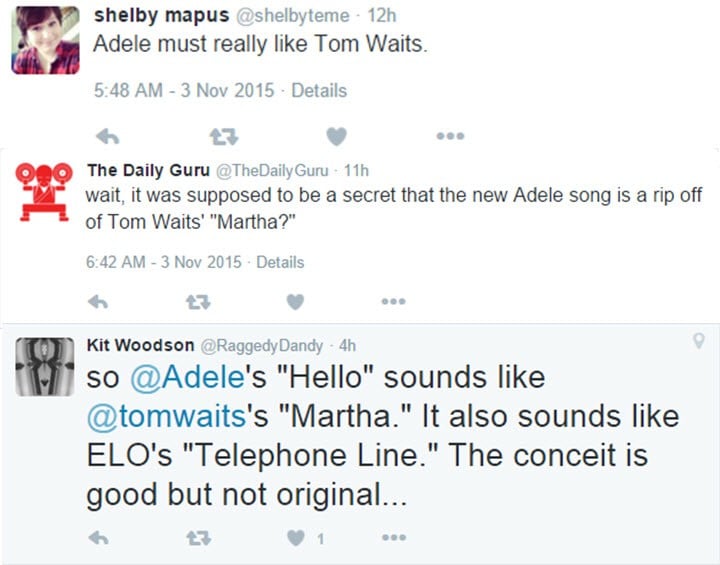 Waits' song featured in his album Closing Time and is a nostalgic, emotional ballad in which he places a fictional call to 'Martha':
By comparison, Adele's new single also includes a phone call to a presumed ex-boyfriend, and also has a similarly nostalgic tone:
Some of the lyrics do contain similar words, sure.
In particular, there's the fact that Waits' has a verse that includes the word 'hello':
"Hello, hello there, is this Martha?
This is old Tom Frost,
And I am calling long distance,
Don't worry 'bout the cost."
As you may have noticed, Adele ALSO has a verse (or nine) that include the word 'hello':
"Hello, it's me,
I was wondering if after all these years you'd like to meet,
To go over everything,
They say that time's supposed to heal ya, but I ain't done much healing"
According to Entertainment Weekly, Producer and songwriter of 'Hello' Greg Kurstin discussed the fact that Tom Waits was an influence for this single.
He told the publication, "We talked about Tom Waits, and different storytellers like that. I think that was the idea, that we wanted to do something that was very honest about where she was at right now, and she wanted to do something that was real and believable."
But as is always the trend, there was quickly a backlash to the backlash, with many coming out and giving backhanded compliments that suggested Adele could never sound like Tom Waits.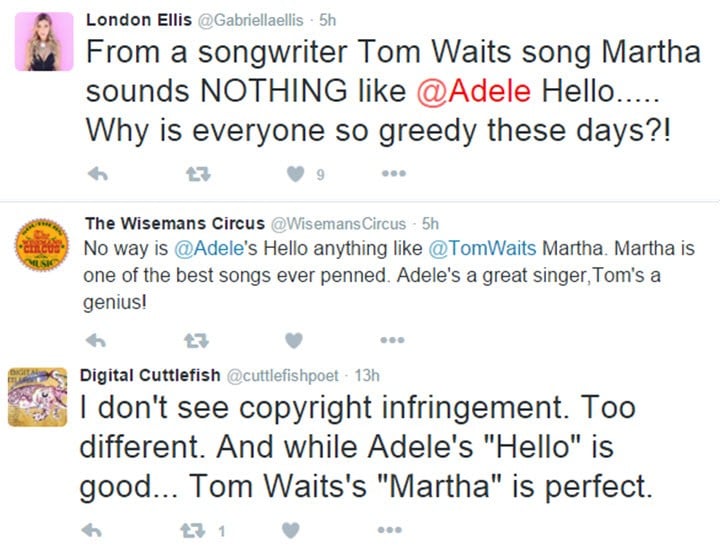 Although there may be some similarities, at the very least it sounds different from the majority of other songs that are played on the radio at the moment.
For that, we are very thankful to you Tom and Adele.