1. Can somebody please tell us what the hell Adele just dressed up as for Halloween?
Everybody's favourite singer of power ballads reminds us once again that Halloween is her game and we are merely lucky mortals that are allowed to participate.
Having slain as Jim Carrey's The Mask from the 1994 film, Adele looked all kinds of glam complete with sequined frock, wrap around dragon hem detailing, and boots – which inspired 15 minutes of intense googling.
Someone please help a girl out and link us.
Despite an almost month-long social-media silence, she took to Instagram and said "also I can't with this hair and makeup," in a selfie that would give the entire cast of Cirque de Soleil a run for their money… and we mean that in the best way possible.
What is she meant to be? Damned if we know, and neither does the Internet, but we give it a F for Freaking Fabulous.
2. Selena Gomez and The Weeknd broke up, but ex Bella Hadid is too busy living her best life to care.
In most pressing news – Selena Gomez and the Weeknd have official split up after months of speculation, with apparent sources spotting the return of the Bieber at chez Gomez over the weekend.
According to People.com, "Justin is aware Selena's family is not thrilled they are hanging out. They think he caused Selena a lot of grief . . . Justin hopes he can prove to them that he has changed."
However, this just in, Bella Hadid (model extraordinaire, and ex-girlfriend of the Weeknd) proves that a pictures says a thousand words, and clearly could not care less and is the strong, independent female that we all strive and aim to be.
Reminding us that while silence is grace, day-drinking amongst the rolling hills of Tuscany is better.
Unconfirmed sources speculate that Demi Lovato's "Sorry Not Sorry" was playing faintly in the background.
3. Every friendship you've ever had is inadequate, just ask Mila Kunis and Kristen Bell's "friendship hair cut".
Look, we have some bad news. Every nice thing you've done for a friend is now completely irrelevant.
Hence forward, surprise flowers, cups of tea, nights out and shoulders to cry on simply will not make the cut, and we've got Mila Kunis and Kristen Bell to thank for it.
The Bad Moms actresses have officially raised the crap out of the best friends bar by coming up with the ultimate sign to prove to one another they are BFFs (not to be confused with its underling, BFs)…
…. 'Friendship haircuts'.
Sharing a pic with their matching hairstyles – which in their case is a textured wavy bob – on Instagram, these two have proven they're in this friendship for the long haul.
Or at least, until their hair grows out. That's when things get, ahem, awkward.
4. Pink celebrates ending breast pumping exactly the way we would celebrate.
Pop icon Pink is also known as "Mum" to six-year-old Willow and a nine-month-old Jameson. And like many mums of under-ones, the 38-year-old is dealing with something that the childless among us can only assume is uncomfortable and annoying: breast pumping.
Pink has shared with her Instagram followers the way she through the sessions is by thinking about what she can do once their over.
The singer captioned a photo showing a pump cupped to her breast, wine bottle in hand: "When you're almost done pumping and you know what's next".
We don't imagine she's alone in this method of motivation and celebration – it's exactly what we would use.
5. Kendall Jenner has a new boyfriend. Courageously sticks with "NBA stars only" tradition.
Kendall Jenner has a new boyfriend and you guessed it – it's another NBA star.
Jenner and Los Angeles Clippers player Blake Griffin were spotted at Beverly Hills restaurant Mr. Chow where they shared a three-hour dinner date on Sunday.
21-year-old Kendall and 28-year-old Blake have reportedly moved into a more ~serious~ relationship, with Kendall attending some of Blake's NBA games.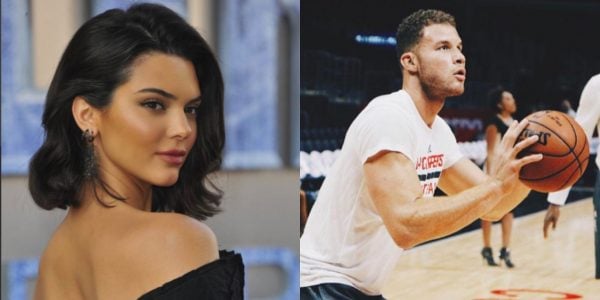 But some say Kendall is still chatting to her rapper ex-boyfriend A$AP Rocky as well but doesn't see him as the one to settle down with.
Watch this space, Jenner fans