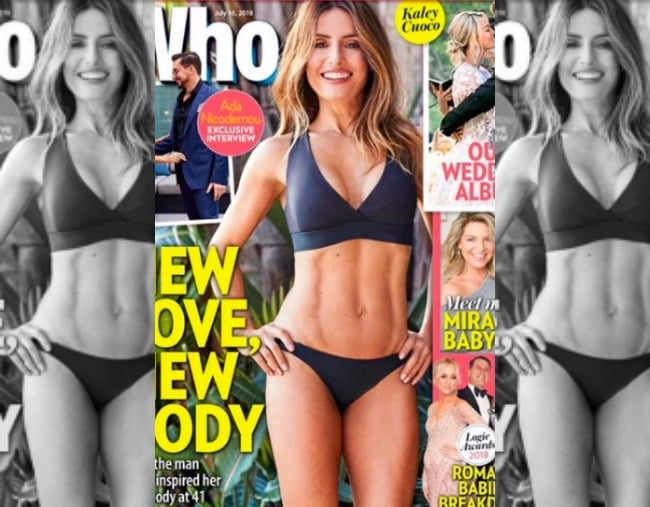 Ada Nicodemou is 41.
She is Home and Away royalty.
She is an Aussie treasure.
And, as I learned about 42 seconds ago, she is the proud owner of the most kickarse body I have seen.
Before I become distracted in talking about her abs, let me get some of the important stuff out of the way: Ada's "new body" is on the cover of Who magazine this month. Accompanying the photos of aforementioned new body is an exclusive interview about her eight-week fitness and exercise regimen.
"A ton of hard work, self-discipline around diet and alcohol and belief can get you amazing results regardless of how old you are," the actress, who has graced Summer Bay for 18 years now, wrote in an Instagram post.
Okay, now, back to the abs.
You guys, the ABS.
WHAT THE EFF.
I feel like they're flatter than the plate I just ate takeaway butter chicken off. Flatter than my motivation levels to exercise in winter. Flatter than the expectations my parents had when I got a decent ATAR score but announced 'I'm doing an Arts degree!'.
She looks awesome. Fit and healthy and strong and glowing and downright bloody awesome.
She's like the living embodiment of the crown emoji.
No, this is not to say that every healthy body must be lean or toned. Health comes in all sizes, we know that. But it is to say that what Ada Nicodemou has achieved - not just at 41, but any age - takes a hell of a lot of determination and commitment and drive. And crunches. Oh and squats.
And, okay, fine, probably not a lot of takeaway butter chicken.
Ada's cover of Who is out tomorrow. You can find more butter chicken related content on Michelle Andrews' Instagram account.