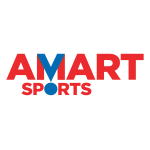 In case you hadn't noticed, December 25 is now lurking dangerously close (seriously, wasn't it May just last week…?).
Unless you're the type who starts their Christmas shopping as soon as the New Year celebrations wind down, chances are you're desperately brainstorming present ideas for the entire family right now. No pressure at all, right?
Here's the good news: we've found eight fun gift ideas for everyone in the family that'll keep them active and entertained all summer long. And, to make life even easier, they can all be found in the one place – Amart Sports.
1. Jumpmaster 6ft trampoline ($199.99, Reg $249.00).
Trampolines have always been a childhood favourite – and thanks to the various trampolining parks springing up around the country, they're having a bit of a renaissance right now.
The Jumpmaster comes with a tall, padded enclosure, so you don't have to worry about little legs being caught in rusty springs. Also, bouncing on a trampoline can do great things for your fitness as an adult, so in that sense it's secretly a gift to you too. (Don't worry, we won't tell.)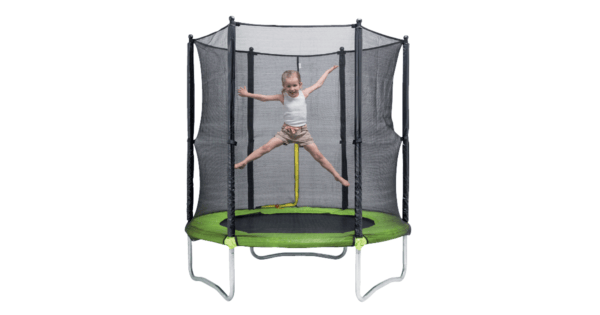 "It's secretly a gift to you too." Image: Supplied.
2. Nitro kids' bikes (from $99.99).
Video games come and go, but bikes are forever - and teaching your kid to ride one is a classic parenting rite of passage (scraped knees and all).
The Nitro kids range carries bicycles in a number of colours and sizes for children aged from three to 10 years - and yes, some of them have streamers on the handlebars.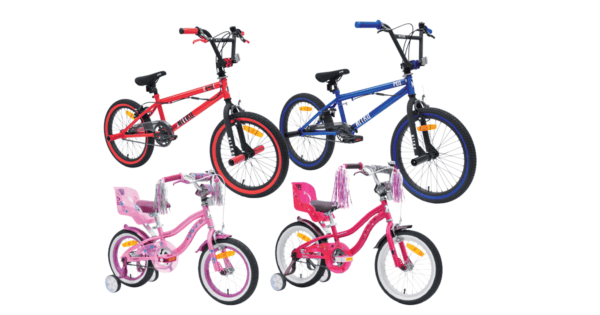 "Bikes are forever." Image: Supplied.
3. ASICS GEL-Kayano 22 runners for men and women ($179.99, down from $249.99).
A good-quality pair of running shoes is the gift that keeps on giving - if you don't believe me, just ask your feet.
According to online reviews, ASICS GEL-Kayano's have been a popular shoe among runners for a while now and are often praised for their comfort, stability and cushioning. As an added incentive, they also happen to be a very nice-lookin' shoe, which can only help you run faster.
"A good-quality pair of running shoes is the gift that keeps on giving." Image: Supplied.
4. Dragonfly 2500 Table Tennis Table ($399, save $100).
If you're in the market for a Christmas present every single family member can get involved in, you can't look past a table tennis table. Trust me, you don't need to be even remotely athletic to excel at the game (though a little hand-eye coordination is handy).
Table tennis is notorious for igniting fierce competitive spirit, and even fiercer arguments over scoring and whether or not the ball really was inside the white line. And what's the Christmas season without a few family arguments?
A Christmas present every family member can enjoy. Image: Supplied.
5. RAW Tribe III Bodyboards ($39.99 down from $49.99).
For many of us, the Christmas holidays are synonymous with days at the beach - and when you're a kid, nothing is more fun than hitting the waves with your "boogie board."
These RAW boards are available in bright colours and fun designs - the dinosaur claw one is hard to go past - and have the all-important board leash to ensure the rider stays, well, attached.
"Available in bright colours and fun designs." Image: Supplied.
6. Women's activewear (from $14.99).
From the gym to the park to your nearest brunch spot, you can't go anywhere these days without being surrounded by activewear. And with good reason - it's extremely comfortable, both for exercise and, ahem, non-active activities.
The one downside is that activewear can be costly. However, Amart Sports is currently offering half-price women's New Balance clothing: tees and tanks for $14.99, and tights for $29.99. Perfect stocking fillers for the active woman in your family (or… you. Hey, no shame in buying presents for yourself.)
"Perfect stocking fillers for the active woman in your family." Image: Supplied.
7. Pool inflatables (from $12.99).
Hello - who wouldn't be stoked to unwrap a pretzel-shaped pool floatie on Christmas morning? Buy your kids some of these and you'll never be able to drag them out of the water. Grownups can get in on the fun, too - that Mojito-shaped inflatable lounge looks very tempting indeed.
Dis someone say Mojito-shaped inflatable lounge? Image: Supplied.
8. BBL Interactive Light Up Stumps ($69.99, down from $79.99).
Backyard cricket is a summer staple in many Aussie households. Thanks to their bright lights and sounds, these stumps will make the game a lot more colourful - and will also help to settle the inevitable family disagreements over whether the ball did or didn't hit them, as the lights are impact-activated. You can't argue with stumps that talk back.
"Backyard cricket is a summer staple in many Aussie households." Image: Supplied.
What Christmas presents do you give to keep your family active?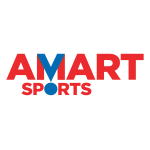 Amart Sports makes Christmas easy, with all of the biggest sports brands at the best prices! Pick up a gift for everyone in the family (and maybe yourself!) with great deals on footwear, clothing, bikes, tech and loads more. View their Christmas catalogue online, visit the website or shop in-store to take care of all your Christmas present needs, without the hassle!