"Over the years I've tried every type of weight loss plan from shakes to paleo, green juicing, lemon detox, women's gyms, regular gyms, Zumba, spin classes, boxing, step classes, personal trainers at gyms, personal trainers outdoors, calorie counting, diet pills, throwing up and hypnotherapy," Mamamia writer Kelly Glover wrote in May this year.
"At one stage I even worked out for three hours a day (two with a personal trainer) and was eating 800 calories. Each time I'd lose about 20-30 kilos but would always end up fatter than when I started."
What did she do?
Her family staged an intervention, offering to pay for Kelly to undergo weight-loss surgery. Kelly declined but, after two years saving herself, ultimately had a vertical gastric sleeve wrapped around her insides.
In the four months following the surgery, Kelly lost 35kg. Her wardrobe changed. Her health improved. It was by no means an "easy way out" – she was drinking liquids for two weeks prior to the surgery, and the recovery was as meticulous as it was painful – but it was worth it.
"I can walk up the stairs without puffing, no longer have sleep apnea and choose walking over the car," she wrote in May.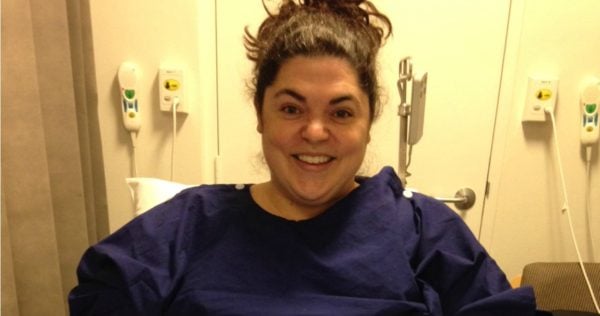 There are many Australians who might reap the same benefits from weight loss surgery.
Ours is a country in which almost two-in-three adults are overweight or obese, according to the Australian Institute of Health and Welfare (AIHW). This means two thirds of adults at risk of heart disease, Type II diabetes, hypertension and stroke because of their weight.
For many, surgery is a viable option. In 2014-15, there were 22,700 weight loss separation surgeries recorded, according to the AIHW. Ten years prior, in 2005-06, and this number was less than half at 9,300.
These surgeries aren't cheap.
Collectively, Australians paid $17.8 million out-of-pocket for sleeve gastrectomy in the 2014-15 year and many of these patients accessed their superannuation in order to do so.