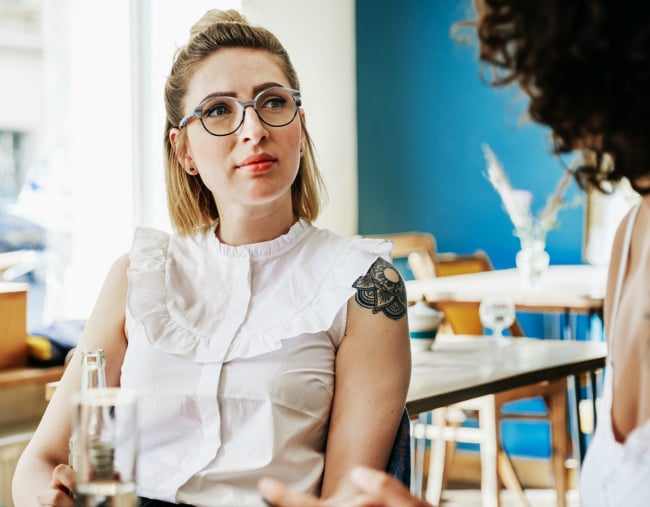 Perfect.
He was perfect.
That was the phrase I heard over and over again to describe the beginning of what would turn out to be an abusive relationship.
I was interviewing women for a documentary I made on how to spot abusive relationships, so I met with many survivors who had escaped dangerous and violent partners. While their stories were harrowing to listen to, what shocked me the most was that all of their stories began in the same way. An intense whirlwind romance, a charming man who had swept them off their feet, a perfect love story.
This was not the image I had in my head of what an abuser would look like. These guys sounded more like Prince Charming. I had thought I'd be able to spot an abuser from a mile away, now I wasn't so sure. Would I even know if someone close to me was being abused? Given that one in six Australian women has experienced violence from a partner or ex it's highly likely that you know someone who's been affected. The question is who?
What are the signs a friend is being abused?
Unfortunately, many abusers are good at covering their behaviour. They don't walk around with a giant sign above them saying, "Hey, guess what, I'm controlling and abusing my girlfriend".
Instead, you might need to look at subtle changes in your friend and trust your gut feelings about a person. This is because domestic and family violence isn't always physical – it can be psychological, emotional, sexual, social, spiritual, verbal, financial or technology based.
In our lives, we've all had friends whose partners we don't like. They might be a bit boring or stingy or always causing drama and you can't quite understand what your friend sees in them. But the key difference between a bad relationship and one that is abusive is the presence of fear and that one partner is exerting power and control over the other. Does your friend appear to be afraid of their partner or always very anxious to please them? Do they seem depressed or less confident than normal? Is their partner constantly phoning or texting to check in on them? Or have they suddenly dropped off the radar entirely and you barely ever see them?
These could all be signs that someone is being abused.
What should you do if you suspect abuse?
Telling a friend you're worried their partner is abusive isn't exactly an easy thing to bring up, but if you don't, your silence can send a message.
The most important thing is to find a safe way to do something. Small actions like opening up a conversation, letting the victim know you care and directing them to support services could seriously change their life. Whether it is a close friend, a family member or a neighbour, don't assume someone else will take care of it, you are that person that can make a huge difference. For a really helpful guide about how to have the conversation and show your support to someone in need, the Queensland Government's Bystander campaign outlines the best approach.