Only women will be seen and heard across ABC programming on Wednesday as the broadcaster celebrates International Women's Day.
Starting with ABC News Breakfast, an all-female line-up will lead the radio and TV news bulletins and current affairs programs and present across the day on radio and News 24, and Triple J.
It's a controversial move that's been criticised by many, but Today show host Karl Stefanovic is supportive of the decision and showed us why with a brilliant stunt this morning.
While interviewing News Corp's Sunday Mail editor Peter Gleeson, who was critical of the move, Karl asked what would happen if The Today Show gave all women on set "two minutes off".
Then the studio went black.
A visibly distressed Karl said, "Okay can we have the women back and make TV great in this country please?"
It was a clever stunt that had presenters Lisa Wilkinson and Sylvia Jeffries laughing and saying "the place falls apart" before giving Karl a round of applause.
Listen: Meet Helen Fuller. Grandmother of ten who overheard a conversation on a train….and stepped in.

However, ABC's  all-female line-up has not been so well-received by other media organisations.
Former federal government staffer Peta Credlin slammed the move as a "token gesture" in the Daily Telegraph.
"Where's their commitment to women over the other 364 days of the year? Surely we want the best in the media all day every day, be it men or women," she told Daily Telegraph.
The Sydney newspaper suggested the national broadcaster was "patronising women so badly by suggesting that men need to be banned before they can get a prominent hosting gig".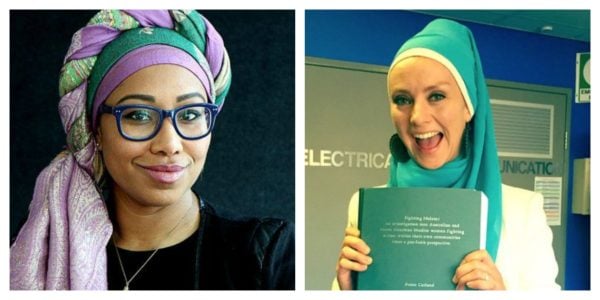 The Daily Mail also criticised the move with a headline stating "Is this the ABC's dumbest effort yet? Broadcaster kicks ALL male presenters off air for International Women's Day to promote 'gender equality'".
An ABC spokeswoman told Mamamia celebrating International Women's Day was an opportunity to draw attention to issues of gender inequality.
"(It) is an opportunity for the ABC to draw attention to one of the great issues of the modern age," she said.
"Gender parity is one of the biggest challenges facing the Australian, and the global, economy today."
The spokeswoman said the International Women's Day line-up sat within a broader campaign "focusing on equality and the recognition of women", and supporting a UN initiative.
"Content through the day will showcase the extraordinary breadth of the ABC's female broadcasters and creative talent."
"There are many high-profile female broadcasters, journalists and content-makers on and off air across all ABC platforms and services, every day of the year.
"However, this is a valuable opportunity to celebrate their achievements publicly, and for the ABC to use its position as a public broadcaster to continue the conversation about gender issues and to raise awareness about the gender imbalance."