Kids all over Australia grow up idolising footballers and their glamorous partners.
There's a reason the likes of Rebecca Judd and Nadia Bartel – the wives of now retired AFL legends Chris Judd and Jimmy Bartel respectively – are so utterly fascinating to the public. Introduced to us on the Brownlow red carpet years back, both women epitomise a certain ideal: wealthy, beautiful, kind, charismatic, switched-on, adored.
Now, years on from those first designer-clad encounters, we know Judd and Bartel as businesswomen, entrepreneurs. Creators of social media empires and fashion labels, ambassadors of diamond companies and luxury cars. We see them as entirely separate entities from their husbands; while the boys once dominated our gaze, the girls are who we look to now – the authorities on what urban success looks like.
Judd and Bartel, their glittering houses and careers and happy families in tow, have erected an immaculate example of what the WAG life entails.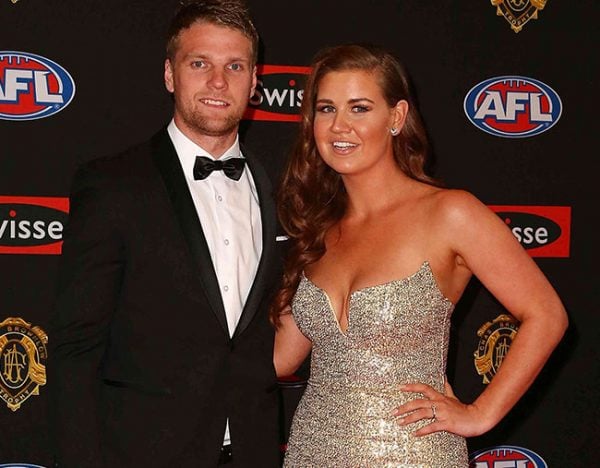 Unsurprisingly, it's a life many young women aspire to. For a keen few, it's a life that makes the prospect of dating a footballer titillating.
Because when we discuss WAGs (a term both problematic and iconic in nature) what we rarely see are those who subscribed to that shiny life, but who will not be immortalised as WAG royalty; the women who showered in the glitter before learning of the warts that are sometimes attached to a life hinged on heroism and fame.
The women like Abby Gilmore.
The 24-year-old probably expected her interview with the Herald Sun about her former fiancé. AFL Western Bulldogs forward Jake Stringer, would garner keen media attention. It's unlikely she suspected it would gain quite the traction it has.
For those who missed the original story (I predict very few of you did - it was one of the most read articles for the year), Gilmore alleged Stringer had sex with multiple women throughout the duration of their relationship. Most notably, she claimed he had 'an ongoing sexual relationship with a 17-year-old school girl' in 2016 while Gilmore was pregnant with his second daughter. Apparently, he would visit the girl up to three times a week.