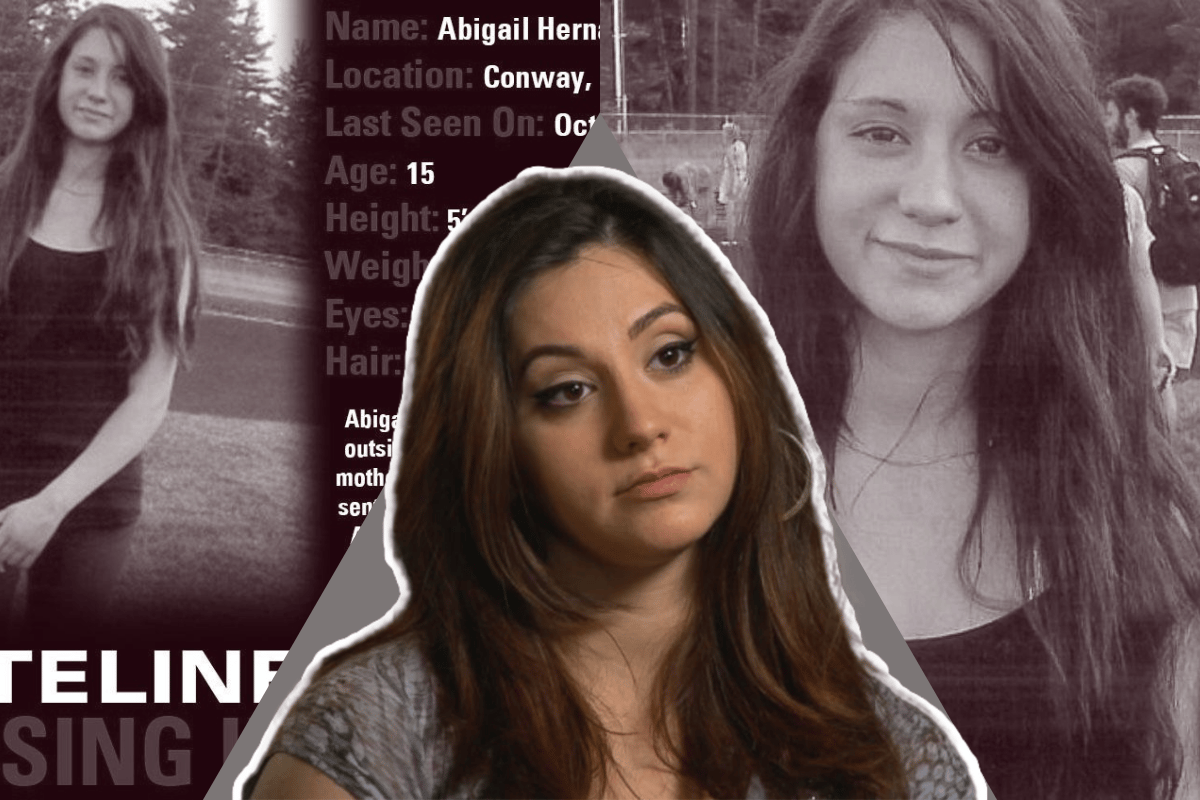 This post discusses child abuse and sexual assault and may be triggering for some readers.
Abby Hernandez was making plans for her 15th birthday party when she disappeared. The high school student - known for being quiet, smart and a fast runner - left her school in Conway, New Hampshire on October 9, 2013 while she was walking home and texting her boyfriend along the way. 
But when her mother Zenya, a nurse, got home later that day, Abby wasn't there. 
Police swung into action. A huge search was co-ordinated, with officers covering more than 1000 acres of nearby wilderness. Human remains were found, but they turned out to belong to two different people. 
Watch the trailer for True Crime Conversations, a podcast by Mamamia. Post continues after video. 
Three days after Abby vanished, Zenya stood with her other daughter, Sarah, on the steps of the Conway police station and, through tears, made a plea to TV cameras. 
"Happy birthday, Abby," she said. "Please come home. We miss you so badly."
When the plea went to air, Abby was being held captive in a storage container about 50km from Conway. She'd been kidnapped by Nathaniel Kibby, who was repeatedly raping her. Kibby, who had a criminal record for assault and other offences, was a gun nut and conspiracy theorist, known to his neighbours as 'Crazy Nate'. 
He told Abby to call him "Master" and put a shock collar around her neck to stop her from calling out for help. 
"And he told me, 'Okay, try and scream,'"Abby later told 20/20. "And I just slowly started to raise my voice. And then, it shocked me. So, he's like, 'Okay, now you know what it feels like.'"
But Abby never stopped thinking of ways to escape. She found a book in the storage container with "Nate Kibby" written on the front and worked out that was her kidnapper's name. She tried to form a bond with him. 
"I told him, 'Look, you don't seem like a bad person. Like, everybody makes mistakes... If you let me go, I won't tell anybody about this.'"