I have a beautiful family—a patient, French-Canadian husband and two children, of which I'm very proud. Alicia is a talented violinist with a taste for maths and social justice. Sam is a discerning and creative future designer.
He is also gay. Whilst this is not what solely defines him, it will determine many aspects of his life: where he chooses to live; how he's received at work; the ease or difficulty of choosing and marrying a life partner.
Sam was raised both here in Australia and in Canada, where I grew up and where Same Sex marriage passed in 2005. He came out to his friends, a diverse group of quirky kids of different ethnicities, nationalities and sexual orientation, just before returning to Oz in 2015. It was a non-event.
It was a non-event in our family as well. He knew that sexual orientation, like skin colour, gender, religion or any other personal identifiers, are not what determines a person's value or worth. What matters is the content of one's character and the values we live by.
We landed back in Australia in the midst of an acrimonious Same Sex marriage debate which had Sam completely flummoxed. His parents and sister too. Why was there such anger, fear and trepidation about providing two people who love each other the right to marry?
We learned of kids who hadn't come out at home or at school for fear of reprisals—rejection from their own families; open discrimination and bullying. We also learned of the higher incidence of self-harm, depression and suicide in the LGBTQI community.
As a mother, I felt profoundly guilty. Where had I taken my son? This was not the Australia we lived in when he was a young boy. How would he adapt as a comfortable-in-his-skin, gay 15-year old? How would the kids at school react? Was I over-reacting?
In the two years since we've been back, Sam has settled in and I have settled down. There have been incidents that set me back, like the religious teacher at school who preached that God didn't approve of sex before marriage or homosexual acts. Or the new mother who said she'd 'kill her son' if she found out he was gay. Seriously.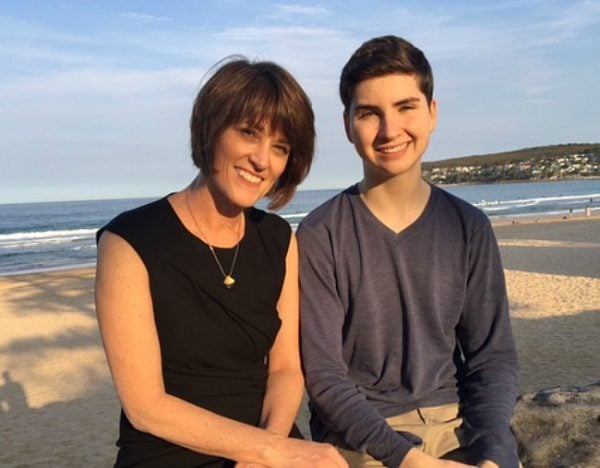 I have become active in the Yes Campaign both for my son, and for the sake of those who suffer profoundly based on unwarranted, fear-based or faith-based discrimination.