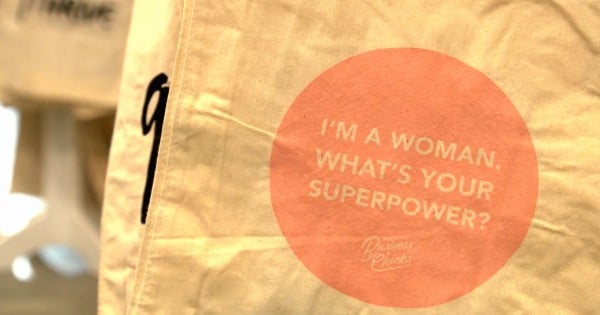 Inspiring, thought-provoking and unexpected; the 9 to Thrive event provided women with lessons and tools from the best in the business such as food stylist Donna Hay, wellness guru Lola Berry, PE Nation founder Pip Edwards, The Block's Alisa and Lysandra, Business Chicks founder Emma Isaacs and Stylerunner founder Julie Stevanja.
The Mamamia team spent the day at the event to absorb the knowledge of the wonderful women around them (as well as perusing the plethora of fun stalls populating the space).
These are the lessons we learned from attending 9 To Thrive:
1. Financial goals are just as important as life goals.
When planning for the future, we often think about life goals that are associated with our career or personal life whether that be having children, traveling or a new business venture. Commonwealth Bank's Meaghan Noble encouraged women to take control of their finances just as much as they would be with other life goals. By setting up financial stretch goals and personal milestones, she said, we set ourselves up for a more secure future.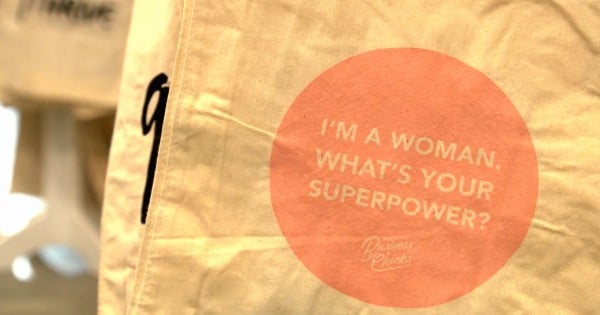 The official Business Chicks' tote bags kind of speak for themselves. Image: Mamamia.
2. It's time to take action.
A well-considered decision is important, but eventually you have to act on your plans. Dreams and aspirations are important, but if we don't make moves to turn them into a reality we could be left wondering "what if?".
Julie Stevanja's 'light-bulb' moment to begin Stylerunner when she was left disappointed with the lack of choice within the athleisure market. Stevanja's venture is no doubt an inspiring example of turning a simple idea of curating an online marketplace of luxe athleisure wear into a business.
3. Engagement is more than 'paint by numbers.'
Social Media - Instagram in particular - is more than ticking boxing and following 'the rules'. It's important to understand your audience as the unique social butterflies they are. Karen Stocks from Twitter, Mia Garlick from Facebook and Sophie Blachford from Instagram taught us that while it's important (very, important) to hashtag and ensure regularity to your posts, taking the time to understand who your audience is will ultimately bring the big payoff.