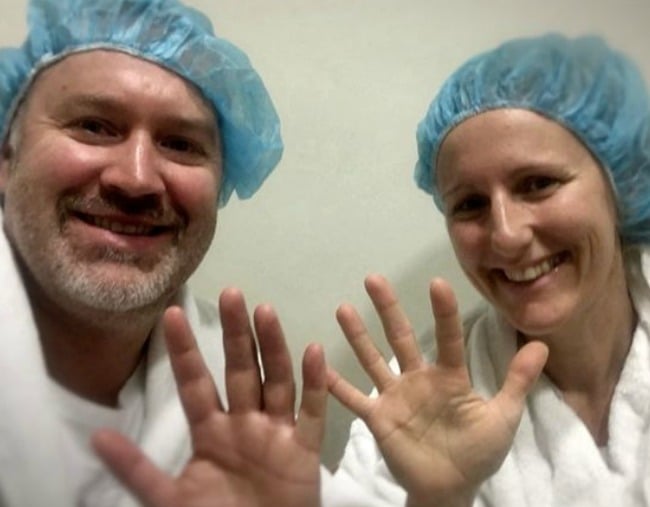 Andrew and Olivia Densley had four healthy, happy children.
Then their four-year-old son, Cooper, was diagnosed with the fatal genetic illness, Wiskott-Aldrich Syndrome.
According to the US National Library of Medicine, Wiskott-Aldrich Syndrome is characterised by abnormal immune function and a reduced ability to form blood clots.
Children with the syndrome get extremely sick from common coughs and colds, and normal sports injuries or knocks to the head can lead to fatal bleeding in the brain.
The Densleys, from Melbourne, told their story to 60 Minutes' Tom Steinfort on Sunday night.
They explained that luckily, Cooper's younger brother, Jackson, was an exact genetic match and could provide him with a lifesaving bone marrow transplant.
Why the Densleys decided to have a sixth child…
However, just as the family was recovering from the ordeal, Olivia discovered she was pregnant again.
If the baby was a boy, there was a 50 per cent chance he would be born with Wiskott-Aldrich Syndrome.
Faced with the possibility that this new baby could also have the fatal syndrome, the Densleys decided to roll the dice and go ahead with the pregnancy.
"I just felt like surely we wouldn't be that unlucky to get it again," Olivia told 60 Minutes.
"I just had hope."
Fletcher Densley was born on May 19, 2014. Just three weeks later, he was diagnosed with Wiskott-Aldrich Syndrome.
"It was heartbreaking," Olivia told the program.
"We know what he's going to go through and I guess I did have a little bit of guilt of we did this to him.
"It was a bit of a reality of, 'What did we do?'"
None of his four siblings were a match for a potential bone marrow transplant.
That's when Olivia and Andrew decided to have another baby. Their sixth baby – a girl – was carefully genetically engineered to be an exact match for little Fletcher; a decision they are fiercely defending.
"I have thought about down the track when the child is older and it does hear about why it was conceived, I do worry about that about what I would say and how the child would feel," Olivia said.
"But at the moment I feel like it's not a bad thing. I feel like we can positively say to that child, 'Yes we did have you for some of your bone marrow but it's a good thing because we knew you were gonna be okay'."
Olivia and Andrew's story has been compared to the Jodi Picoult book, My Sister's Keeper. But the couple addressed critics who have slammed their decision to have a sixth child to save her older brother's life.
"Olivia's a bit more sensitive to what other people think and say but I don't really care, I'll just live my life and you live yours," Andrew said.
On August 2, the sixth child, Lilliahna, was born. She has to be 10kg before the bone marrow transplant can take place next year, so the Densleys are hoping they won't be dealt any more blows.
When asked if they were considering baby number seven, the Densleys were adamant; "No thanks. I think we're done."
Posting on their Facebook page in the lead up to the segment, the Densleys wrote:
"We want you all to know that we truly appreciate the continued support you've given to Fletcher and our family throughout his journey to cure him of Wiskott-Aldrich Syndrome."
Explaining that their situation might be able to help others, they added:
"We hope much needed awareness is raised for the Australian Bone Marrow Donor Registry from the 60 Minutes episode to hopefully help other people in need of bone marrow."