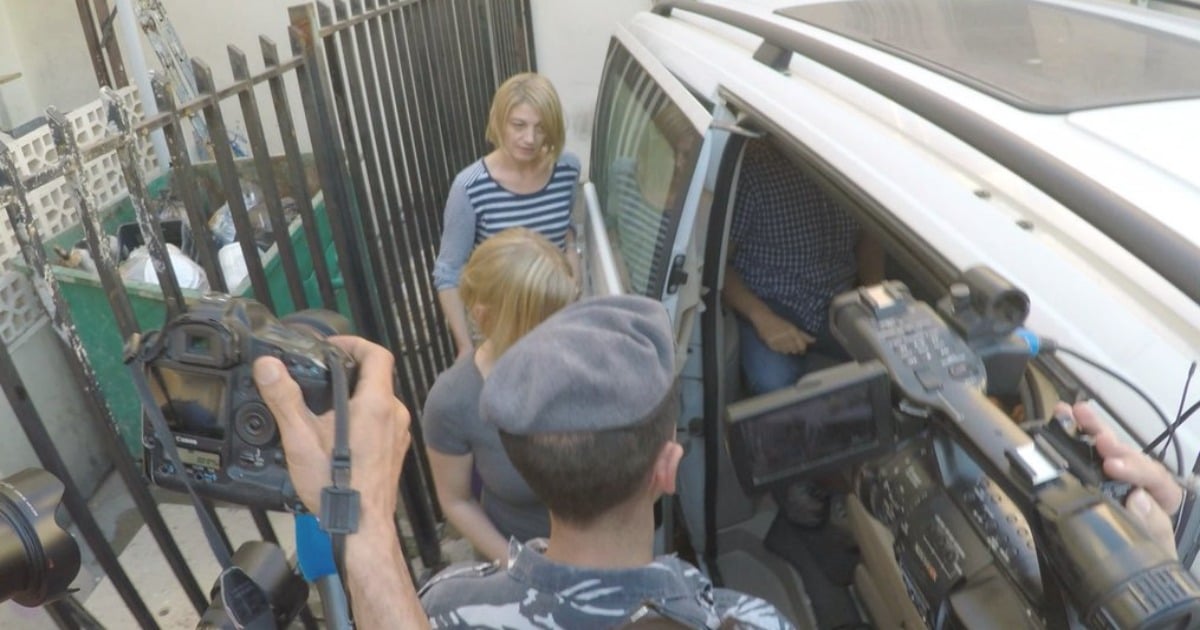 After two weeks inside a Beirut jail Tara Brown,  Stephen Rice, David Ballment, Ben Williamson and Sally Faulkner are free.
The saga that began with a payment by the Nine Network ended the same way.  A last minute multi-million dollar deal secured by the network saw the five walk free after 9pm (AEST) last night.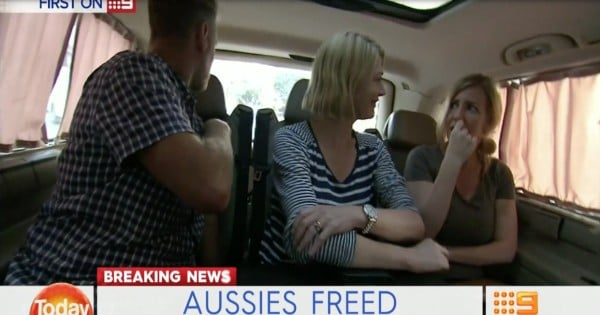 Tara Brown and Sally Faulkner in a van last night. Image via Today Show.
Its been a heavy price to pay for Sally Faulkner who has agreed to relinquish all custodial rights to her two children, Lahela, 5 and Noah, 3 - grant husband Ali Elamine a divorce and give up a custodial application in the Family Court in Australia.
She also has given away the right to ever bring her children home, negotiating a deal where she can see her children in Lebanon, or in a third country – but never in Australia.
Nine executives worked to get paperwork and compensation payments done by 9pm AEST so that Brown, Rice, Ballment and Williamson could walk free just hours after Mr Elamine and his mother, Ibtissma Berri, agreed to drop kidnapping charges against the crew.
Rice, Williamson and Tallment were the first to leave prison with Brown and Faulkner joined them in a waiting van half an hour later.
There were smiles and hugs between the five tired looking Australians as a relieved crew finally tasted freedom.
The deal done, the payment - rumoured to be up to $3m - made  the 60 Minutes went straight to Beirut airport where they are currently waiting on a flight to return them home  to Australia.
Not with them was the four-person crew employed by Nine to undertake the child snatching or Sally Faulkner who will stay to make one final trip to visit her children, this time with the knowledge of their father so she could say good-bye.
Ms Faulkner will farewell her two children in the judges quarters in the next few days before she then returns to Australia to her husband and three-month-old baby, but not with her older two  Lahela and Noah, with whom she had just one night after the snatching took place.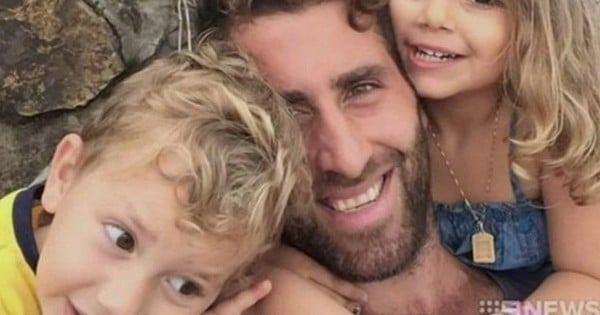 Ali Elamine says he did it out of love. Via Nine News.
Mr Elamine said in the end he was relieved the deal was struck.
"Sally did this out of motherly love. It just came to a scenario where if we dropped the case off Sal we had to drop the case off people who were not physically involved,'' he said.
"At the end of the day it's all for the kids. Down the line the kids might say: 'Why did you keep Mum in jail?' I don't want that upon me. It's for the best."
"It sucks, the whole thing sucks. " he said "No one wins here ... I told Sally she can come and go as she wants. She is the mother. The only thing we can do is cooperate to give them a better future. "
He said that the two children, who had admitted they wanted to be with their mother, had not known what had been going on.
"They don't know what has been happening these last two weeks ... I couldn't tell them anything."
Mr Elamine said that he struck the deal as the crew "have families too."