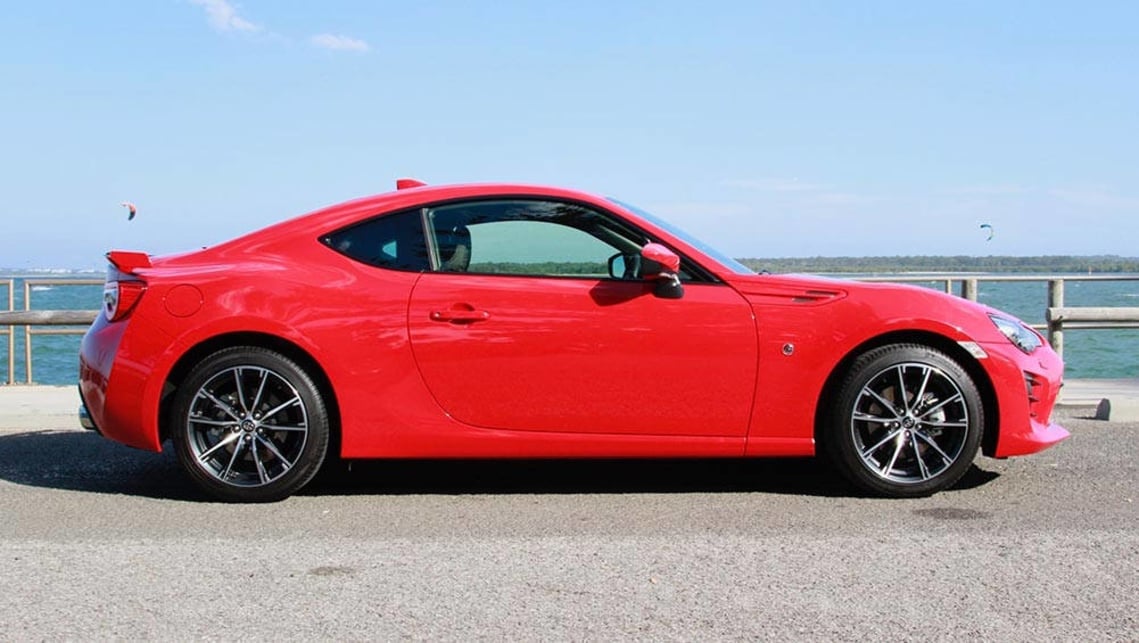 Toyota's 86 wasn't a glitch in the matrix, it punched a hole in the fabric of space and time. Okay, it wasn't quite that big, but for Toyota, out of almost nowhere, to produce a new sports car that wasn't a front-driver with a cool body but not much substance was… well, amazing.
Since the GFC, we'd only seen a steady stream of worthy hatchbacks and SUVs as it weathered the lingering storm. But all of a sudden, fun was back on the menu at Toyota.
Sure, the Japanese giant needed some encouragement, and that came in the form of a joint-venture with Subaru. Together they created the first proper rear-wheel drive sports car to come out of Japan since the deaths of the madcap Supra, Nissan's 200SX and Honda's bananas S2000. And the first affordable sports car since, well, the MX-5.
Design
The 86 has looked pretty good from day one, but being a sports car, it attracts the usual passionate fans and detractors. The lovely low, long bonnet comes courtesy of the horizontally-opposed 'boxer' engine which is able to sit lower down in the car, meaning everything can sit closer to the deck, including you. It's a tiny car and even though I've driven a few of them, on reacquaintance, it's always a surprise to be reminded just how small it is.
It's so small that on either 16s or 17s it never looks under-wheeled, although the dull 16s are still with us five years on from launch. Perhaps, like the stereo, Toyota expects owners to spend money on wheels and tyres elsewhere, so isn't bothered to change them. For the MY17 update, front and rear bumpers were tweaked for more of an organic feel, badges moved around and the LED headlights became standard across the range.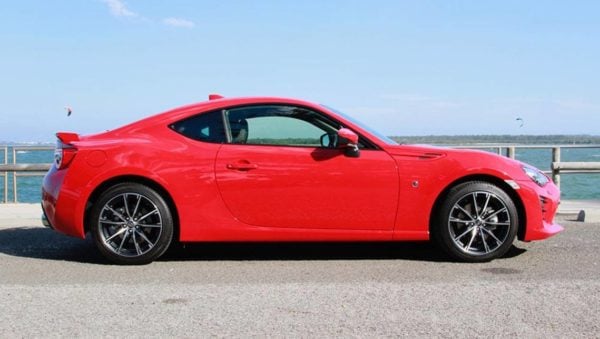 Inside is the same with just a few tweaks, the 'biggest' one being a steering wheel Toyota claims is the smallest ever fitted to one of its road cars.
The seats look a bit different, but thankfully, aren't, with the best-selling GTS scoring Alcantara inserts. The new 4.2-inch electronic dash on the GTS replaces the right-hand third of the instrument pack and also intersects with the central speedo, a bit like a BMW 3 Series' information panel. It's lovely and clear and a huge improvement over the GT's dash.
Practicality
If your only requirement is the ability to sling four wheels and tyres in the back with the seats down, you've come to the right place. For such a tiny car, there is a reasonable amount of space for front seat passengers, again our Tim Robson, who's a tall unit, fits quite happily.
Rear seat room is a completely different story. The back seat isn't much more than a glorified parcel shelf. You can squeeze small kids in there and a forward facing car seat will go in. Rearward facing ones are a rather more snug fit, so the front seats will have to go forward to make room.
Front seat passengers have a few slots and trays for their odds and ends and a removable cupholder unit snaps into the centre console to hold two cups. Each door will hold a bottle.
The boot houses a space-saver spare tyre and with the seats up will contain 237 litres of cargo, which isn't startling but isn't terrible either, comparable with a small hatchback.