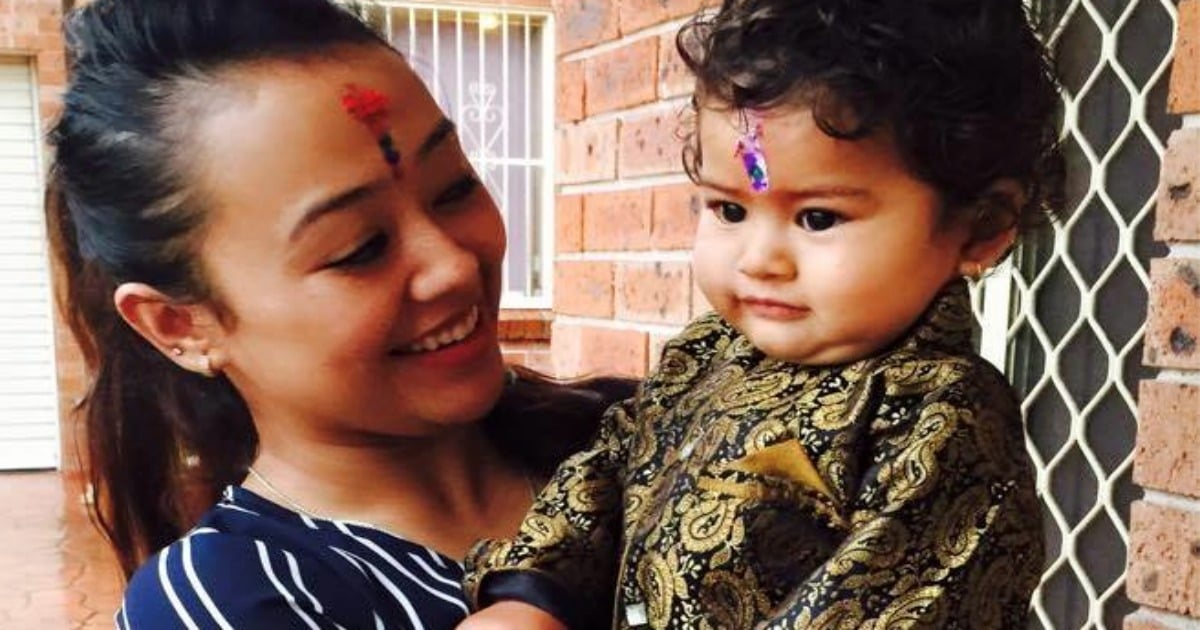 We've rounded up all the latest stories from Australia and around the world – so you don't have to go searching.
1. A distraught mother has arrived on the scene just moments after her 17-month-old died after being hit by a car in Sydney.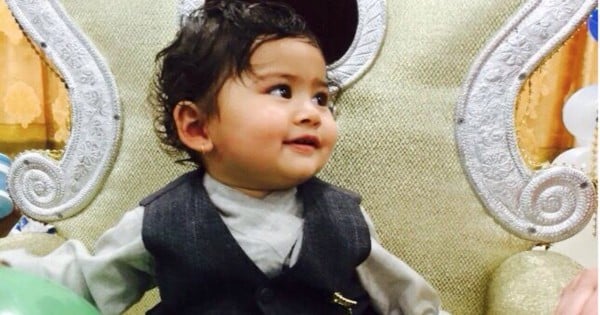 Shreyan Thapa, 17-months-old was attended to at the scene by an off duty nurse and then paramedics but he could not be saved. Image via Facebook.
A toddler out walking with his great-grandmother has tragically died after being struck by a car in the Sydney suburb of Auburn.
The little boy and the older woman were hit by a sedan driven by a middle-aged P-plater. The vehicle eventually mounted the kerb and hit a brick wall.
Shreyan Thapa, 17-months-old was attended to at the scene by an off duty nurses aide and then paramedics but he could not be saved.
His great-grandmother Menuka suffered minor injuries.
The little boy's mother Rojita Thapa arrived at the scene a short time after the crash.
Fairfax Media reports that a witness said the boy broke free from his great-grandmother's hand and ran onto the road, but police are investigating whether the car mounted the kerb and struck the boy.
The nurse's aide who ran to the scene to assist, Mariam Zreika, 19, told media:
"I ran straight away over to the lady, trying to dodge cars," Ms Zreika said.
"She was just screaming and yelling and crying, she wouldn't let go of the baby.
"I asked her: 'Can I see if the baby is all right?'
"She was from a non-English speaking background, she wasn't understanding what I was saying to her. She had the baby tight on her chest.
"I thought, 'I need to see if the baby is alive.' We took him off her and put him on the floor."
Police have asked for anyone who saw the crash to come forward.
2. Teenage mother found guilty of assaulting her toddler so badly that the child sustained multiple bone fractures and severe internal injuries said it could have resulted from a "misguided smack."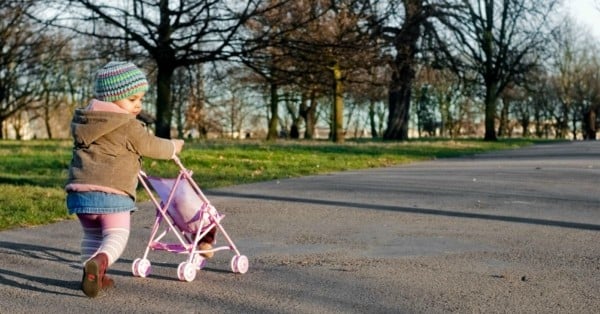 The court heard the little girl was possibly days or just hours from death.Image via IStock.
A South Australian court has heard that a mother who gave birth at 17 assaulted her two-year-old so badly that the little girl sustained multiple bone fractures, extensive bruising to her entire body, and severe internal injuries.
The woman and her partner have been found guilty of criminal neglect after being tried by a judge without a jury.
The Court heard that, despite the injuries, the girl's mother and her partner did not seek medical attention for the two-year-old girl.
Her grandparents eventually took her to hospital in May 2013 unconscious and severely injured.
The court heard the little girl was possibly days or just hours from death.
The young mother denied assaulting the child and said the injuries could have resulted from falling in the bath, grabbing her arm, and a "misguided smack" reports the ABC.
Judge Jack Costello found both accused guilty of criminal neglect saying "all of her injuries resulted from impacts involving significant levels of force." He said the toddler's mother inflicted the injuries.
"Having considered all the evidence. I am satisfied that [the mother] was the person who assaulted [the child] and that she did so with sufficient force to cause the internal injuries sustained by [the child]," Judge Costello said in his written judgment.
"I am satisfied that the injuries resulted from a number of high impact forceful blows delivered against [the child] by [her mother].
"Specifically, I am satisfied that as a result of [the mother's] assaults, [the child] sustained the fractures to her rib, right wrist and pubic bone, and the injuries to her mesentery, renal artery, large bowel and liver and the extensive bruising to her face, limbs and trunk."
3. Grandmother of Sharrouf children fails in bid to bring them home.
Karen Nettleton, the mother-in-law of Australian terrorist Khaled Sharrouf has failed in her attempt to bring home her grandchildren and great-grandchild from Syria.
News Limited reports that she was questioned by counter-terrorism police upon her return home from Turkey.
Ms Nettleton flew to Turkey to try and bring home Zayab, 14, Hoda, 13, Abdullah, 11, Zarqawi, 10, Humzeh, 5, whose mother Tara Nettleton died in September and jihadist father Khaled Sharrouf was killed a months earlier in a drone strike.
Ms Nettleton has said she will return again to Syria in another bid to bring the children home.
4. 60 Minutes crew detained and dramatic footage shown of moment Aussie mum tried to snatch her kids back.
A 60 Minutes crew have been detained and dramatic footage shown of the moment an Aussie mum tried to snatch her kids back.
A TV network in Lebanon has shown CCTV of the moment an Australian mother attempted to retrieve her children off a Beirut street.
Tara Brown and her 60 Minutes producer and camera operator were in Beirut filming the story and were detained by police after the children were snatched by what is thought to be an international child recovery team.
Sally Faulkner from Brisbane had hired the agency as a last-ditch attempt to bring the children back to Australia, after they were taken to the Middle East last year by their father Ali el-Amine.
The CCTV footage shows Ms Faulker's daughter Lahela, 6, and son Noah, 4, snatched from two women by a group who emerged from a parked car.
The children are whisked into the car, which speeds away and leaves the two women behind.
The woman are said to be the paternal grandmother of the children and their nanny.
Ibtissam Berri, the grandmother told local broadcasters.
"The man came down and hit me on the head with something and I was a little dizzy."
"They pulled the child from me, they hit the nanny and took the little girl.
"We tried to hold onto the kids as much as we could but we couldn't stop them."
Nine News report that Tara Brown and her crew were detained shortly after the children were recovered, but the whereabouts of the children and their mother are unknown.
Efforts are underway to secure Brown and the crew's safe return to Australia.
5. Barnaby Joyce charters two $4000 helicopter rides to visit a village near his electorate.
Deputy Prime Minister Barnaby Joyce has come under fire after chartering two helicopters for visit to the NSW town of Drake, a 40-minute drive from Mr Joyce's second electorate office in Tenterfield.
Mr Joyce had the trip the day before Easter and two days after the Turnbull government released a long-awaited review into parliamentary entitlements fuelled by the Bronwyn Bishop "choppergate" scandal.
Mr Joyce's office have claimed that he needed to use the helicopter to avoid a four-hour drive from his home base in Tamworth.
Fairfax Media reports that during the three-hour visit he launched a Telstra mobile tower, visited the school, a local blueberry farm and inspected a bridge in need of an upgrade.
It was his second chopper ride to the village in less than a year.
A spokesman said the flight "represents approximately a third of Mr Joyce's remaining charter allowance".
"The charter allowance is not a bottomless pit and the decision to travel to Drake by helicopter to fulfill commitments that day was regarded as sufficiently important to spend this portion of the allowance. There is no airstrip at Drake, which made the helicopter flight the preferred transport," he said.
"Without access to he flight Mr Joyce would not have been able to launch the Telstra Drake Mobile phone tower, which the federal government funded," the spokesman said.
6. Woman sexually assaulted on site of Masa Vukotic murder.
Police are investigating after a woman, aged in her 60's was sexually assaulted on a Melbourne path close to the site of teenager Masa Vukotic's murder.
The assault occurred when she stopped at a drinking fountain on the bike track at Mont Albert North about 6pm on March 17, Victoria Police said in a statement.
Two cyclists stopped and spoke to the woman, and one attempted to chase the man.
The Herald Sun reports that the assault occurred about 500m from where 17-year-old Masa Vukotic was murdered last year.
The Box Hill sexual offences and child abuse investigation team is investigating the alleged assault.
They are searching for a thin Caucasian man believed to be aged in his 30s, who is about 178cm tall with dark hair.
He was wearing a white t-shirt, light grey tracksuit pants and runners at the time of the assault.
Police also want to speak to the cyclists who stopped to help the woman.
Anyone with information is urged to contact Crime Stoppers on 1800 333 000.
7. Newborn suffered "blistering wounds" and had to have surgery after father put chilli sauce on his bottom.
A man has been jailed for three years for child cruelty after he smeared hot sauce on his newborn baby's bottom.
The 'Hot Diggidy Dog Hot Original Pepper Sauce' caused such severe injuries that surgeons had to perform a colostomy and reconstructive surgery on the 27-day-old boy reports Metro. 
The father, from the UK is said to have put the chilli sauce on the baby's bottom because he was suffering from constipation.
A nurse's assistant noticed the wounds during a routine check-up five days later.
The man was arrested and police found a soiled nappy and a syringe containing Capsaicin – the active ingredient in chilli peppers in a bin.
Forensic burns consultant Colin Rayner told Salisbury Crown Court that he'd never seen anything like the victim's injury in more than 3,000 cases.
Judge Andrew Barnett said "To put it mildly, it was a gross error of judgment. It was a fantastically irresponsible thing to do to any child, let alone your own son. It was a ghastly way to behave to a child."
8. Swiss School rules male Muslim students will not have to shake hands with female teachers.
A school in Switzerland says its male Muslim pupils will no longer have to shake hands with female teachers sparking an outcry among politicians.
The school in the northern Swiss municipality of Therwil, took the decision after two male pupils, aged 14 and 15, complained that they were being made to shake hands with their teachers, including female members of staff, which is part of Swiss custom.
The boys argued that Islam does not permit any physical contact between members of the opposite sex, unless it is with family members.
Justice Minister Simonetta Sommaruga  said "shaking hands is part of our culture."
Christoph Eymann, who heads the Swiss Conference of Cantonal Ministers of Education, agreed with Sommaruga, insisting: "We cannot tolerate that women in the public service are treated differently."
However, Muslim groups in Switzerland stated that the reaction was overblown, adding that there was a "clear prohibition of this contact form [handshakes] between sexes."
"One would think that the continued existence of Switzerland's core values was at stake, when this particular case in fact involves just two high school students who have said they wish to greet their teacher in a different way than with a handshake," the Islamic Central Council of Switzerland said in a statement to AFP.
9. They had one job. Can you spot the design flaw?
A photo of a new home – possibly a design home in the US has gone viral after Reddit users pointed out the massive design flaw.
One commented: "They had one job."
The home – where the driveway leads to a wall rather that the actual opening of the garage is said to be somewhere in South Carolina.
Many Reddit users had trouble finding the flaw after the original image was posted.
"It took me an embarrassing amount of time to see the problem." Wrote one
While another said that the photo was actually just one of an incomplete house.
"This is a model home and sales office for the builder."
"The road in front is still dirt. This house is close to being done, but it's unlikely anyone would want to live in this neighbourhood until that road is done.
"There's an obvious walk way from that slab to the front door.
"There's no "cut" in the curb that would accommodate a different driveway.
"I'm sure they'll add it later when they eventually sell this house to someone. But for now it's not necessary."
Do you have a story to share with Mamamia? Email us [email protected]