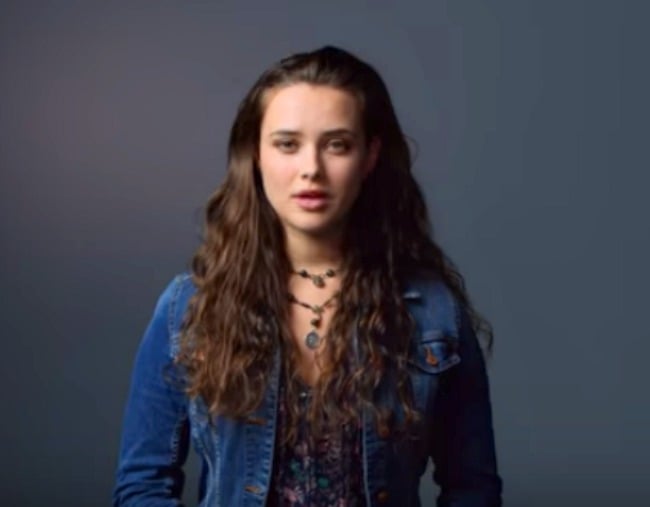 This post contains discussion of suicide and may be distressing for some readers. 
Last year Netflix's hit drama 13 Reasons Why attracted equal parts praise and criticism for its handling of teen suicide.
So the streaming service listened, and they're introducing new measures ahead of the second season they hope will better support teenagers and parents.
Many found the brief written warning Netflix introduced ahead of episodes to be inadequate. In response, they've introduced a video that will appear at the start of each season, with two slightly different videos for season one and season two.
In the video Netflix has published online, the show's actors, including Kate Langford, who plays the series main character Hannah Baker, appear as themselves and warn that the show contains discussion of "tough, real-world issues" including suicide and sexual assault.
You can watch the video warning that plays ahead of 13 Reasons Why. Post continues. 
While Langford can be seen saying the show hopes to start a conversation, actress Alisha Boe, who plays Jessica Davis, then warns, "But if you are struggling with these issues yourself, this series may not be right for you, or you may want to watch it with a trusted adult".
The actors also urge viewers to seek help if they are struggling and directs them to the new website that has been set up with crisis support resources, 13ReasonsWhy.info
Season two will also include a new after-show video featuring experts, as well as the show's actors, discussing the show's approach to difficult topics. It comes after the positive response to season one's Beyond the Reasons feature.
The new measures come after Netflix commissioned a study by Northwestern University's Center on Media and Human Development into the effects of the show.
The results of the study, Exploring How Teens and Parents Responded to 13 Reasons Why, found about two-thirds of teens and parents surveyed thought the show's intensity was appropriate and the graphic nature of Hannah's death was necessary to show how painful suicide is.
Last year, The Binge team discussed whether 13 Reasons Why was helpful or harmful. Post continues.
It also showed positives, such as that three-quarters of teens said the show made them feel more comfortable processing tough issues, and the same proportion said they have tried to be more considerate to others since watching the series.
However, it also found that more than half of parents wanted more guidance from mental health experts, which is why the website was set up.
In a statement on Netflix's website sharing the findings, the company's Vice President of Original Series, Brian Wright, said they hoped the additional steps they've taken will "help support more meaningful conversations" as season two airs.
"We've seen in our research that teens took positive action after watching the series, and now – more than ever – we are seeing the power and compassion of this generation advocating on behalf of themselves and their peers."
Netflix has not announced when the second season of 13 Reasons Why will drop, but it is expected later this year.
If you're suffering from depression or anxiety and need help, or just someone to chat to, you can call Lifeline on 13 11 14 or BeyondBlue on 1300 22 4636.