Content warning: This article deals with the topics of suicide and sexual assault and may be triggering for some readers.
Just over halfway through 13 Reason Why's season two finale, the character of Tyler Down walks into the bathroom at school.
It's his first day back after completing a rehabilitation program for bad behaviour.
For the majority of the season, Tyler has been attempting to exact revenge on the students who mistreated Hannah Baker, the 17-year-old who died by suicide at the end of season one. Eventually, he's caught for defacing the school's baseball field with the word 'RAPIST' – an act aimed at Bryce Walker, who raped Hannah and two other teenage girls.
Upon Tyler's return, he seems calmer and genuinely remorseful for his decisions.
But what follows after he enters the bathroom is the most disturbing two minutes of television I've ever witnessed.
One of the school's athletes, Montgomery de la Cruz, follows Tyler and demands to know "why the f*ck" he came back. When Tyler apologises, Monty grabs his head and pushes it violently into the mirror behind him, before slamming his head repeatedly on the hard, ceramic sink.
He then drags Tyler into a cubicle, almost drowning him in the toilet bowl, and orders his friends to "hold him".
Monty gets a mop from the corner of the bathroom, and while his friends restrain Tyler, whose pants are now pulled down, the teenager is anally raped with the wooden end of the mop.
When Monty abandons the mop, we see the tip is covered in blood, and in a later scene when Tyler returns home, he's bleeding from the anus.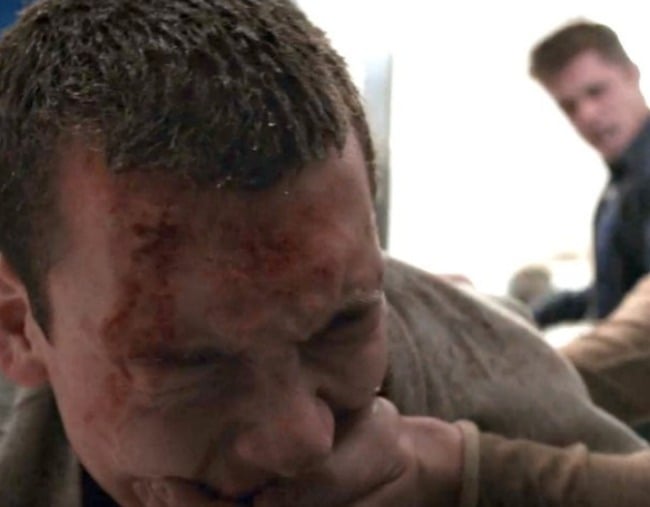 I'm providing this detail because elsewhere online, descriptions of Tyler's rape are alarmingly sanitised.
The scene is regularly referred to as 'Tyler's sexual assault,' with rare mentions of the teenager being 'sodomised by a mop', and almost always mentioned in the context of his decision later in the episode to arrive at the school dance armed with guns with the intention to commit a mass shooting.