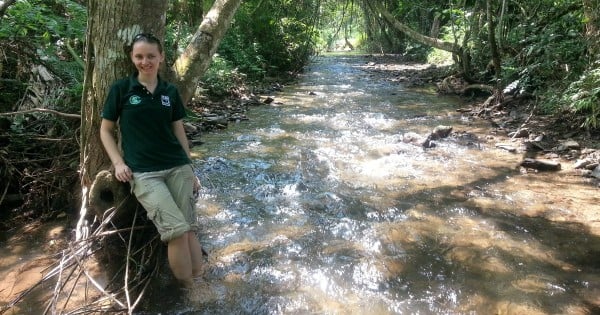 Each week we will be running Q&As with Australian women doing vital humanitarian and aid work. Women you may not have heard of.
With that in mind, let us introduce you to Kathryn Michie, the Public Sector Partnership Manager at WWF Australia — an organisation dedicated to protecting endangered animals and their habitats.
1. What does your role entail on a day-to-day basis?
As Public Sector Partnership Manager at WWF-Australia, I manage our relationship with the Department of Foreign Affairs & Trade (DFAT). I'm fortunate to have a flexible, part-time (2 day per week) role that lets me balance rewarding work with spending time with my young family.
My role can really vary, depending on the time of year – I may find myself doing anything from Skyping our teams in the Solomon Islands and Papua New Guinea to preparing project plans or reporting for our sustainable fisheries and women's economic empowerment projects in those countries. At other times, I may be working with the finance team of WWF-Australia to ensure that we comply with the ACFID (Australian Council for International Development) Code of Conduct. I also need to maintain oversight of all of our international work to be able to account for all the projects with an international development component, so there is a lot of liaising with the project managers for each of those projects.
2. How did you become involved in humanitarian/aid work?
I was working as a Consultant with the accounting firm Ernst & Young when an opportunity to volunteer through the Australian Youth Ambassador for Development (AYAD) program arose (this has now been replaced with the Australian Volunteers for International Development (AVID) program). During my placements in Fiji and Cambodia, I met numerous inspiring people working in this field and realised that I could combine my passions for international development and sustainability with a career. What was meant to be a year off from my consulting role turned into a complete career change. I returned to Australia to complete my Masters in Environmental Management and Development, then worked for AusAID for several years before being offered my 'dream job' with WWF.