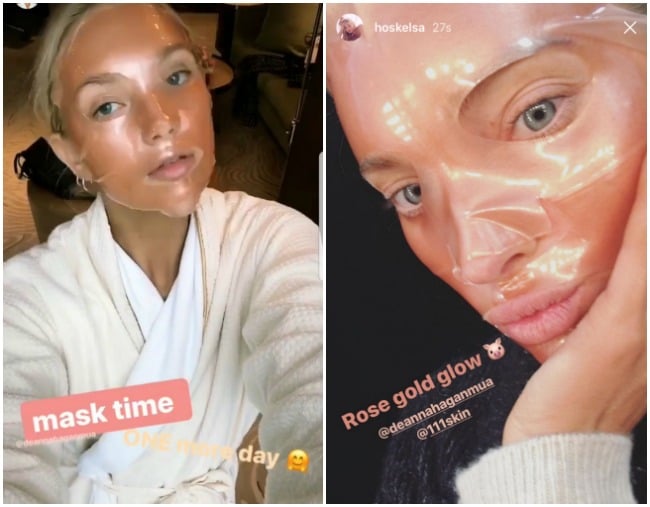 If you haven't heard of the beauty brand 111 Skin, listen up, because your life is about to change (along with your bank account. Sorry).
The super high-tech range hails from the UK and is developed by very well respected cosmetic surgeon, Dr Yannis Alexandrides, who himself has a cult-like following.
Sold through MECCA here in Australia, the hero ingredient in many of the products was created with a team of space scientists who treat astronauts' stressed skin. It's serious stuff.
Fans of the brand include Priyanka Chopra, Rosie Huntington Whiteley, Lily Aldridge, Barbara Palvin, Martha Hunt, Romee Strijd and a whole bunch of others but I'm afraid of dropping so many names it'll take me forever to pick them all up.

Anyway. The brand really started to get noticed down here on the bottom half of the planet when our very own Margot Robbie revealed to Vogue, no less, that she loves one of the Bio Cellulose sheet masks slapped onto her face before having her makeup applied when she is going to a fancy event.
"One brand I'm obsessed with right now is this brand, 111Skin, which my makeup artist Patti Dubroff got me hooked on. They have these sheet masks, they're made out of a jelly sort of stuff and the serum they're soaked in is so good. So when we're getting ready for an event she'll put one of those on while she's doing my hair," Margot told Vogue.
Cue the masks selling out, obviously.
More recently the brand released a limited edition gold treatment mask as part of their holiday collection for the northern hemisphere. No points for guessing that the crowd went wild.
So wild, in fact, that you'd be hard pressed to find a celeb or model who hasn't used the Gold Brightening Facial Treatment Mask before a big event. The mask was so popular that 111 Skin had to make it part of their permanent range or risk being egged by gold mask addicted fanatics.
The pretty sheet of rose gold coloured goodness in fact contains real gold, which revitalises a dull complexion and boosts radiance. In 20 minutes the mask reduces inflammation, helps to improve the appearance of blemishes and also diminishes the visibility of age spots and sun damage. It's the perfect pre-party prep when you've got somewhere to be.
The result is a dewy, radiant and revitalised complexion and the damage to your VISA card is $36. Sure, that's not pocket change for a single use product BUT it's a hellava lot cheaper than a facial and the glow is on a par.
The 111 Skin Gold Brightening Facial Treatment Mask is coming to Australia thanks to Mecca Cosmetica on the 31st of July and if you happen to see me camping out outside my local store on the 30th can you please come and save my spot so I can wee?
What's your favourite sheet mask? Tell us in the comments!