What's that you hear? It's the sound of millions of contouring palettes snapping shut the world over. Yes, it's time to welcome in the new class of beauty trends that are set to dominate in 2018.
The curtain fringe.

Next year you can expect every third woman you follow on Instagram to possess the "curtain fringe" (you know, that long, sweeping fringe that parts in the middle). The haircut has seen a 600% increase in searches on Pinterest and celebrities and bloggers are on the bandwagon (hello Selena Gomez and Sophie Cachia).
"Let your hairstylist know how much time you have to style your hair. This will help them cut you the perfect curtain shape with the right texture to suit your routine," recommends Raw Salon colour director and advanced stylist, Stella Greenwood.
Customised beauty products.
Ever wished you could mix one lipstick with another to make the perfect shade? Or could find a skincare regimen that targeted your acne and your dryness? Now you can. A wave of new brands offering customised beauty products are gaining momentum.
Ee Ting Ng, founder of customised skincare company, Hop & Cotton, says people are turning away from a one-size-fits-all approach to beauty. "People who are unable to find a solution for their skin issues, or those unwilling to compromise with off-the-shelf products, are starting to turn towards customisation to get exactly what they need," she explains.
From lipstick (try The Lip Lab), to fragrance (try Fleurage or Aromantik), to foundation (Lancôme's custom-made foundation Le Teint Particulier will be coming to Australia in the not-too-distant future), to face oils (try The Buff), the future is personalised.
LISTEN: Is it problematic to try lipstick on in store? The Mamamia Out Loud team discuss. Post continues after audio.

All that glitters
When the Spring/Summer Fashion Week shows were littered with sparkles and the stand-out app of the year is one that makes things twinkle (thanks Kira Kira), it's a no brainer that all that glitters is in when it comes to beauty. So how the hell are you meant to wear it without looking five?

"Press glitter onto the eyelid using a fingertip (making sure it's safe to use on the eye area) in a colour that complements the eye makeup," explains Noni Smith, Makeup Director L'Oreal Paris Australia. "But you must make sure that there is something for it to adhere to so it stays put. I like the L'Oréal Paris Infallible Eye Paints underneath."
Ethical consumerism.
Beauty and activism aren't two words you'd usually find jammed into a sentence together, but due to the rise of ethical consumerism, brands are now being out and proud about communicating their environmental/humanitarian/cruelty-free agendas.
Known for its revolutionary Forever Against Animal Testing campaign, being the first in the beauty industry to focus on community trade and this year's Christmas 'Play for Peace' project, The Body Shop is at the forefront of this movement.
"The rise of the millennial 'social activist' has helped placed ethical consumerism in the public arena," explains Jessica Styles, The Body Shop's Communications Manager. "Consumers are now more socially and environmentally conscious about their purchases."
The '70s shag haircut.

The layered, mussed up '70s shag 'do is back. Julianne McGuigan, Creative Director for Oribe Australia, says that while the shag 'do might be increasing in popularity, your hair type will give you an idea of how easily you could pull it off.
"If you have fine hair then this is not really for you. Any hair with a bit of wave or thicker to medium textured hair works with this style. And it's fantastic on curly hair," explains Julianne.
Fragrance combining.
In the fragrance world big trends don't come around often, so fragrance combining is one we're excited about.
"Fragrance combining involves layering scents and textures to create something bespoke," explains Fiona Pereira, National Education Manager for Jo Malone London (Australia).
"You can generate depth and longevity to the sillage of your favourite cologne by using a shower oil in a contrasting scent first. It's a great way to freshen up an old favourite."
At-home skin perfecting devices.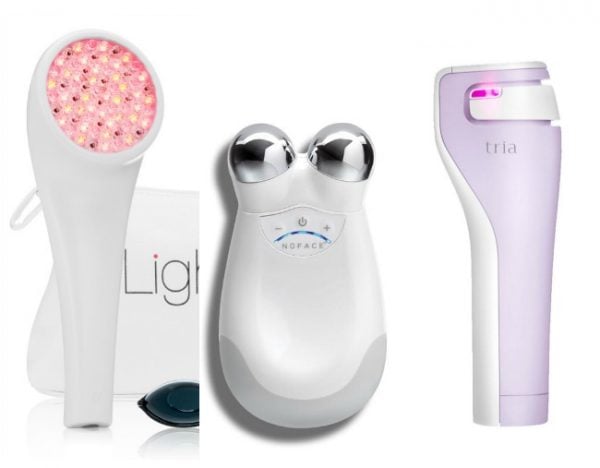 No longer do you need to make a trip to a skin clinic to reap the benefits of lasers, light therapies, micro-current and ultrasound treatments. According to skin expert and facialist to Australia's celebrity set, Melanie Grant, 2018 will see a rise in at-home skin devices.
"Companies such as Light Stim, NuFACE and Tria are having great success already with light therapy devices for anti-ageing and acne treatment, laser for hair removal and micro-current for sculpting and lifting," explains Melanie. "They don't replace a good in-clinic treatment, but can work as a complement to certain home regimes."
Probiotics in skincare.
Yeah, yeah, yeah, we all know probiotics are key for gut health but they're great for our skin, too. How?
"By helping to rebalance the good gut flora our gut health may be able to be restored and therefore reflect in good skin health," explains By Dr Cris Beer, Integrative Medicine Expert.
Ingestible skincare like The Beauty Chef is a great place to start but expect probiotic face masks and creams to multiply on shelves near you.
Laser facials.

Next year, you can expect your regular facial to come with a side serving of lasers. According to Dr Joseph Hkeik, aesthetic physician and founder of All Saints Skin Clinic, the addition of lasers offers longer-lasting results.
"Laser facials focus on improving skin firmness and building better collagen," explains Dr Hkeik.
"We've noticed more and more women in the younger age group asking for laser facials at our clinics."
Back to basics nails.
In news that will please women who can't polish between the lines, simple manicures with punchy colours are set to dominate (none of that tricky, intricate nail art, thank goodness).
"The trend of minimalism continues in fashion, so will it in nail art. Simple designs. Geometric shapes, a pop of colour here and there and metallic accents for the whole," explains Tom Bachik, OPI Global Nail Ambassador and celebrity nail artist.
Skin focus.
The no-makeup makeup trend has been dominating faces for a while now, but you can expect things to be pared back a couple more notches next year, with a spotlight on skin quality.
"We're now focusing on skincare and getting skin to its optimum rather than camouflaging it," explains MECCA Head of Artistry, Tony Baumann. "It's all about working with your own skin's tone and texture to create an invisible, non-detectable finish. I think women are shifting towards this trend in line with an increasing focus on health and wellbeing."
Edwina Carr Barraclough is a Sydney-based lifestyle editor and social media and content strategist. You can see more from her on Instagram or Facebook.
LISTEN: Here's what women are talking about this week on Mamamia Out Loud.