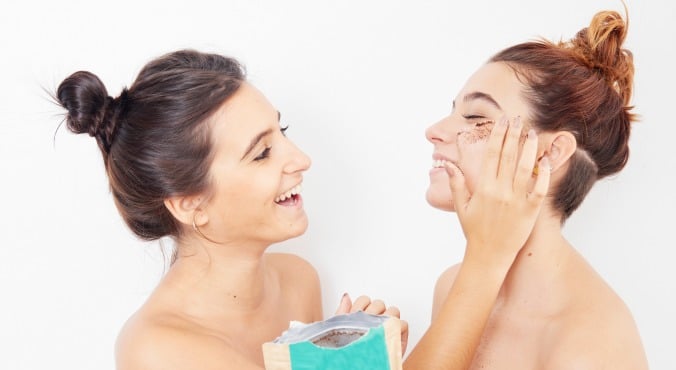 Image: iStock images.
I've spent stupid amounts of money on big name exfoliators. I've picked up some budget buys at Priceline. I've even taken a tupperware container to the beach and packed some sand to use at home. (I wouldn't recommend this, after a while it gets very stinky with all that sea-related business.)
RELATED: The 7 best ways to whiten your teeth at home
But about three years ago I found a winning recipe when it comes to a product that removes flakes, softens the skin and leaves you feeling hydrated and I haven't looked back. For me, that's unheard of.  I couldn't over-sell this if I tried so I'm calling it;  it's the world's best exfoliator.
So where can you find it and how much does it cost? Well, it's actually not a skincare product at all. It's something you can get very easily at your local supermarket.
The answer is... (drum roll please) raw sugar. Yep, the very same sweet stuff you might add to your 'cino of a morning.  You need to find one that doesn't have large crystals, so look for something finely ground but basically, raw sugar will put all of your expensive products to shame.
RELATED: 5 hidden sources of sugar we had no idea about.
During the summer, I keep a small tupperware container of raw sugar in my bathroom. While in the shower I use a small handful over my face (and slightly larger handfuls/bucketfuls for my body) and I work it around in small circles. I'll admit that I actually try to get some on my lips so I have to lick it off but during winter the following recipe has seen me enjoy smooth soft skin all season (and for someone who has dry skin, that's pretty great).
Click through the gallery for the glows pick of the best cream cleansers for your skin. Article continues after gallery
The Glow Team's Favourite Cream Cleansers
Just don't all rush to the supermarket at the same time and create a supply issue please...
What you need
1. A bag of raw sugar. It can be organic, or not organic. Your choice. This is the one that I use (#foodwanker) If you can't find it, just look for one that has smaller crystals so you con't scratch and irritate your skin.