A female journalist who has only just started to work again these past few months after a life-threatening disease left her on life support, says she is 'not coping' after actress Rebel Wilson viciously attacked her on social media.
Elizabeth Wilson – known in the industry as Lizzie – exclusively told Mamamia she is "beyond distraught" after the world-famous actress called her a "scumbag" and posted her picture on Twitter accusing her of harassing her "frail" and elderly grandmother.
Wilson, a freelance journalist with a long professional career, is the second reporter Rebel has attacked in three days in a bizarre series of tweets.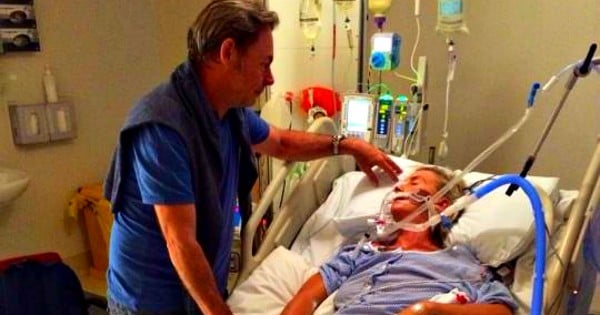 On Friday, Rebel tweeted a photo to her 2.43 million Twitter followers of a woman named Elizabeth Wilson who is a senior features editor at House & Garden calling her "total scum" and accusing her of harassing her sick grandmother.
Numerous Twitter users and media outlets (including Mamamia) contacted Rebel to point out that she was attacking the wrong journalist. For a number of hours Rebel refused to take the photo down responding, "Well send me a picture of the right Elizabeth Wilson".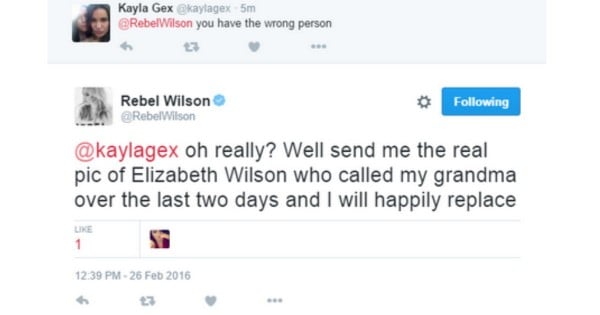 Today Rebel continued the Twitter assault, apologising to the 'innocent' Elizabeth Wilson but then posting a photo of freelance journalist, Elizabeth -Lizzie – Wilson to her followers.
She wrote: "Hey guys, clarification to earlier tweet. Here is the picture of Elizabeth Wilson who is total scum."
Hey guys, clarification to earlier tweet. Here is the picture of the Elizabeth Wilson who is total scum pic.twitter.com/cevRK1dcDT

— Rebel Wilson (@RebelWilson) February 27, 2016
This time she had the "right" Elizabeth Wilson, the journalist who had indeed called her grandmother for an interview while compiling information for a story about Rebel Wilson. But that's where the clarification ends.
According to Lizzie, everything else Rebel said is "false scurrilous allegations" and has left both her and her family devastated.
Elizabeth – Lizzie – Wilson, 52, is an Australian-based journalist whose work has appeared in numerous publications including The London Times, New Idea, The Sunday Times and Woman's Day.
The story on Rebel is one of her first jobs back since she was hospitalised for bacterial meningitis early last year. Ten months ago she was in a coma and on life support and given only a small chance to live. She had to learn to walk and talk again and is only beginning to rebuild her professional life.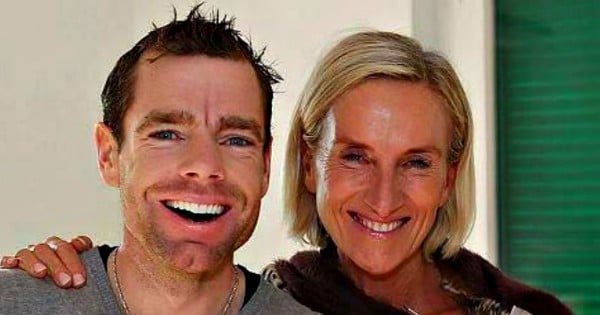 "I am fiercely rejecting the allegations that have been made against me regarding the harrasment of Rebel Wilson's grandmother. I have never ever harrased anybody, let alone an elderly grandma who is one of the nicest people I've ever spoken to," Lizzie said.
Wilson spoke to Mamamia through tears, her voice catching repeatedly as she described the words used against her by the Hollywood star. "She called me 'total scum'. Nobody has ever called me that."
"These claims are so abhorrent and frankly not true. Her only true claim is I did speak to her grandma."
"I was not, as she suggested, working for ACP or any other magazine or publication here in Australia. I was representing an international publication that approached me as a freelance journalist to contribute to a feature they were putting together about Ms Wilson. I'm used regularly as a freelancer/researcher with a very solid reputation. So I was not representing ACP (now known as Bauer). "
Lizzie said she contacted Rebel's grandmother Betty last Tuesday, finding her contact information publically-listed and called her to discuss her famous granddaughter.
What's weird is that she is the sister of respected Australian journalists Jim & Rebecca Wilson.

— Rebel Wilson (@RebelWilson) February 27, 2016
Her actions are so disgraceful and upsetting and she should be shamed for this conduct. Authorities have been contacted. — Rebel Wilson (@RebelWilson) February 27, 2016
I was only trying to protect my beautiful grandma who is the kindest, loveliest person from harassment and verbal abuse.

— Rebel Wilson (@RebelWilson) February 27, 2016
I usually don't respond to their awful crap but when someone comes after my innocent grandma, I just have to take action. — Rebel Wilson (@RebelWilson) February 27, 2016
My utter gratitude to everyone who has been helping with this case and again my apologies to the innocent 'other' Elizabeth Wilson.

— Rebel Wilson (@RebelWilson) February 27, 2016
"I was approached by a publication, a very respectable publication, who were working on a story around 'Who is the real Rebel Wilson?'. They wanted someone on the ground here in Australia to speak with her family and school friends – and I agreed to do it.
"I did ring her grandmother, not once, but twice. The first disscussion we had was very pleasant. I introduced myself and we chatted."
"She asked me what sort of stories I usually do and who I work for and I told her I've covered everything from royal tours, Greg Norman at Home and Tour de France winner Cadel Evans adopting an Ethiopian baby. I told Betty I was recently I did a very big story with the London Times on sports' doping which I worked on with an investigative team for weeks. I made absolutely clear I was working for a publication overseas and not a magazine or newspaper here in Australia."
"She didn't give me a lot of information. She told me to go and watch the recent ABC documentary around Rebel Wilson's life – which I did."
"When we finished speaking I said, 'Betty, is it ok if I call you back if I have any other questions?'. She said yes. It was all very pleasant."
"Then I spoke to other family members and former school mates of Rebel, people who knew her dad before he passed away as journalist's do- just to get an idea about the comedy actor.
Lizzie said she did not record or make transcripts of the conversation with Rebel's grandmother because she didn't feel she would be needing to. She continued working on the story, spending the next morning speaking with friends of Rebel's family across Australia.
"I called her again the day after our first chat and she said, 'I can't speak to you' and I said that was fine. It was a brief chat ending with me saying thank you as she did not want to discuss it any further."
Lizzie said she is not on Twitter, so was first alerted by friends to the fact that Rebel was publicly calling her out and had tweeted an image of her from her private Facebook page calling her "scum".
"I was very professional," Lizzie said. "If I was going to harrass anyone or be sneaky, wouldn't I block my number and maybe even use a different name?"
"I gave them my full name and all my credentials. You can't be any more transparent and honest than I have been. My family are so distraught about this.
"I've only just come back into the workforce after I nearly died from bacterial meningitis last year. I was in a coma ten months ago today and this is one of my first stories since my recovery. I was on life support and given only a small chance to live. I had to learn to walk and talk again. This attack is unfounded and just not true. I will and am defending the claims."
"I'm just not coping very well with this," she said, her voice breaking again. "I am beyond distraught that this has happened and that Rebel Wilson has made these false allegations. I had two pleasant chats with her beautiful grandmother, I never saw this coming.
"I even joked with her grandmother that when I travel the world people ask me if I'm related to Rebel Wilson and we laughed together about that.
"I can't believe she can just say these things on social media. It's a very dark world. Especially since I have no real way to defend myself.
"I just want everyone to know the truth."
Watch: Rebel Wilson makes awkward joke at the BAFTA's.