Brace yourselves. The latest Kim Kardashian West outfit is not like the rest of them.
Posted by younger sister Khloe Kardashian to her Instagram account on Wednesday evening, it's the first time the 36-year-old mum-of-two has been in public since falling ill a few days earlier.
"Well damn…… she shut sh*t down!!!" Khloe wrote in a caption alongside the image.
Sure, in typical Kim K fashion it's tight, styled to within in an inch of its life and flawless when photographed, but there are just so many questions I had while looking at the image.
So, for your reading pleasure, here they are:
1. God damn.
2. I mean, just … woah.
3. I feel like I need to be alone for 10 minutes and take a cold shower.
4. And book a personal training session. And farewell carbs from my life. And like, start fake tanning. And earning enough money to buy clothes that look like this.
5. I should probably put the burrito in my hand down, hey.
6. Whoooo mama.
7. This is the kind of look rappers write songs about.
8. You know someone is next level icon when they make a wall of beige look killer.
9. Is this new season Yeezy? Either way, it is good.
10. I really like the bra and it actually looks quite comfy. Would wear around the house with my trackies, for sure.
11. Do you reckon she's wearing undies with those pants?
12. Could you wear undies with those pants? I guess Beyonce did with that Met Gala latex dress, so maybe. I feel like rubbery latex on a bare crotch would be a bad idea? But then... that's exactly what safe sex is so, I dunno?
13. Where do you even get latex pants? And how do you get them on and off?
14. This is stressing me out. All I can think about is that scene in Friends where Ross gets the leather pants stuck and has to use an entire bathroom's worth of supplies to get them on and off.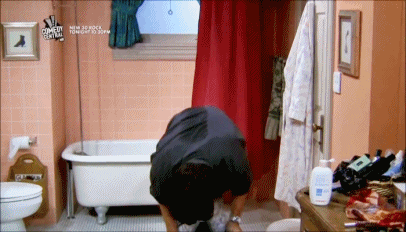 15. Seriously, never has an outfit that should be so wrong seemed so right.
16. If anyone else wore this they'd probably look like a sad, disfigured penis looking for someone to keep them warm on a Saturday night.
17. Or an anaemic leg of ham. But of course, Kim makes it work.
18. Imagine how convenient latex pants would be, though. Like, if the guac from my burrito fell on them it would be NBD because I could just slide it right off.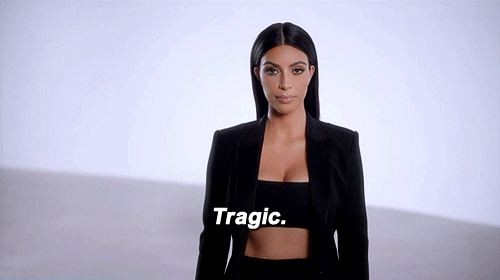 19. I know the internet didn't like Kim's joke about the flu being a good diet, but let's not lie — we've all experienced 'flu stomach' and somewhat enjoyed the one perk of being bedridden for all that time.
20. I wish there was an Instagram feature that could tell you where every item of someone's clothing came from and how much it all cost.
21. Ughhhh the Yeezy medallions are SO GOOD. Why must they cost $10,000?
22. Seriously, Ye. You know that moment in Bridesmaids where Kirsten Wiig is all like, "Help me, I'm poor". That's me. All the time. Make affordable medallions that we writer ladies can afford, please? PLEASE. Or at the very least discount them to take the gender pay gap into account.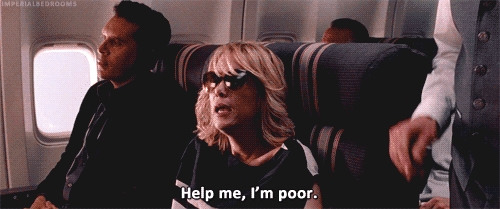 23. Also... I know I'm going to sound like a sensible mum right now, but I'm very skeptical about duster coats. They just seem so unpractical and long and close to the ground, a.k.a. the place where dirt and germs live, a.k.a. the place that is unfriendly towards light-coloured coats.
24. Maybe Kim K just isn't a burrito-chowing grub like me? How the other half live, I guess.
25. This outfit is like an optical illusion. The more I look at it the more I see.
Do you have any thoughts to add?
Listen: The Mamamia Out Loud team dissects the public reaction to Kim Kardashian's robbery.