On January 27, 2015, the bodies of Teresa, Martin and Rudi van Breda were found in their home in the De Zalze Winelands Golf Estate in Stellenbosch, around 50km outside of Cape Town.
The wealthy family had just moved back to South Africa after spending several years living in Perth.
They had all been brutally murdered: 21-year-old engineering student Rudi and his father, 54-year-old Martin, had suffered fatal axe blows to their head.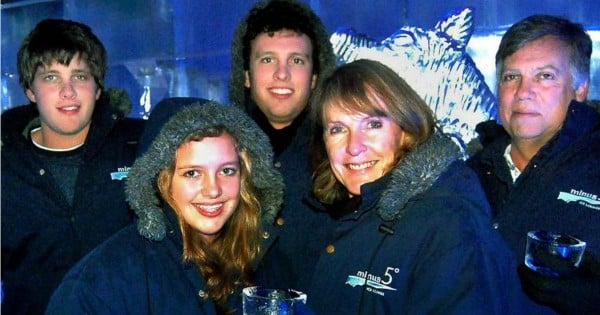 Teresa van Breda had also been attacked on the balcony of the same room. A bloodied axe, weighing 4.5 kilograms, was found near their bodies.
Eighteen-year-old Mari - then aged 17 - was discovered near death in the same room; her jugular vein had been slashed, and she had suffered severe head wounds. Her brother, Henri, escaped the attack with only a few minor cuts and was the one to raise the alarm with police.
A recording of the emergency call he made to police - four hours after the murders - was leaked to the press soon after the deaths made international headlines.
The then 20-year-old explains his family members had been attacked with an axe, before giggling as he described them as "bleeding from the head".
He later told police than an "axe-wielding stranger" had broken into his wealthy family's home, killed his loved ones and knocked him out.
After 18 months of investigations, Henri suddenly surrendered himself to police. He was charged with three counts of murder, one of attempted murder and another of obstructing justice.
Now, more than two years after the van Breda family murder, Henri's trial is set to begin in a Cape Town court. It's expected to attract the same attention as the Oscar Pistorius case, with a judge due to announce on the first day of trial whether it can be streamed live online.
More than 100 people are expected to give evidence, with Henri's sister Marli listed as a witness. She is expected to testify against her brother.
Due to her injuries, which left her in a coma, Marli reportedly remembers almost nothing of her brother's alleged attack. She has only had supervised contact with Henri since her mother, father and older brother were killed.
Henri's trial is due to begin today, and is expected to last for weeks.
LISTEN: Emily Webb talks about Australia's most chilling murders and why she is so interested in them.