It was all gasps and shocked faces during Gogglebox last night, as participants were treated to the first episode of US television series This Is Us.
This Is Us follows the lives of four characters as they approach turning 36. The show is a comedy-drama that almost instantly reveals the kind of plot twist that forces audiences to re-think how they see the show altogether.
The series has been going off overseas since its 2016 launch, but only reached Australian shores last week.
Listen to Laura Brodnik and Tiffany Dunk explain why we are all so in love with This Is Us on The Binge.
If you're not up to speed, Gogglebox is the show that films ordinary Australians as they watch television in their own homes. It sounds like it should be terrible, but makes for oddly compelling viewing.
The first episode of Gogglebox's Season Five captured the cast as they were collectively floored by the show's big reveal.
"YES! It's, him, him and the other bloke," said participant Matt to his family.
"We've all just worked it out," said Kate Dalton.
"Have you not worked this out yet?" said Wayne to partner Tom, "I've fallen asleep twice and know what's going on."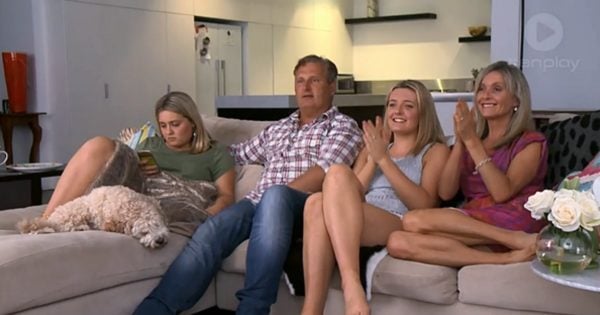 Goggleboxers, as we affectionately call them, are usually quite divided in their opinions but This Is Us seemed to win over almost every viewer.
"Hook, line and sinker, I'm in." said Symon.
"Wow - that's a lovely twist," said Patrick.
Episodes of Googlebox and This Is Us can be viewed on Network Ten's online portal, Tenplay.
Listen to the full episode of The Binge for a curated list of the best in television this week.
You can buy any book mentioned on our podcasts from iBooks at apple.co/mamamia, where you can also subscribe to all our other shows in one place.