Just days after his death, George Michael's partner Fadi Fawaz has shared a never-released, "lost" song by the late singer.
It is believed the the song, titled This Kind of Love, was recorded in the early '90s and was set to be part of an unreleased album called Trojan Horse.
The track was said to have been produced with Elton John. It was not released due to legal red tape, The Mirror reports.
Fawaz tweeted a link to the song alongside the heartfelt words "My Baby".
The song includes the lyrics, "This empty house seems to get colder and colder. So won't you stay here with me?"
But not everybody was happy about the leak. Some social media followers criticised the Australian hairdresser and photographer, who had been with 53-year-old Michael for seven years.
A user named "lisa b" said, tweeted, "I disagree really. George obviously never wanted us to hear it. (Sorry just my opinion) x".
Fawaz posted a tweet explaining the song had already been released online and he simply tweeted a link to it and in fact, there are several versions of the song online including on YouTube.
He wrote, "The song I posted was found online they are many versions of it, please do your research if u think you r professional in what u do."
This was confirmed by multiple fans on social media who were aware of the song and had found it earlier. Most fans who weren't aware of the song were happy to hear it and sent their condolences to Fawaz.
Fawaz, 46, was the one who found Michael dead in bed on Christmas Day, having arrived to pick him up for a planned Christmas lunch.
The singer died of suspected heart failure but the cause has yet to be officially confirmed.
Yesterday, Fawaz tweeted the following heartbreaking words: "ITs a xmas i will never forget finding your partner dead peacefully in bed first thing in the morning.. I will never stop missing you xx".
He has also taken to Instagram to continue to share memories of the late-singer writing, "I will never stop missing you George the kind and most beautiful man ever. Xxx".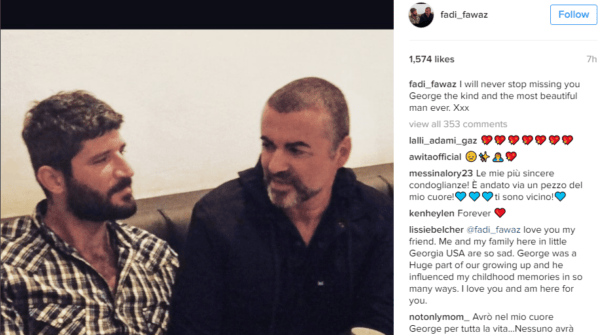 Michael and Australian-born Fawaz, 46, have been together since 2009 and met shortly after Michael broke up with long-term partner Kenny Goss. They spent time in Australian including with Fazaz's family in Queensland as well as at Michael's Palm Beach holiday home.
Speculation around Michael's cause of death, unreleased music and his estate continue as fans struggle to come to terms with his death at the end of a year already darkened by too many celebrity deaths.
Michael's songs have skyrocketed up the music charts since his death with solo and Wham! albums making up three out of the top five albums on iTunes. Careless Whisper is sitting at number nine on the singles charts and a further 23 George Michael songs have appeared in the top 100 since his death.
The singer's representatives have not yet confirmed plans for any future releases.
The first ever Carpool Karaoke featuring the late George Michael and James Corden.
George Michael's family has released a statement thanking fans for their messages of love and support.
For someone whose life was ultimately about his music and the love he had for his family and friends, his fans and the world at large, there could be no more fitting tribute than the many, many, kind words that have been said and the numerous plays his records have received," a statement written by the family said.
Contrary to some reports, there were no suspicious circumstances surrounding his death, and from the bottom of our hearts we thank those who, rightly, have chosen to celebrate his life and legacy at this most distressing of times.